Bikini Idols Wait You at Online Liquor Shop "Bikini Saketen"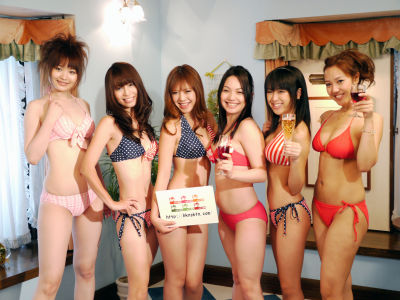 (This article was originally posted in Japanese at Nov. 02, 2009)

Shopping online can be convenient, cheap and sometimes quicker way to shop. But can those advantages rival a smile from the cute girl behind the counter at the corner shop?

At the newly opening "Bikini Saketen(lit. Bikini Liquor Shop)", gorgeous bikini-clad gravure idols will greet you and recommend you the liquors, and you'll be able to watch a special video of the girl after purchasing a bottle. The service is to launch in late November, so here's a sneak preview of what they have in store!

Pics after the cut!
Bikini Saketen
http://bknsktn.com/

Merchandising alcohol online might be illegal in some countries or states, but in Japan it is becoming quite common and the market is growing, frequented by both the city people who don't have access to cars and people in the country who don't have access to a well-stocked liquor store. To get ahead of the competition, "Bikini Saketen" offers variety of liquor; whiskey, gin, vodka, champagne, sake, shochu and pretty much anything from the basics to premium, with the added bonus of appealing girls. When you purchase a bottle from a "shopgirl" you'll get a thank-you email with URL to a video of the girl showing her "special skill", and when the shipment arrive there will be a QR Code with which you can watch a "Let's toast♥" video of the girl on your cellphone.

There will be twenty shopgirls in all. Six of them gathered at a press event and kindly posed for us.

From left to right: Aria Akagi, Erika Kurosaki and Eliza.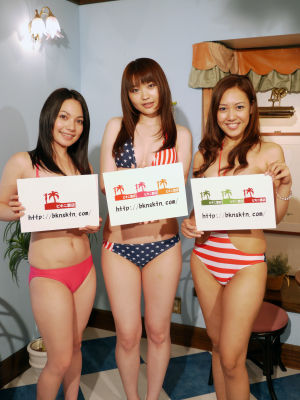 Click to enlarge.

Eliza will perform saxophone, Aria will perform her original picture-card show and Erika will show her paper cutting in their "special skill" videos.

Aki Kogure, Iyo Shibusawa and Anna Kawamura.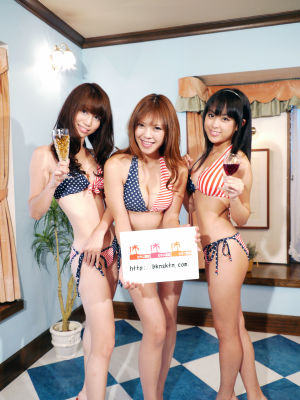 Anna shows her talent in volleyball, Aki shows her flexibility by performing a 180 splits and Aki will show her skills in shodo(Japanese calligraphy) for their special videos.

Apparently, the girls all love the stars and stripes.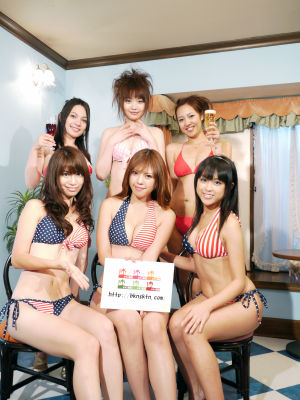 This must be the busiest bar in town.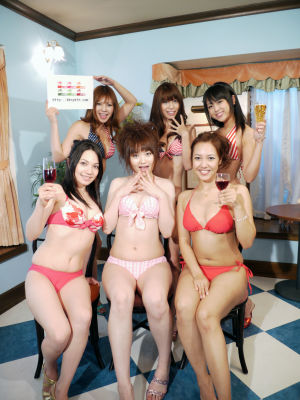 Here are the 14 other shopgirls to welcome you at "Bikini Saketen".

Izumi Morita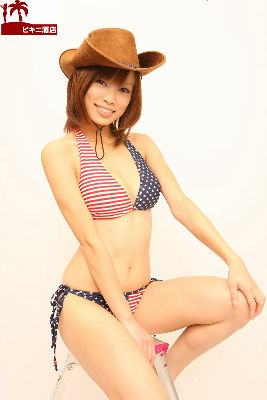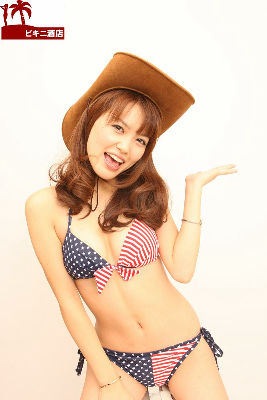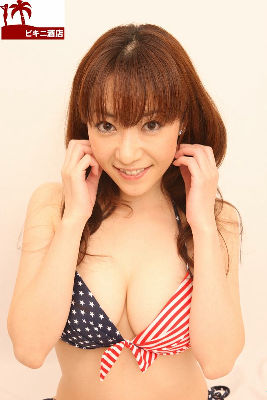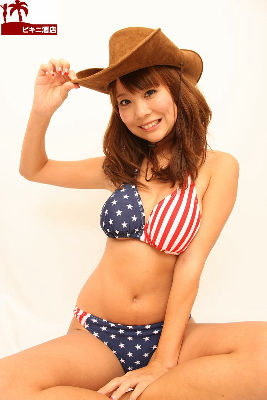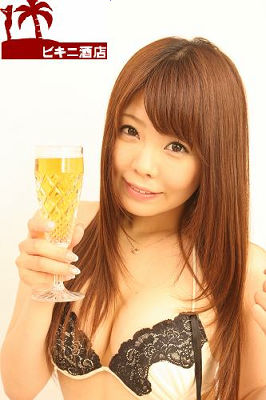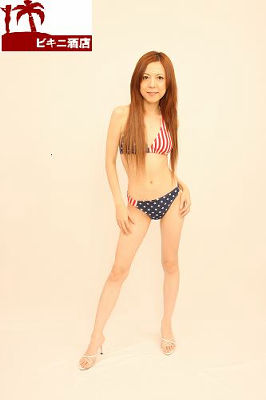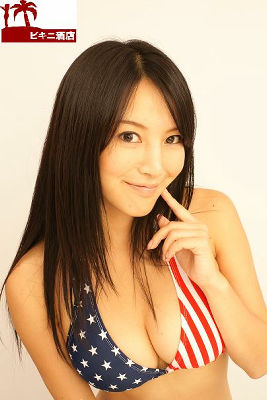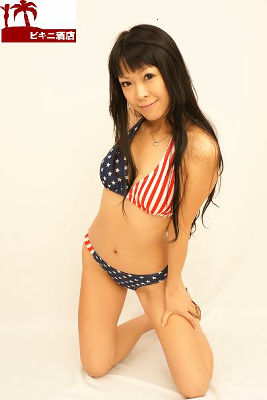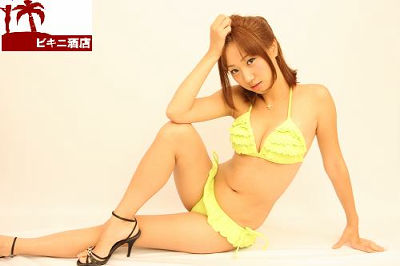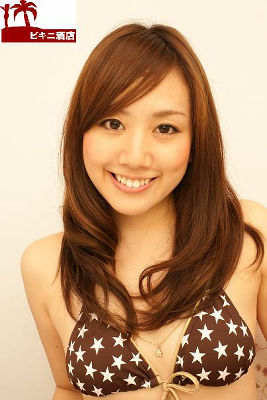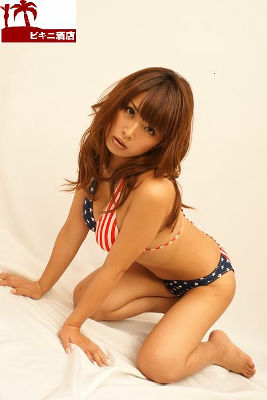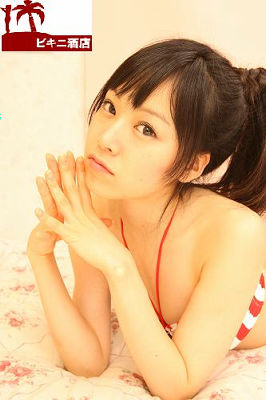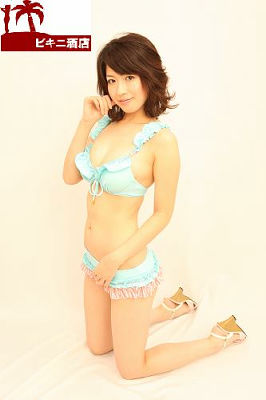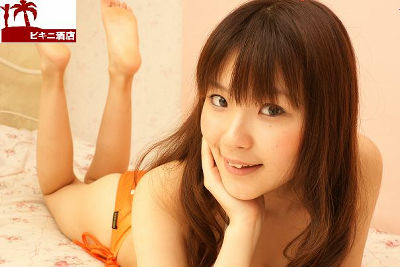 The online store is to open in late November. They'll notify you when the shop opens if you register your email address at the official website.

Bikini Saketen
http://bknsktn.com/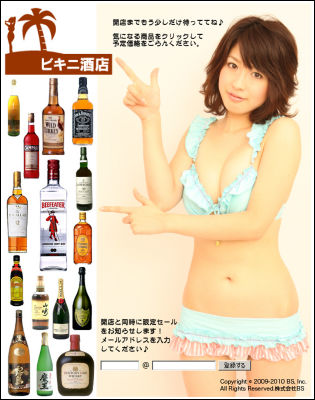 Related Posts:
"cee" shows great piles of Pinup Girls' images gathered by programmed bots - GIGAZINE

Theme songs of "DEATH SMILES 2" and others performed at "Cave Town Pop Song Show" in AOU2009 - GIGAZINE

Gorgeous Booth Babes in Tokyo Game Show 2009 -Part. 1 - GIGAZINE

Gorgeous Booth Babes in Tokyo Game Show 2009 -Part. 2 - GIGAZINE

Booth Babes from Tokyo Motorcycle Show 2009 - GIGAZINE

Abundance of Boothbabes from Tokyo Motor Show 2009: Part 1/6 - GIGAZINE

Cute Guy Clock "Binan Tokei" Provides Eye Candy for Every Minute of Your Day - GIGAZINE