Guessing Google's imaginary opponent in Japan from their Usability Poll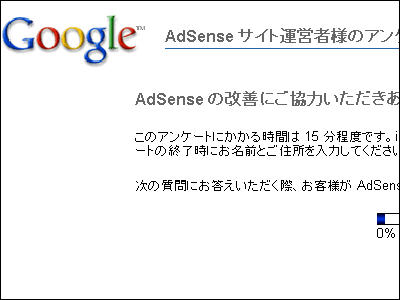 (This article was originally posted in Japanese at 11:31 Oct. 15, 2009.)

Some of our readers were sent an e-mail from search engine giant Google asking for help in their questionnaire, following the previous poll taken about a year and a half ago.

It's just a typical questionnaire but some of questions were pretty interesting, enabling us to speculate what advertisement companies Google consider as their competition.

Read on for detail.


The e-mail was sent to AdSense user who enables "Google Market Research" whatever size of website the user owns.

Let's take a closer look.


Tell us most profitable online advertisement you are using, except for AdSense and your private ad.

LinkShare
Amazon Associate
MicroAd
A8.net
Rakuten Affiliate
Yahoo! Listing Ad.
Others.
No other ads.
The screenshot.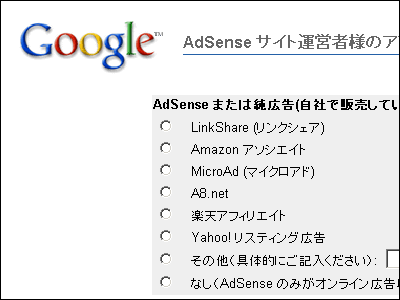 If you choose the answer other than "No other ads.", you will be asked "How much percentage does they take on "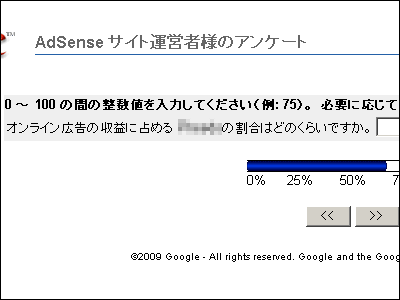 And then they ask you subsequent questions on how much you are satisfied with the said advertisement service on these items:
"Quality of sponsors"
"Fairness on Program Policy"
"Filtering inappropriate advertisements"
"Quality of advertisement materials"
"Payment method", "Remuneration"
"Probability of Profit"
"Reference between advertisement and contents".
Each items corresponds to Google's service so this must be a paradoxical survey on Google's service quality as well as a check on prospective rival's service.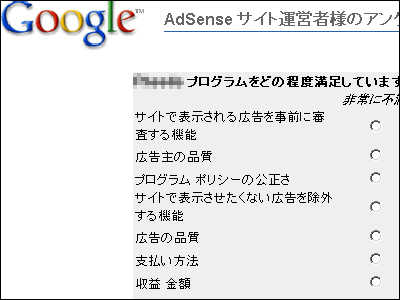 They also ask about these items on their rivals:

"Response to inquiries"
"Credibility"
"Company missions"
"Attitude toward sight owners"
"Leadership in the industry"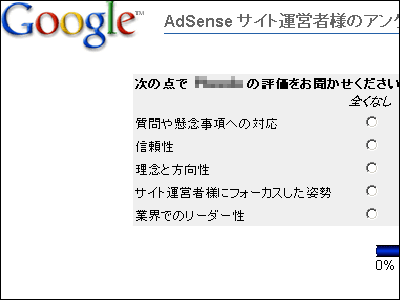 On the third question they asked us about easiness on actual function of the system:
"Analysis on Earnings variation"
"Advertisement optimization"
"Checking payment schedule"
"Smooth switching of advertisement units"
"Viewing Profitability Statistics"
"Finding answers on the help page"
"Constructing customized report."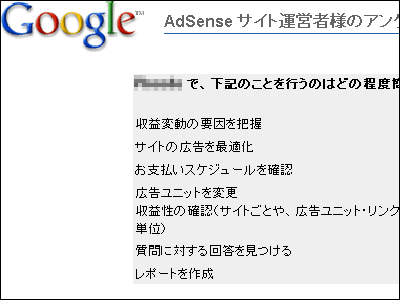 The survey seems to have two faces; one is of course a poll to know how much Google's rival is making an effort and how Google can outflank them. The other is that this poll itself is an advertisement for Adsense. By asking questions they make the users contemplate seriously about the service, which leads to the answer that Google is the leading online advertisement in every aspect.

Related Post:
The Mysterious Giant Circle in Chiba found on Google Earth - GIGAZINE

Google Reshooting Street View in Japan from lower angle - GIGAZINE

Google Street View Respects Privacy of a ...Statue? - GIGAZINE