Voice Actress Maaya Sakamoto's Special Announce On Bizan Aerial Tramway in Machi★Asobi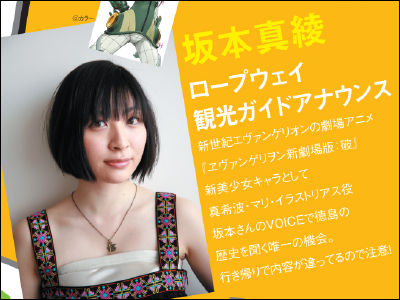 (This article was originally posted in Japanese at 01:48 Oct. 11, 2009.)

Some of you might now Yurikamome, a train to Comiket site Tokyo Bigsight has announcements done by different voice actresses for each stations.

At Machi★Asobi festival, Bizan Aerial Tramway had an recorded announcement done by Maaya Sakamoto, famous for new heroine Mari Illustrious Makinami in Evangelion movie.

Read on for detail.

Bizan Ropeway

Maaya Sakamoto made her debut at age eight.She has a long career as a voice-over actoress for foreign movies and in 1996 she made a stunning hit as a anime voice actress being Hitomi Kanzaki of The Vision of Escaflowne. She's also known as a singer and showing her talent in Macross Frontier, Rahxephon.

On the tram from Awaodori Kaikan station at the foot of Mt. Bizan to mountain top, Saskamoto describes history of Bizan, Yoshinogawa, Pagoda and such. Please forgive us for wind roar.
YouTube - Maaya Sakamoto's Announcement Voice on Bizan Aerial Tramway 01


Announcement on descending tram suggests where to visit for sightseeing next.
YouTube - Maaya Sakamoto's Announcement Voice on Bizan Aerial Tramway 02


Regretfully the announcement was limited in period of Machi★Asobi festival. Hope there will be other opportunity someday.

Related Post:
"Bizan Autumn Festa 2009 X Machi★Asobi" held in Tokushima - GIGAZINE

Original pictures of "Kannnagi" exhibited at Ufotable Cafe - GIGAZINE

Poster of Awa Dance Festival featuring Shiki and Mikiya from "Kara no Kyokai" - GIGAZINE