DVD Box Set "It's a Rumic World" with New Episodes of "Urusei Yatsura", "Ranma 1/2" and "InuYasha"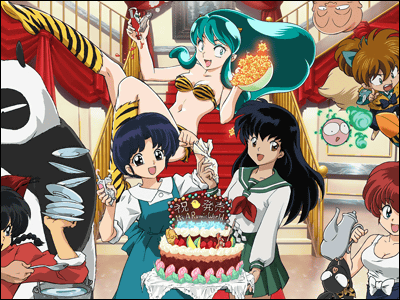 (This article was originally posted in Japanese at 17:32 Oct. 08, 2009)

Manga artist Rumiko Takahashi's exhibition started in Tokyo, Sendai and now it's showing at Takamatsu City Museum of Art. Special anime episodes of Urusei Yatsura, Ranma ½ and InuYasha were produced for this exhibition and a DVD box set "It's a Rimic World" including the three anime and special figurines is to be released on January 29, 2010.

Read on for details and pics.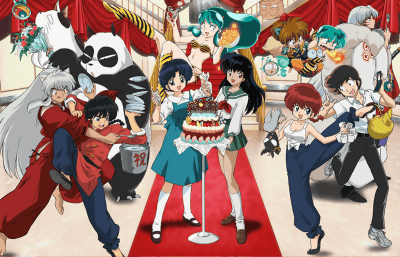 DVD box set "It's a Rumic World" includes the three special animes produced by original crew of Urusei Yatsura, Ranma 1/2 and InuYasha for Shonen Sunday's 50th anniversary project "Rumiko Takahashi Exhibit", with three character figures and a 32-page special booklet. It will come in a gorgeous box with new illustration by Rumiko Takahashi.

Characters from the three titles holding hands in the opening shot. The three animes are all produced by Sunrise.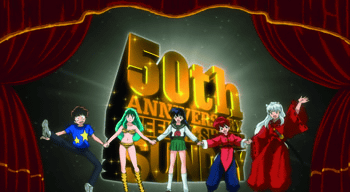 In "Urusei Yatsura: The Obstacle Swim Meet", there's a swimming competition held at Ataru's highschool and the prize is to be excused all homeworks for the summer holiday.
Directer: Yoshitomo Yonetani(The King of Braves GaoGaiGar, Amuri in Star Ocean) / Chief Animation Director: Tsukasa Dokite(Animation Director of Urusei Yatsura) / Producer: Toru Kitahata(Sgt. Frog) / Screenplay: Michiko Yokote(Kobato, Ah! My Goddess: The Movie)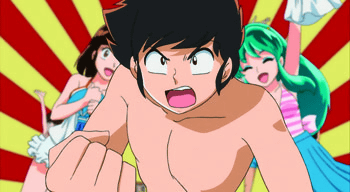 In "Ranma 1/2: Nightmare! Shunminko", Akane inhales a rare insence called "Shunminko" which scent makes people sleep until Spring. The person under the influence of Shunminko automatically attacks whomever disturb their sleep. Can Ranma wake her up?
Diector: Takeshi Mori(Storyboard and production of the original Ranma 1/2) / Animation Director: Atsuko Nakajima(Character designer of Ranma 1/2) / Producer: Teruo Sato(Tales of the Abyss) / Screenplay: Ryota Yamaguchi(Anime films of Ranma 1/2, Escaflowne)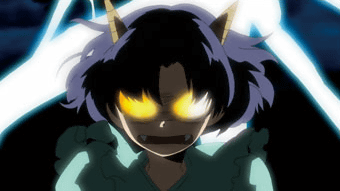 In "InuYasha: Kuroi Tetsusaiga", InuYasha is challenged by Sesshomaru armed with his sword Tenseiga. Enhanced by a shard of Kanna's Mirror, Tenseiga can now steal the power of InuYasha's Tetsusaiga sword. Can InuYasha defeat him?
Director: Yasunao Aoki(InuYasha, Yakitate!! Japan) / Chief Animation Director: Yoshihito Hishinuma(Character Designer of InuYasha) / Animation Director: Rie Nakajima / Producer: Shinya Menda / Screenplay: Katsuyuki Sumisawa(Series Composition of InuYasha, Screenplay of Macross 7, Gin Tama)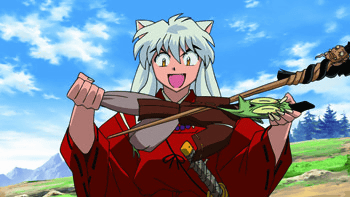 The box set is bundled with three figurines, Lum Invader from Urusei Yatsura, Ranma Saotome(girl version) from Ranma 1/2 and InuYasha. The figurines are about 12cm(5 inch) tall, sculpted by Bome(Lum, Ranma) and Masahiko Kagawa(InuYasha) of Kaiyodo.


"It's a Rumic World Special Anime Box" is released at 19,950 yen (about $220) for subscription only, and the orders must be placed by October 30.

You can see a 90sec. trailer on the official website.

It's a Rumic World

©Rumiko Takahashi/Shougakukan/SUNRISE

Related Posts:
Postage Stamp Collections featuring Manga Characters from SHONEN SUNDAY and SHONEN MAGAZINE - GIGAZINE

Rumiko Takahashi's New Manga to serialize in SHONEN SUNDAY - GIGAZINE

Manga authors Rumiko Takahashi of "InuYasha" and Mitsuru Adachi of "Touch" Collaborating - GIGAZINE
in Anime, Posted by darkhorse_log