Nissan's "EPORO" Robot Cars demonstrating Collision-Free Driving: CEATEC JAPAN 2009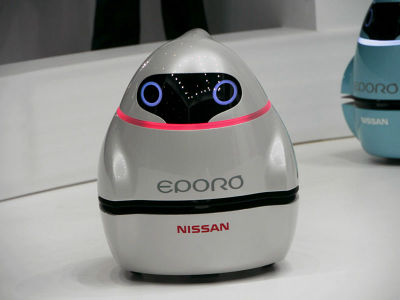 (This article was originally posted in Japanese at 19:58 Oct. 06, 2009)

Nissan is now developing collision-free vehicles by mimicking the behavioral patterns of a school of fish in avoiding obstacles without colliding with each other. To showcase this new technology, they made adorable robot cars named "EPORO" and exhibited them at CEATEC JAPAN 2009.

Here's our videos of the cute little robots moving around watching out for each other. They've even got different personality according to their body colours.

Videos and pics after the cut!
NISSAN | Nissan EPORO Robot Car "Goes to School" on Collision-free Driving by Mimicking Fish Behavior

Nissan's booth at CEATEC JAPAN 2009.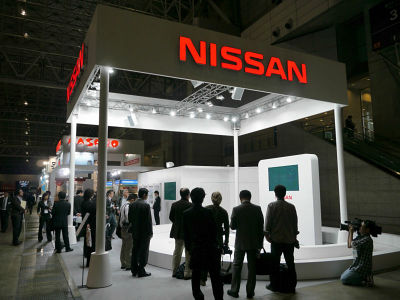 Waiting for the robots to come out.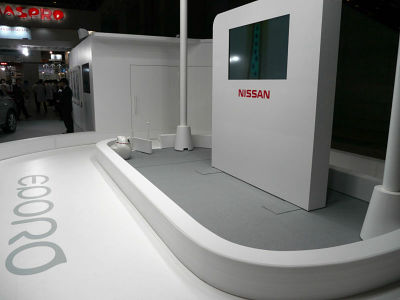 The demonstration started.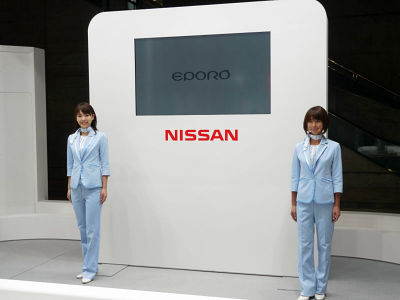 Generically, fish recognize the surroundings based on lateral-line sense and sense of sight and form schools based on three behaviour rules according to the area.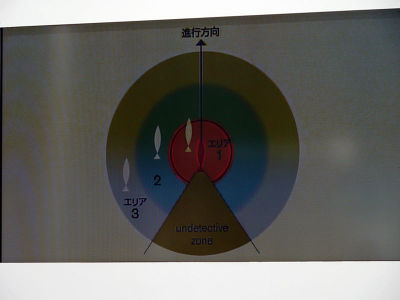 AREA 1: Collision Avoidance
Change traveling direction without colliding with other fish.
AREA 2: Traveling Side-by-Side
Travel side-by-side with other fish while keeping a certain distance between each fish (to match the speed).
AREA 3: Approaching
Gain closer proximity to other fish that are at a distance from them.
EPORO adopted these behaviour rules.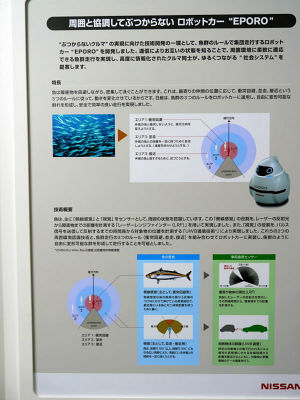 And finally, robot cars "EPORO" came out.

YouTube - Collision-Free Robot Car EPORO -01


The strip around their necks shines pink and blue.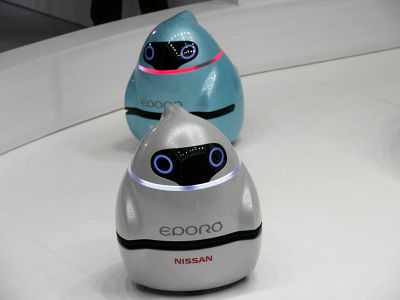 They are each given different personality (behavioural tendencies).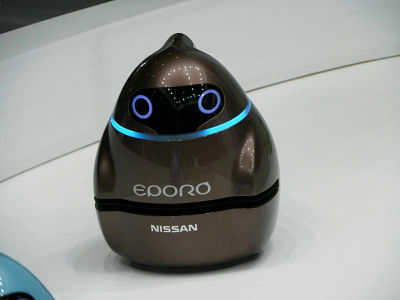 Profile.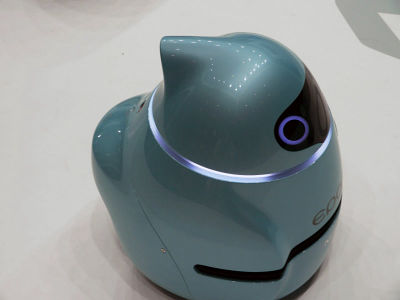 Rear.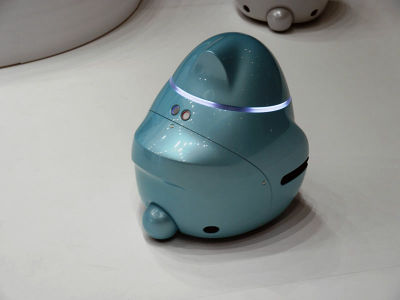 The unmoving EPORA was placed as an obstacle.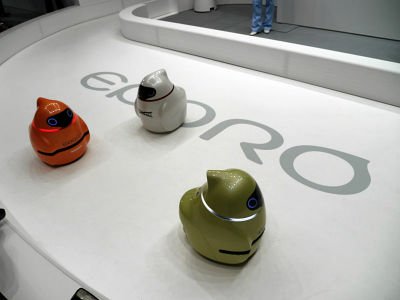 Watch them avoid the obstacle.

YouTube - Collision-Free Robot Car EPORO -02


Going into a narrow path.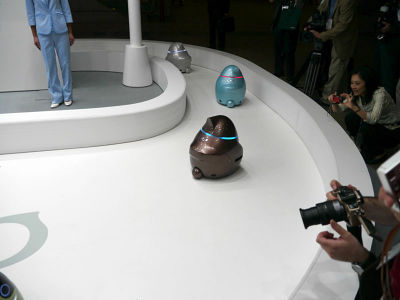 Looks like a vacuum cleaner from behind.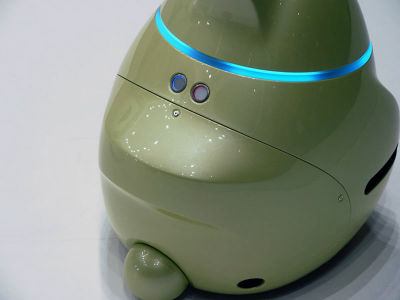 The body colour and texture looks like Nissan's vehicles.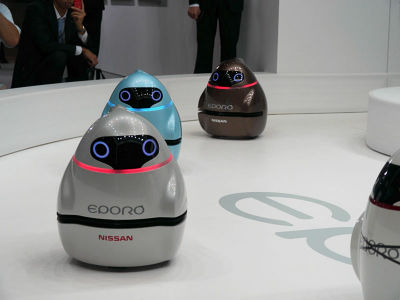 These robots will make you smile.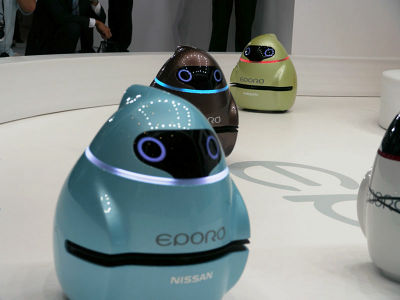 The technology itself is of course amazing, and Nissan did a great job demonstrating them by these robots, making it approachable and comprehensive to general audiences.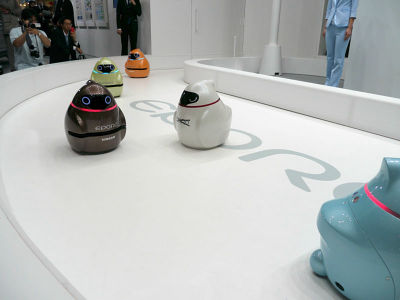 Description board on Nissan's "Safety Shield Plan" combining vehicles and infrastructure. The concept is that the vehicles should protect human, should be a shield rather than weapon.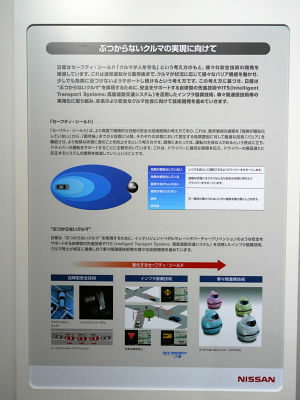 They're now working on collision-free cars applying frontier technology.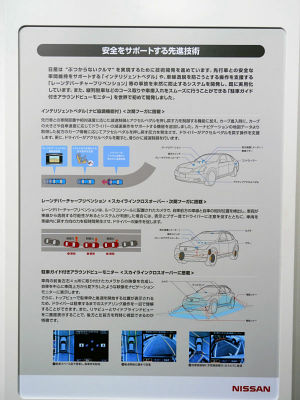 And developing a system to provide information on vehicles and pedestrian out of sight to the driver.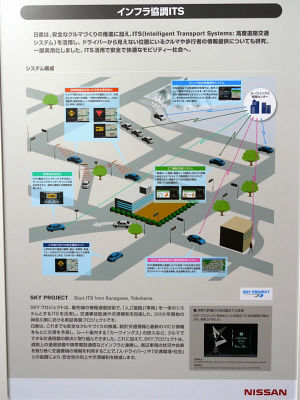 The show was attracting a huge crowd each time. Seems to be one of the most popular exhibit in the whole CEATEC.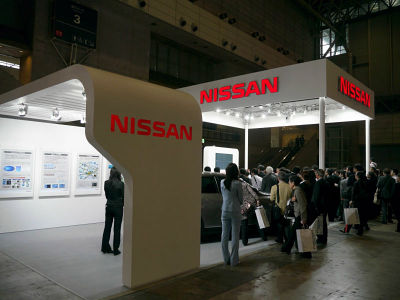 Related Posts:
Table of Contents - CEATEC JAPAN 2009 - GIGAZINE

Cebit 2009: Police officers swishing about on Segways - GIGAZINE

Video of Adorable Robot Girl "hina" Making Coffee - GIGAZINE

KOBIAN, the robot with rich and true body expression - GIGAZINE