Karaoke Chain JOYSOUND Acquire UGA chain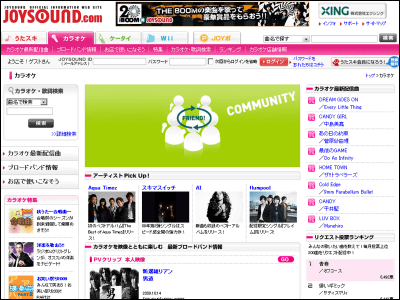 (This article was originally posted in Japanese at 12:17 Oct. 10, 2009.)

Karaoke box is a small rental room with karaoke machine and going there is a pretty common entertainment regardless of age and sex.

The song data in the machine is distributed via Internet. The range of songs varies from each chain and it is a critical factor when choosing which Karaoke to go.

Among various operators, JOYSOUND and UGA are famous for releasing a lot of anime themes and vocaloid songs, and yesterday, these two giant announced their company merger.

Read on for detail.

(PDF File)Announcement of Agreesment on Merging BMB Co. Ltd.

According to the Brother Industry, the parent company of JOYSOUND karaoke chain, they agreed with USEN, the parent company of UGA karaoke chain to merge JOYSOUND and UGA by Brother Industry acquiring all stock of UGA. The stock transfer is to be made in middle November.

JOYSOUND and UGA is both known for their unique selection of songs to distribute, like bizzarre inserted songs of Revolutionary Girl Utena and Tenchi Muyo!'s lesser-known songs released only in its drama CD. The merger between JOYSOUND and UGA surely causes positive synergy effect on their bussiness and product development, for anime fans especially.

Related Post:
Osaka's Got Talent! Videos from the Elimination of NHK's Anison Karaoke Contest - GIGAZINE

TAF 2009: Teenage voice actress Rina Hidaka and singer Azumi Inoue promoting "Before Green Gables" - GIGAZINE

Details announced of Animax's All-Japan Anison Grand Prix 2009 - GIGAZINE

Unique Advertisement for Unique RPG, "Dun-Dam" takes over the KARAOKE chain - GIGAZINE

"[email protected]" coming to NintendoDS, with three new Idol Candidates! - GIGAZINE

NHK Radio to air Sci-Fi spinoff of"Today, All Day Long, Anison"program - GIGAZINE
in Note, Posted by darkhorse_log