"Watshi no Yasashikunai Senpai" to be the First Live-Action by Director Yamamoto of "Kannagi"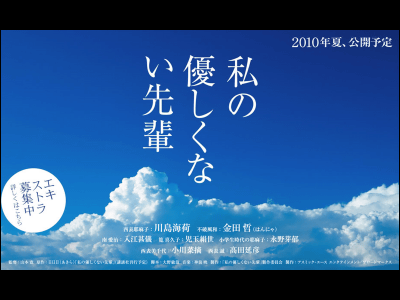 (This article was originally posted in Japanese at 10:27 Sep. 30, 2009)

Highschool rom-com "Watashi no Yasashikunai Senpai" (lit. My Unkind Upperclassman) by novelist Akira of Kyoran Kazoku Nikki series is to be adapted to a live-action film directed by Yutaka Yamamoto of Kannagi: Crazy Shrine Maidens, to be released in Summer, 2010.

Starring rising young actress Umika Kawashima and comedian Satoshi Kanada, it will be the first live-action work by Yamamoto aside from the legendary tokusatsu short film Onnen Sentai RESSENTIMENT shot during his university years at Kyoto.

Read on for details.
Watashi no Yasashikunai Senpai
http://www.senpai.info/

"Watashi no Yasashikunai Senpai" is set in a remote island in Kyushu where teenager Yamako Iriomote is suffering a huge crush on her classmate. Being too shy to actually confess to him, she writes countless love letters never to be sent. Unfortunately, a boisterous upperclassman(senpai) she hates finds out about the letters and all hell breaks out. The novel won the Love Story Award held by publisher Hekitensha in 2004.

Heroine Yamako is to be played by 15-year-old actress Umika Kawashima, the unkind "Senpai" by comedian Satoshi Kanada, Yamako's parents by former professional wrestler Nobuhiko Takada and actress Natsumi Ogawa.

Director Yutaka Yamamoto, fondly called "Yamakan" by anime fans, is best known for choreographing the ending dance theme of The Melancholy of Haruhi Suzumiya and directing Kannagi: Crazy Shrine Maidens.

Looks like anime fans can count on his return to anime soon after this new experience. About his big leap to live-action, Yamamoto stated on his blog that he considers it his "knight-errantry" and "now is the time", with some remarks along the line of "In and out, the anime industry needs interaction with the outside world in order to survive". By the way, the scores for the movie will be composed by Satoru Kousaki of Haruhi Suzumiya and Kannagi.

It's not unusual for accomplished anime directors to try their hands on live-action, among them Mamoru Oshii(Avalon, The Red Spectacles) and Hideaki Anno(Love & Pop, Cutie Honey). Some were successful, some were not.

This will be the first commercial live-action work of Yamamoto, but the tokusatsu short film Onnen Sentai Ressentiment he made as a member of Kyoto University's Animation Club in 1997 is well-known among anime and tokusatsu fans, gaining a cult status similar to Aikoku Sentai Dai Nippon by Hideaki Anno. You can see it on YouTube (though the sound is removed from the 1st part and the 2nd part is missing) from the links below.

YouTube - Onnen Sentai Ressentiment (1of3)

YouTube - Onnen Sentai Ressentment (3of3)

Related Posts:
Yamakan's Revenge?? "Tonari no 801 chan" goes anime, directed by Yutaka "Yamakan" Yamamoto - GIGAZINE

Ninja Movie "Kamui" hitting Film Festivals in London and Toronto - GIGAZINE

Gambling Manga "Kaiji" adapted to Live-Action Film starring Tatsuya Fujiwara - GIGAZINE

Tezuka's Darkest Manga "MW" adapted to Live-Action Film - GIGAZINE

Japanese Horror Flick "Grotesque" Banned in Britain - What the Director Has to Say? - GIGAZINE

FULL METAL PANIC! going live-action starring Zac Efron - GIGAZINE