11-metre statue of Tezuka's "Phoenix" Unveiled at Kyoto International Manga Museum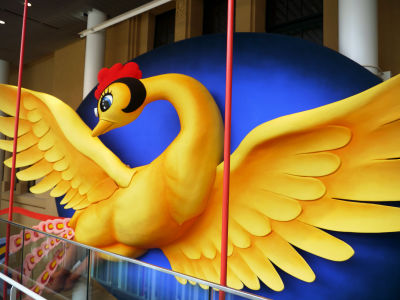 (This article was originally posted in Japanese at 13:41 Sep. 24, 2009)

Kyoto International Manga Museum located in Nakagyo-ku, Kyoto, is one of the largest museum dedicated to manga, with collection of over 300,000 items including rarities such as mangas from Meiji period.

A huge statue of Osamu Tezuka's Phoenix was erected as a symbol the museum and was unveiled on September 22, 2009. By the hand of a Buhddist sculptor, the beautifully detailed statue is impressive 11 metres in wing span and 4.5 metres in height.

Read on for details and pics.
Kyoto International Manga Museum is located in Nakagyoku, Kyoto, on Karasuma street, about two minutes walk from Karasuma Oike Station.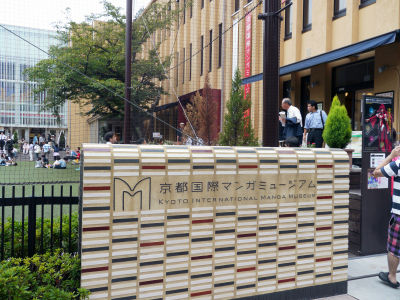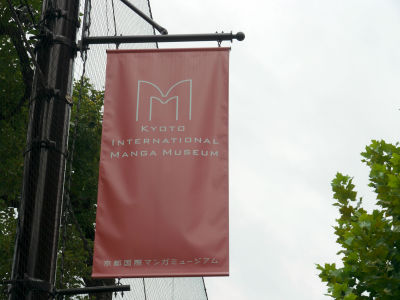 The building housing the museum is the former Tatsuike Elementary School.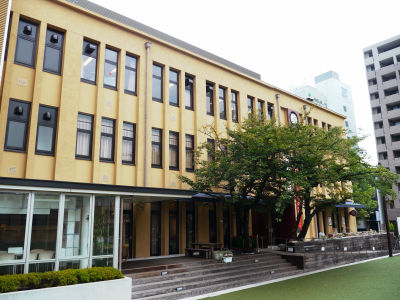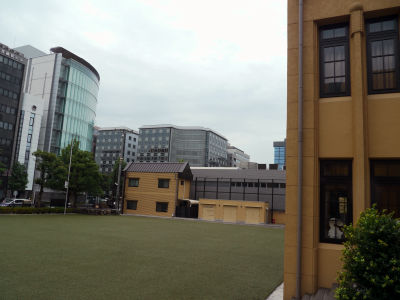 Entrance hall on the ground floor. The Phoenix is hidden behind this drape.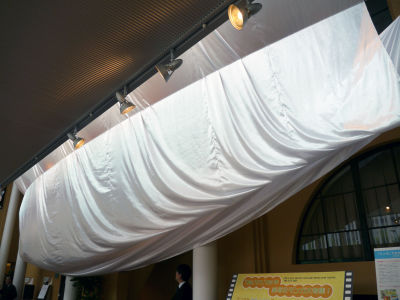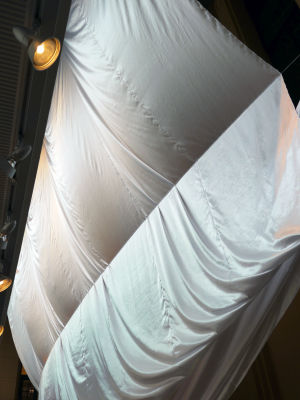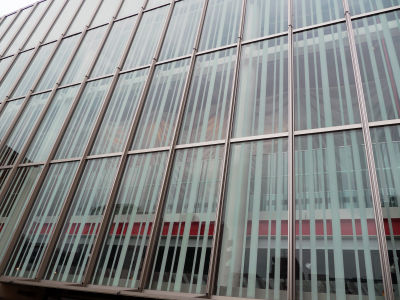 The unveiling ceremony opened.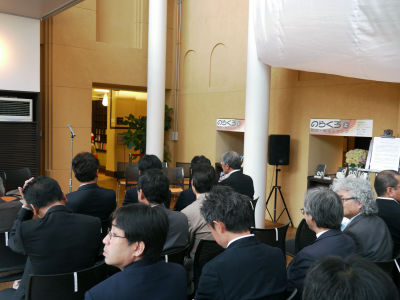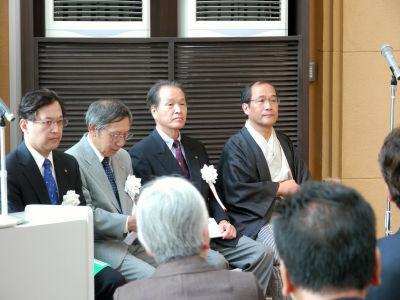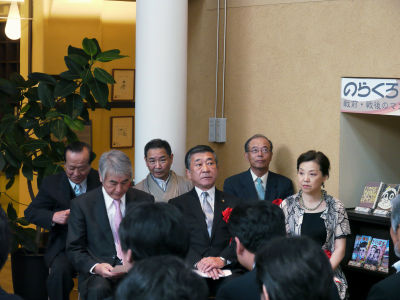 Mayor Daisaku Kadokawa of Kyoto city.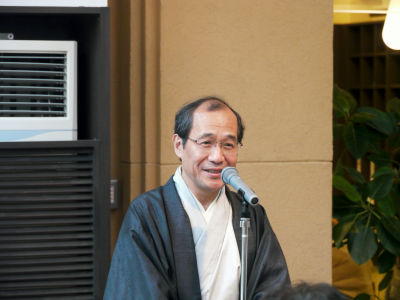 Manga artist Keiko Takemiya, member of the selection committee of Tezuka Osamu Cultural Prize. In her speech she related that in the time of Phoenix's serialization, she was writing Toward the Terra for the same magazine, competing with Tezuka how long they can stretch their deadline.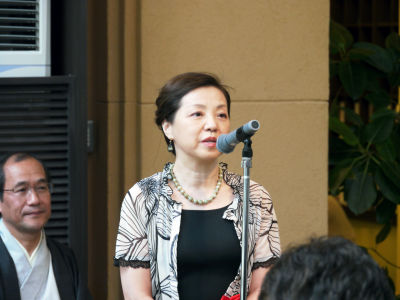 Phoenix was sculpted by Buddhist master craftsman Kosho Sudo. After being commissioned, he devoured the whole Phoenix saga for inspiration.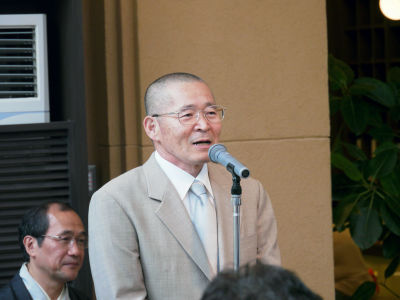 Two sons of Sudo assisted him.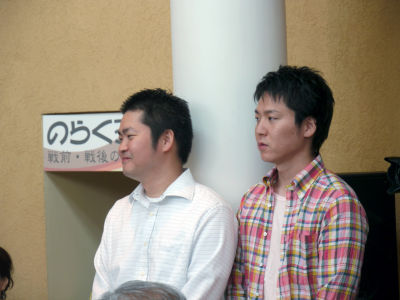 Another four apprentices of Sudo.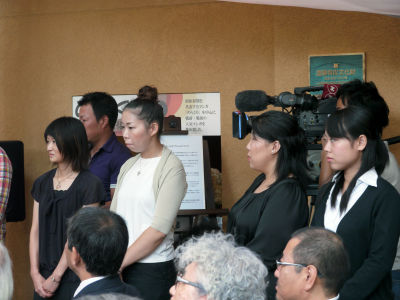 Getting ready for unveiling.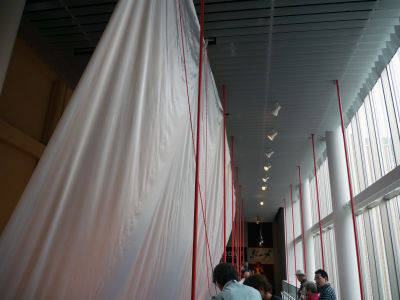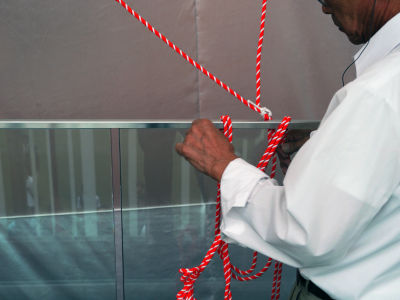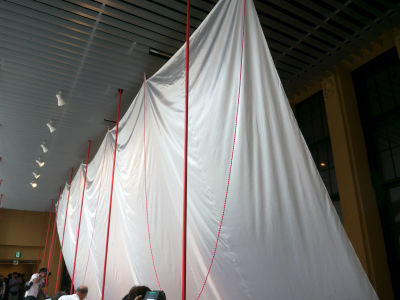 People anticipating outside.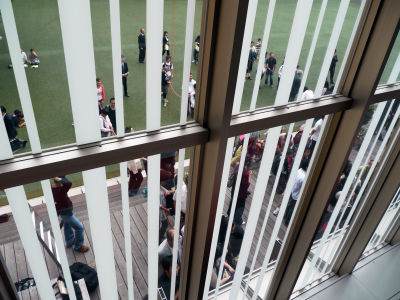 Mayor Kadokawa pulling the string.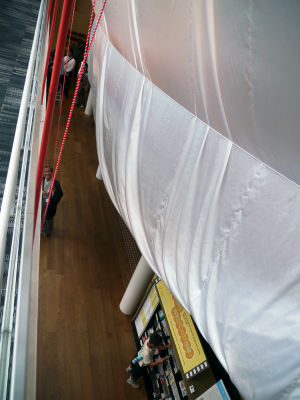 The curtain dropped, revealing the Phoenix.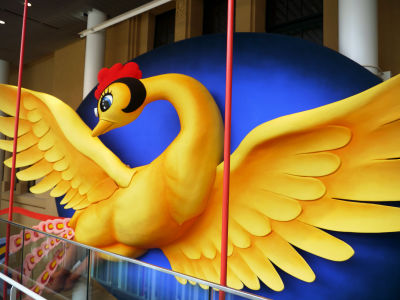 11 metre wide and 4.5 metre high, the statue weighs 500kg.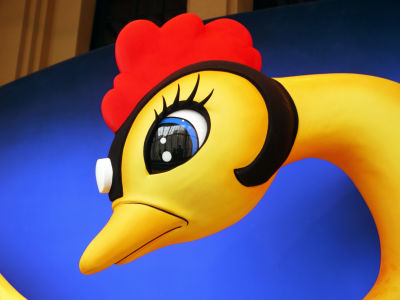 Made of Japanese red pine, with traditional techniques for Buddharupa sculpting.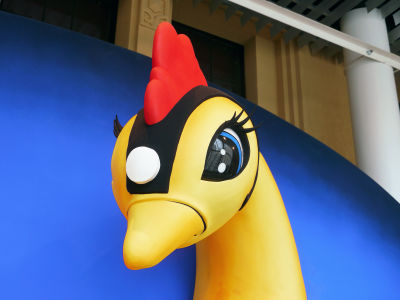 Brightly coloured wings.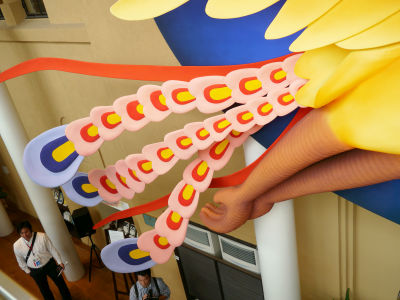 Looking up from the ground level.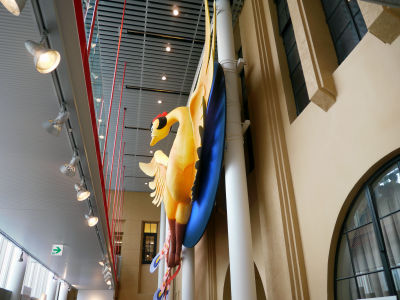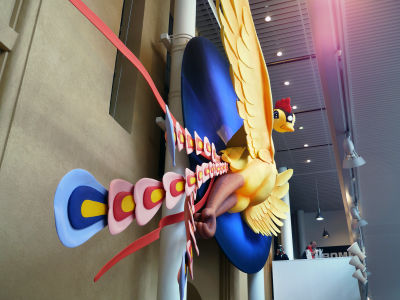 When the window blind is open, the Phoenix can be seen from Karasuma Street.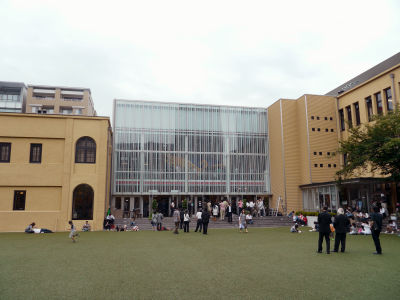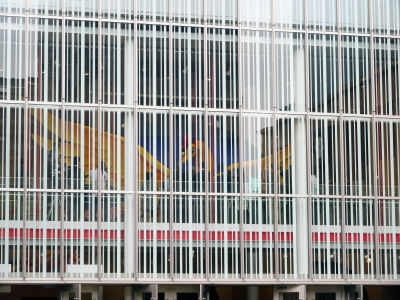 Sudo surrounded by the press.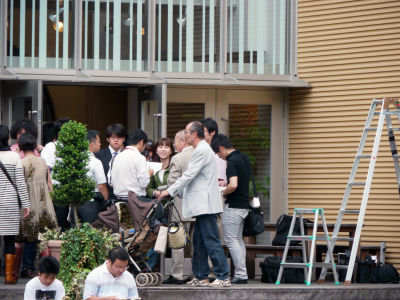 Tatsuike Elementary School was closed due to the thinning elementary population in central Kyoto.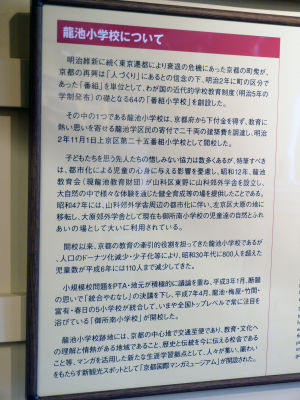 Built in 1869, the school building itself is quite impressive to look around.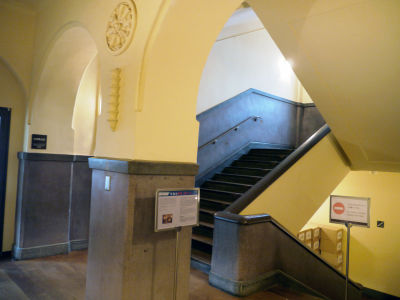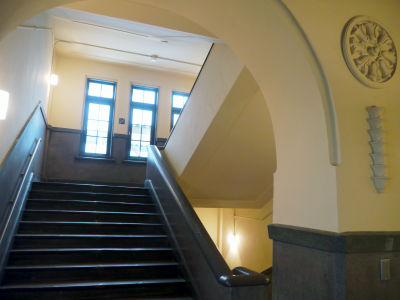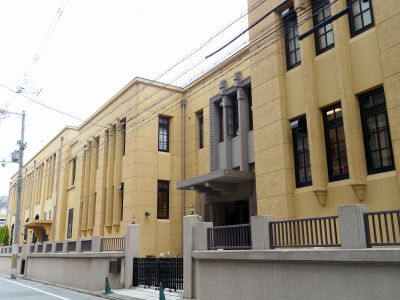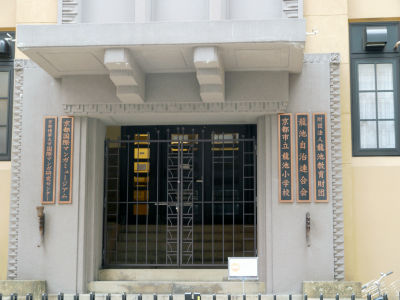 The former schoolyard is a perfect place for picnic. Must be great to read mangas here on a sunny day.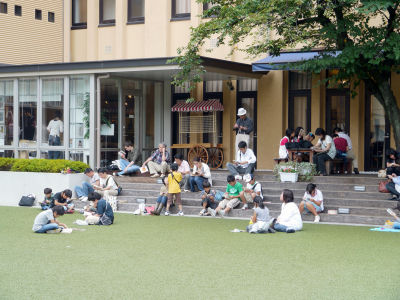 Way back in Heian period, there used to be a nobleman's mansion called Nijo-den here.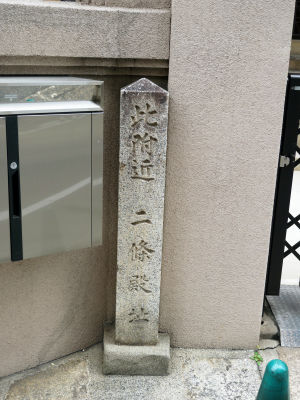 The price of admission is 500 yen for adult, 300 yen for students (grade 7 to 12), 100 yen for grade 1 to 6.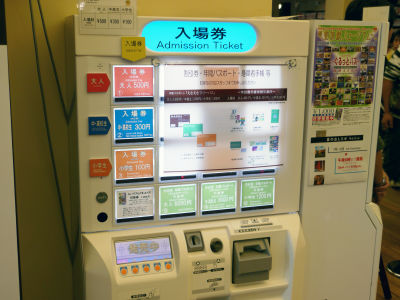 Research materials related to manga are kept in the basement library.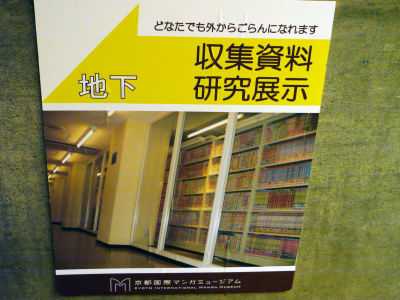 Old magazines. These you can't read, since they're for safekeeping.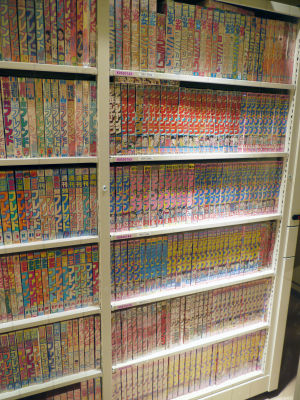 For researchers, access to the materials are permitted on Tuesday, Friday and Sunday. You need to book in advance.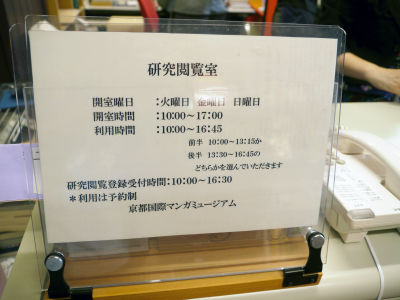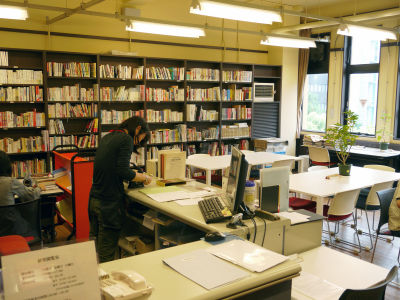 The Phoenix was still crowded when we came back after walking around the museum.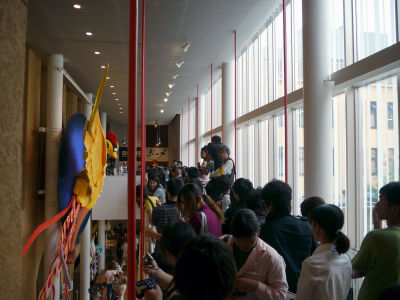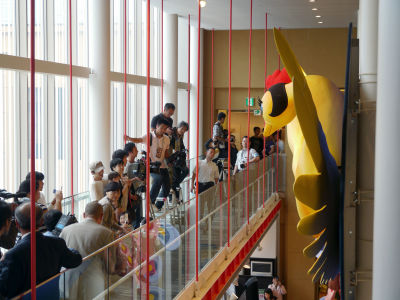 By the way, a special exhibition titled The World of Bome, Bisyoujo Figurine Sculptor is being held until October 1st at the main gallery.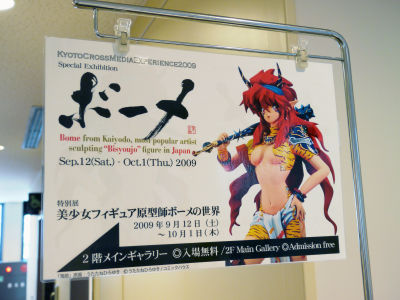 Featuring the works of well-known figurine sculptor Bome.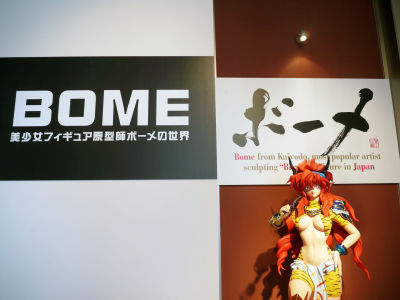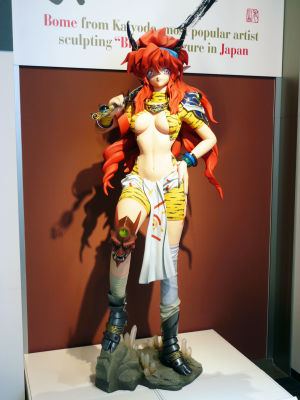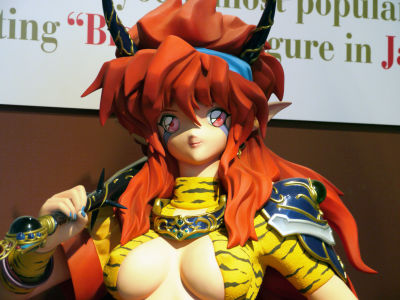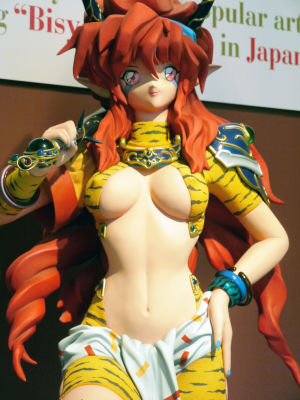 Related Posts:
Fighting Game "Symphony of the Blood" featuring Tezuka's Characters - GIGAZINE

Classic Manga T-shirts of "GeGeGe no Kitaro" and Tezuka's "Phoenix" - GIGAZINE

TAF 2009: Osamu Tezuka's "Kimba the White Lion" to be renewed in summer 2009 - GIGAZINE

Front Page: 50 covers representing 50 years of SHONEN SUNDAY - GIGAZINE

Front Page: 50 covers representing 50 years of SHONEN MAGAZINE - GIGAZINE

The only public "Manga Library" in Japan exists in Hiroshima - GIGAZINE

Dojin Manga Library "Yoshihiro Yonezawa Memorial Library" opening this Summer - GIGAZINE