3 Videos of SEGA's "Shining Force Cross" Third-person action game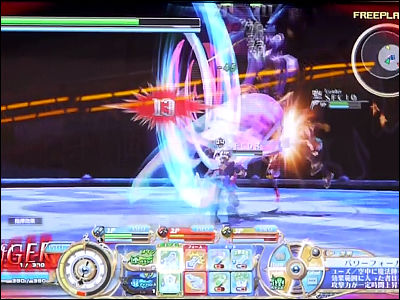 (This article was originally posted in Japanese at 14:43 Sept. 17, 2009.)

SEGA's new "Shining Force" sequel "Shining Force Cross" is a third-person action with a online-play feature.

As is always the case with these cross-platform marketing, famous voice actress Nana Mizuki makes the game more colorful with her singing a swinging theme song of the game "Jyu-jika no Spread". The song will be uncovered on Sept. 19 at SEGA's booth at AMS 2009 with demo video. And also on the official blog, a video message from Nana Mizuki can be seen till Sept. 19.

Here follows three videos of "Shining Force Cross".

YouTube - Shining Force Cross Operating Demo in 47th AMS


YouTube - Shining Force Cross Operating Demo 02 in 47th AMS


YouTube - Shining Force Cross Opening Demo in 47th AMS


Related Post:
Table of Contents: 47th Amusement Machine Show - GIGAZINE

Latest arcade sequel for SEGA's "Shining Force" RPG franchise shown in AMS 2009 - GIGAZINE