It's Concrete! Release Date of FF13 to be December 17!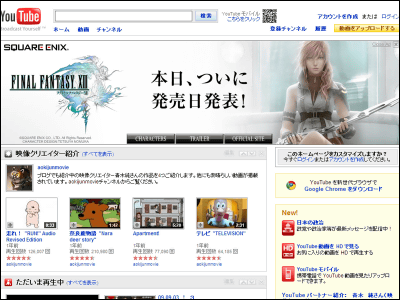 (This article was originally posted in Japanese at Sep. 08, 2009)

The official announcement is to be made today for the release date of Square Enix's big title Final Fantasy XIII, but as it happens, the release date could be seen from the website before the announcement is made.

Seems concrete that FF13 will come out on December 17, 2009.

Read on for details.
As of 07:29 Sep. 8, 2009 (JST), there's an ad on YouTube's Japanese top page informing the release date will be announced today.
YouTube - Broadcast Yourself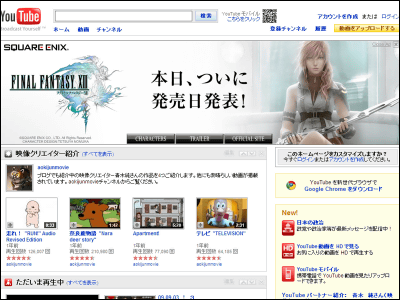 This is the URL where the ad's Flash is located. It says "Today, Finally the Release Date will be Announced!"
http://m1.jp.2mdn.net/1905713/PID_1105354_FinalFantasyXIII_apac2314_Before_960x250_INPV_polite.swf



Replace the words "Before" in the URL with "After", and the message changes to "2009.12.17 On Sale!".

http://m1.jp.2mdn.net/1905713/PID_1105355_FinalFantasyXIII_apac2314_After_960x250_INPV_polite.swf



Square Enix seems to be a bit sloppy on confidentiality issues lately, or are these another publicity strategy? We're sure the customers won't be happy if this release date and the price 8,240 yen that came out on convenience store LAWSON's online booking machine turns out to be misinformation (unless they come out earlier and cheaper) so in the off chance that the "2009.12.17 On Sale!" is a dummy message, it must be safe to say the release date will be December 17 at the latest.

Related Posts:
Video and Screenshots of Final Fantasy XIII Demo - GIGAZINE

New Characters of FINAL FANTASY XIII unveiled, and a mention of the popular summon - GIGAZINE

Just revealed: Summoned monsters in "FINAL FANTASY XIII(FF13)" showed in E3 - GIGAZINE

ASCII Art "Yaruo" Illustrated by Yoshitaka Amano of Final Fantasy Series - GIGAZINE

[Flashing News]Two Ingame Video of FINAL FANTASY XIV(FF14) now on public - GIGAZINE

Final Fantasy 14 Teaser Trailer on the Official Website - GIGAZINE


in Game, Posted by darkhorse_log