Blu-ray Disc Association will make your Blu-ray Disc of dream!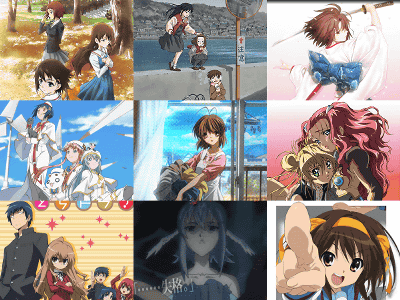 (This article was originally posted in Japanese at 14:46 Aug. 06, 2009.)

One thing bad about Blu-ray is that it's too new. It's fast and big, but there are so many titles which have not been released in Blu-Ray yet.

To ameliorate this situation, Japan branch of BDA, Blu-ray Disc Association organized a special project which brings the most waited title to Blu-Ray. For the most voted, members of BDA directly ask right-holding companies for Blu-ray adaption. The project is now on its first stage and accepting votes on "Most-waited Anime for Blu-ray".

Read on for Detail.

Blu-ray Disc Title Vote - BDA Official

The project is now accepting votes on 15 titles passed the elimination, which are "Zegapain", "Engage Planet Kiss Dum", "Aria", "Denno Coil", "Gurenn Lagann", "Future GPX Cyber Formula", "Toradora!", "Kanon", "True Tears","CLANNAD", "Simoun", "Valkyria Chronicles", "Melancholy of Haruhi Suzumiya", "Kamichu!" and "Kara no Kyokai".

As of Aug. 6th, "True Tears" is on top gathering nearly 30% of all votes. "Zegapain" follows it with 20% of votes, well exceeding "Kamichu!".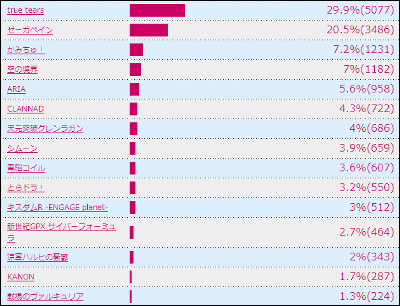 It's interesting that the top animes on the list are not ones with a big DVD sales. They are rather recent animes and broadcasted on DTTV, whose quality is nearly equal to DVD. So fans might have thought it nonsense to buy DVD while you can see it for free. And unexpectedly some theatrical animes such as "Gurren Lagann" or popular ones such as "Kara no Kyokai", "Clannad" and "Haruhi" are not adapted to Blu-ray yet.

Though there's no knowing which title will be chosen, or whether the title will really be adapted to BD it's still an interesting attempt.

Related Post:
The poll on top 10 favorite anime of 2009 spring - GIGAZINE

Top 15 Most Captivating Manga at the Moment - GIGAZINE

Top 20 Awesome Robots in Anime History - GIGAZINE

List of New Anime: Summer 2009 - GIGAZINE

List of New Anime Series launching Spring 2009 - GIGAZINE

10 anime Heroine whom Japanese Geeks wants to marry - GIGAZINE

10 anime heroes whom Japanese geeky girl wants to marry - GIGAZINE

Anison Rules! Anime songs dominated 7 out of Top 10 CD sales ranking - GIGAZINE
in Note, Posted by darkhorse_log