Diva Miyuki Nakajima to release a highly-accurate Glass CD at $1000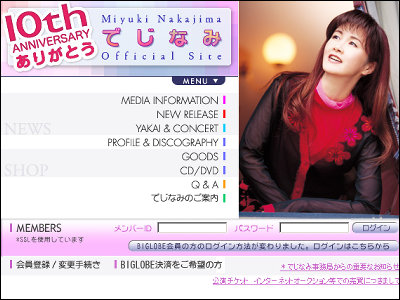 (This article was originally posted in Japanese at 11:01 July 28, 2009.)

Miyuki Nakajima is one of a few all-time best selling Japanese pop diva. In every decade she brings a big hit since '70s and some of them are still selling well. And showing her love to music, she is going to show highly-accurate compact disc made from glass and pure gold instead of polycarbonate.

Read on for detail.

Nakajima Miyuki to release Glass-made CD for $1000 - Showbiz News : nikkansports.com

According to the article above, Miyuki Nakajima is to release glass CD priced $1000 each. The CD will be a reproduction of her previous discs released after 2000, like "Short Stories" or "Lullaby for the Soul". This is definitely the most expensive J-pop CD ever.

The glass CD is made of high-precision glass used for accurate optics instead of polycarbonate. Pure gold is used on reflective layer instead of aluminum for more hi-fi sound just like you would hear in recording studio.

Regretfully it's nearly hand-made and produced as slowly as 10 or so discs a day. It's totally the item for real fans.

Related Post:
Anison Rules! Anime songs dominated 7 out of Top 10 CD sales ranking - GIGAZINE

"Ho-kago Tea Time" EP featuring Songs performed by the Band in "K-On!" - GIGAZINE

Fantastic music video of Kamikaze Douga's "Amanatsu", an original anime movie from DQ9 video makers - GIGAZINE

Can't Hatsune Miku's songs be considered "Music"? - GIGAZINE
in Note, Posted by darkhorse_log