French Pastry meets Hokusai in "Ukiyo-e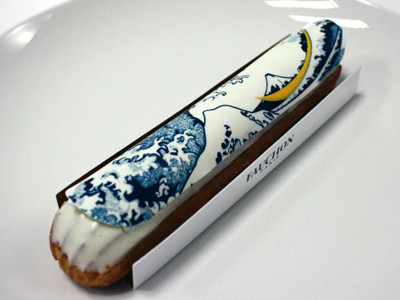 Éclair, the longish cream puff with chocolate coating is quite common in Japan, could even be bought in most convenience stores.

Now this pastry with French origin meets ukiyo-e, adorned with Hokusai's "The Great Wave off Kanagawa".

Read on for details and pics.
(Japanese)Delicious Hokusai!? "Ukiyo-e Éclair" Came Out - Tokyo Walker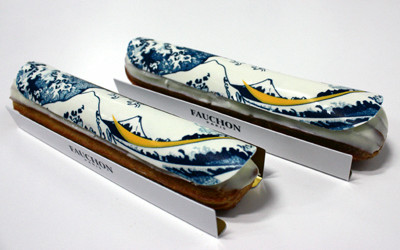 "Éclair la Vague" (lit. Éclair of Wave, though we're not quite sure about the French spelling since it was written in Kanatana on our source) is this summer's specialty of FAUCHON, to be available at their stores in Takashimaya Tokyo, Takashimaya Shinjuku, Takashimaya Yokohama and JR Nagoya Takashimaya at the price of 525 yen, for the limited period until September 1st.

Filled with custard.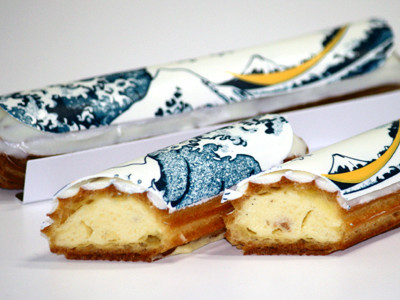 Made of quality ingredients such as Échiré butter.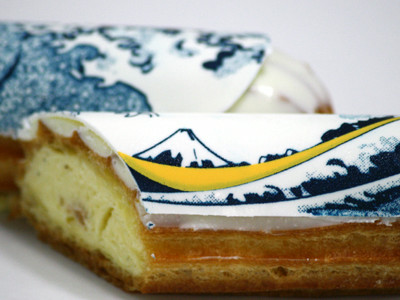 Beautifully detailed. Printed on thin white chocolate, so you can eat it whole.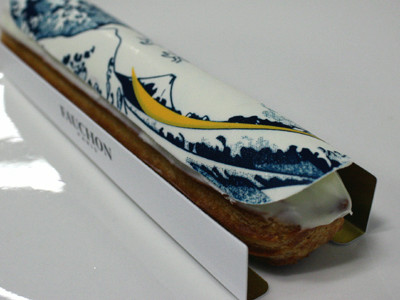 Related Posts:
Makoto-chan meets Hokusai! Kazuo Umezu's Horror Manga turned Ukiyo-e - GIGAZINE

Ukiyo-e of Kitaro and Yokais haunting the 53 Stations of the Tokaido at Mizuki Shigeru Museum - GIGAZINE

The Alluring World of Mysterious Designer Kaichi Kobayashi - GIGAZINE

World's Sweetest iPhone Cover - GIGAZINE
in Note, Posted by darkhorse_log