Seriously Cute Papercraft Hello Kitty dressed as Mario and Luigi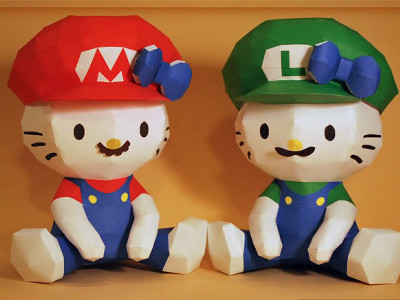 Beware! This is cuteness overload you'll most likely suffocate!

Dress Hello Kitty in the super brothers' outfit (complete with mustaches), and the result is super Kawaii!

Read on for details and pics.
Nintendo Papercraft - The resource for all your Nintendo themed papercrafts!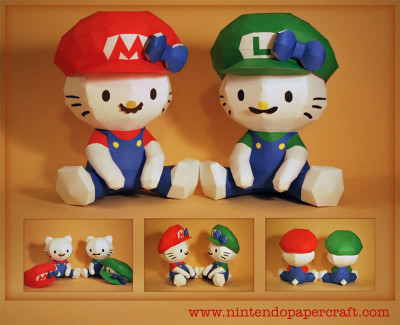 Shall we call them "Hello Mario and Hello Luigi", or more like "Super Kitty Sisters" ? Hello Kitty does have a little sister, if we remember correctly.

The bows and moustaches in these papercrafts are all optional and you may choose to leave them out.

You can also take off their hats. The new look without her bow (and with a moustache) looks cute, too!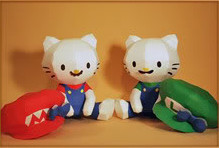 You can download the templates from the link.

Who ever thought Hello Kitty will look this cute in the Mario Bros' outfit? Hope we'll see something like the "Super Chuck Noris Bros." come out soon.

Related Posts:
HELLO KITTY's App for iPhone and iPod Touch - GIGAZINE

Papercraft Kitaro planes distributed by Japan Air Self-Defence Force - GIGAZINE

Papercraft "ZERO" mask of Code Geass - GIGAZINE

Amazing! Massive papercraft LEGO blocks you can actually play with - GIGAZINE

Japan Ground Self Defense Force to hold Paper Craft Photo Contest - GIGAZINE
in Note, Posted by darkhorse_log