Review of theatrical novelty on "Evangelion: 2.0 You Can (Not) Advance" premiere!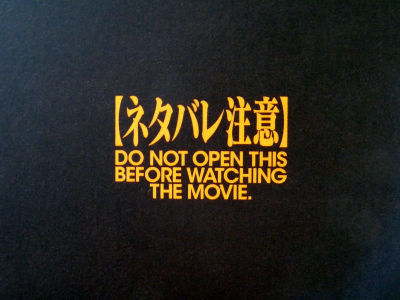 (This article was originally posted in Japanese at 10:58 June 27, 2009.)

The premier of "Evangelion: 2.0 You Can (Not) Advance" motivates the market to produce many related things. There has been so many related products, beverages, foods and snacks released to the market. And on this memorable day, theater sold some "limited set" consisted of popcorn, drink and plastic figure of Asuka.

And also, there are some photos and reviews of a brochure and boxed set of EVA-EXTRA booklets.

*Alert: this post may contain spoilers*

Read on for details.

"Evangelion: 2.0 You Can (Not) Advance Limited Combo". Popcorn, beverage and a plastic figure of Asuka Langrey in her pilot suit. 1400 JPY (about 15 USD)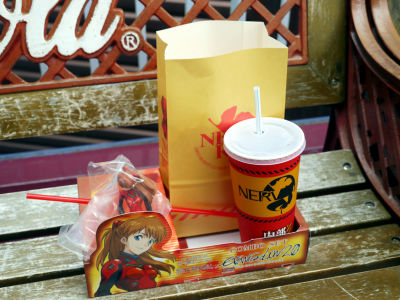 Compared to the image on a container.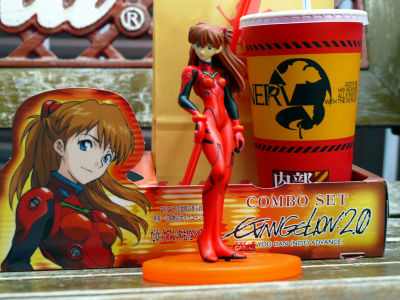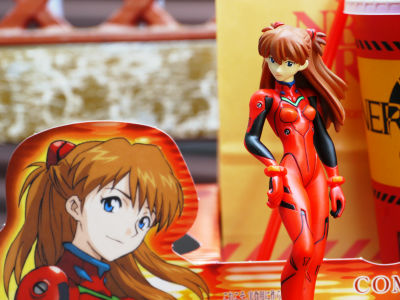 Popcorn folder has the word parodying Seele's monoliths.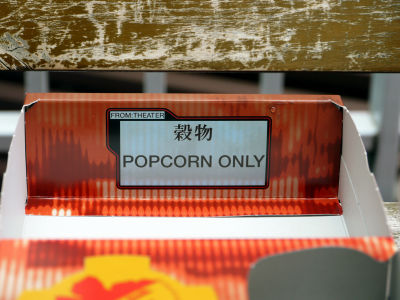 "This is the very best popcorn in the world made for edible use. So, stop complaining and eat it."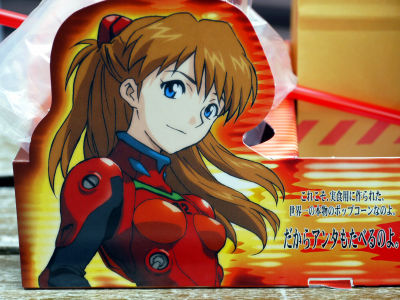 NERV logo.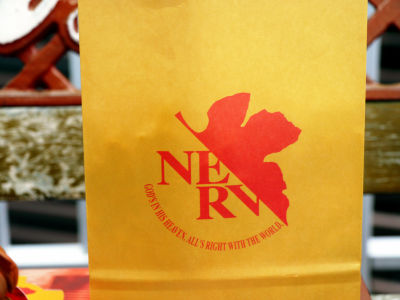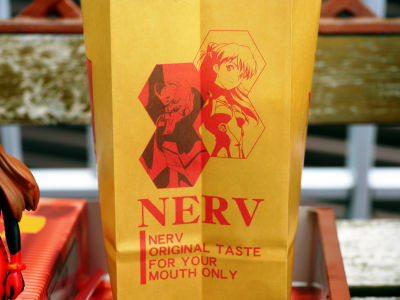 Popcorn was basically salt flavored. +50 JPY will make it caramel flavored.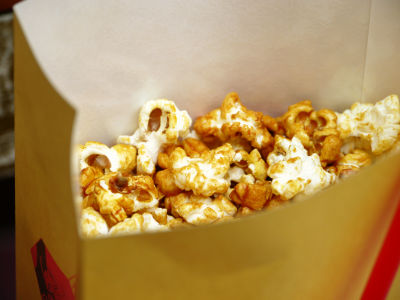 Beverage cup also has NERV logo.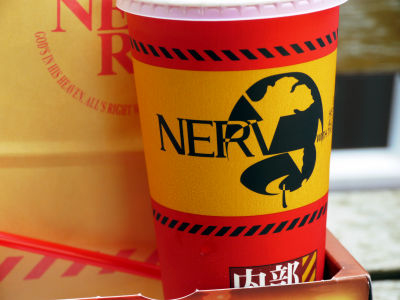 The theater clerk kindly showed her smartness not to pop off the flap on cup container. So we can see the NERV logo on it clearly.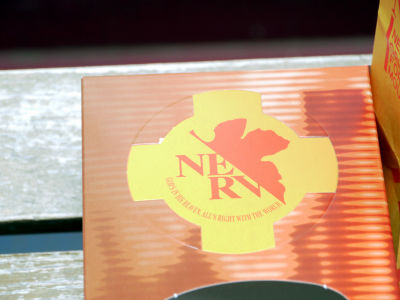 Base of Asuka's figure can be used as a lid for the cup.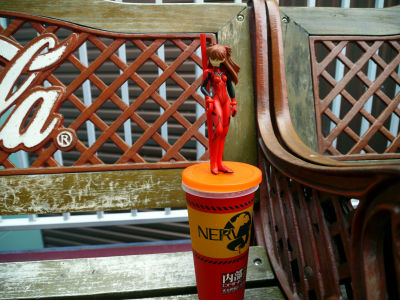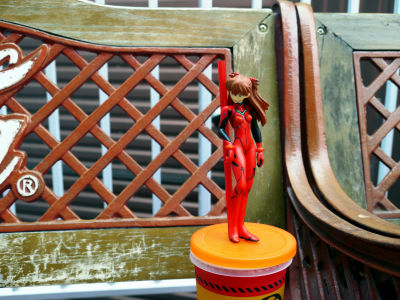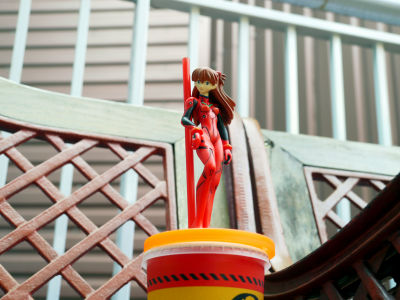 "Target Consuming Completed"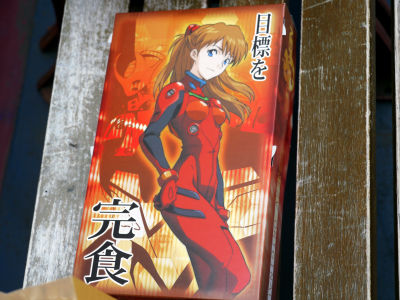 The brochure. The cover seems to reveal something.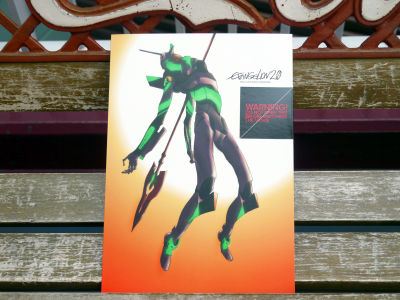 The back.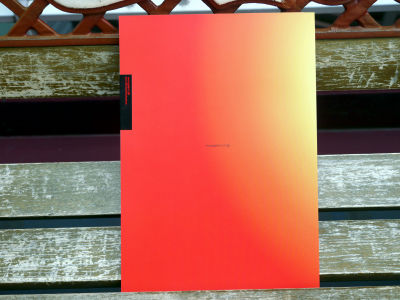 Spoiler alert on the brochure. The brochure does contain spoiler information so don't read it before viewing if you want to enjoy the show.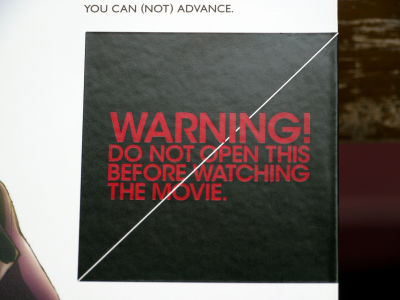 The boxed set of EVA-EXTRA, a free booklet handed as an advertisement. It contains renewed vol.01-03 and newly edited 04.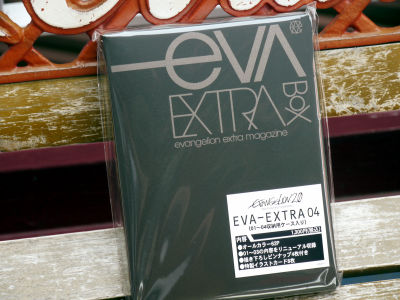 The story had been strictly undisclosed so there was no knowing how the story goes. But seeing the movie made us understand the reason of strictness. Audience were so preoccupied that there were only complete silence in the theater. It's totally tension-filled. You gotta see this epoch-making movie.

Related Post:
Pilgrimage to Tokyo-3, with "Evangelion Hakone Hokan Map"(1/2) - GIGAZINE

Pilgrimage to Tokyo-3, with "Evangelion Hakone Hokan Map"(2/2) - GIGAZINE

Products featuring Evangelion: 2.0 You Can (Not) Advance -Part 1. Beverage - GIGAZINE

Products featuring Evangelion: 2.0 You Can (Not) Advance -Part 2. Noodles and Bun - GIGAZINE

Products featuring Evangelion: 2.0 You Can (Not) Advance -Part 3. Snacks - GIGAZINE