"Romancing SaGa 4" on its way? Square Enix started a mysterious Countdown

(This article was originally posted in Japanese at 16:09 Jun. 26, 2009)

Square Enix launched another mysterious countdown website.

It seems to be hinting a new Romancing SaGa title, 14 years from its prequel.

Read on for details.
According to the following website launched on Square Enix's official website, a new title will be announced at 12:00 July 6th, 2009.

NEW GAME
http://www.square-enix.co.jp/0706/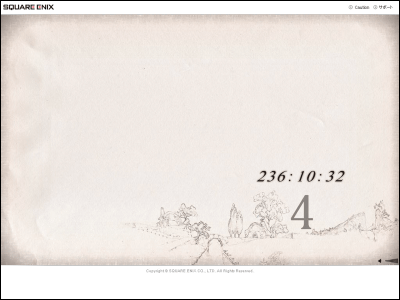 Not much information here, but the number "4" must be the biggest clue.

Tomomi Kobayashi, character designer of the series has blogged about starting to work with Square Enix for the first time in ages on June 19th. Adding this to the number 4 (the last title in the series was Romancing SaGa 3 released in 1995) fans are contemplating the chance of "Romancing SaGa 4" after 14 long years.

Tomomi Kobatashi Official Blog >> Square Enix, Long Time No See

Related Posts:
Only one game can be saved in "Dragon Quest IX" - GIGAZINE

Final Fantasy 14 Teaser Trailer on the Official Website - GIGAZINE

Next METAL GEAR SOLID? A Teaser Site Opened - GIGAZINE

Video and Screenshots of Final Fantasy XIII Demo - GIGAZINE
in Game, Posted by darkhorse_log