Movie of Macross Frontier to come out on November 21st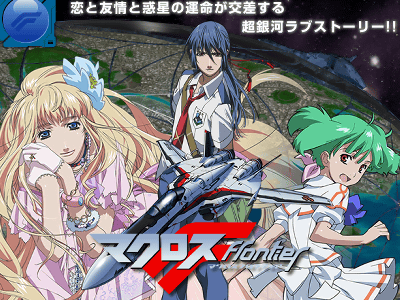 (This article was originally posted in Japanese at 11:39 Jun. 25, 2009)

The movie version of Macross Frontier was announced on September 25, 2008, after the conclusion of the TV series, and since been one of the most anticipated titles what with the slight possibility that Clan Clang might take the lead.

The opening date isn't officially announced yet, but it seems concrete that the movie will premiere on Sat. November 21 and the title is to be "Gekijoban Macross F - Itsuwari no Utahime -(Macross Frontier The Movie: Counterfeit Diva)".

Read on for details.
(Japanese)(cache) Cineplex Tsukuba / Advance Tickets

(Japanese)"Macross Ace" Vol.002 coming soon! with a lot about the movie!

In Cineplex Tsukuba's advance ticket information, there's the title "Gekijoban Macross F - Itsuwari no Utahime-" with the opening date "11/21 (Sat)" seen in the sales schedule. It says the ticket type is "General: 1,300 yen", and nothing to "Note" (for the movie Wild Speed MAX you can see the words "Glow in the Dark! Wild SWING Hand" and whatever that is we assume it's some freebie that comes with the ticket) so maybe there's no novelty attached to Macross's advance ticket, or they haven't it planned yet.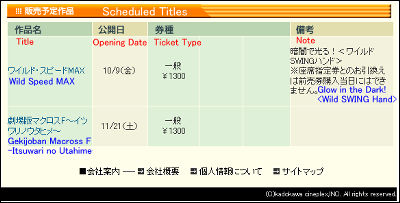 Official information on the movie is to come out on Fri. June 26 in "Macross Ace" Vol.002. According to Hatena::Keyword(there are links to some pictures of the magazine pages here) the slogan of the movie is "Of course you can't save the galaxy by songs, silly" and the advance ticket will be on sale from Sat. June 27.

Related Posts:
Clan Clang might take the lead in "Macross Frontier" Movie Edition - GIGAZINE

Cutest USB Flash Drive / Action Figure of Lupin III, Rei Ayanami, Ranka Lee and more! - GIGAZINE

TAF 2009: Hand Drawings and Autograph of Shoji Kawamori of MACROSS FRONTIER and BASQUASH! - GIGAZINE

Stills from new TV anime "BASQUASH!" starting this April - GIGAZINE

Top 20 Awesome Robots in Anime History - GIGAZINE

Tokyo Anime Award announced -"Ponyo on the Cliff by the Sea"  was chosen Animation of the Year - GIGAZINE