Movie of the anime "Eden of the East" going to be a Two-Parter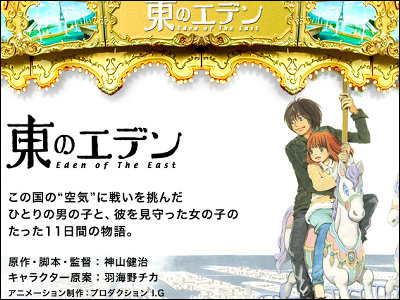 (This article was originally posted in Japanese at 10:10 Jun. 19, 2009)

Written and directed by Kenji Kamiyama of Ghost in the Shell: Stand Alone Complex series with characters designed by popular manga artist Chica Umino of Honey and Clover, TV anime "Eden of the East" aired from April 2009 was one of the most successful titles of this spring's anime season.

A movie version to come next winter was announced from the beginning of the project, but recently some new details came out. Apparently, it's going to be a duology.

Read on for details.
(Japanese)NEWS - Eden of the East: The Movie I & II | News - Fuji TV "noitamina" TV Anime Eden of the East

According to the official blog of "Eden of the East", the first movie "Eden of the East: The Movie I - The King of Eden" is to premiere on Saturday, November 28, 2009.

The second movie "Eden of the East: The Movie II - Paradise Lost" is to open in January, 2010.

A special advance ticket bundled with "Character Concept Book" by character designer Chica Umino will be released this summer exclusively at Theatre Shinjuku, United Cinema Toyosu, Theatre Umeda and Fushimi Million Theater for 2,400 yen.

Related Posts:
New Anime Film of Yatterman opening this Summer - GIGAZINE

Latest Trailer of anime film "SUMMER WARS" came out! - GIGAZINE

Latest Trailer of "Evangelion 2.0" came out on YouTube, revealing the new "Child" Mari - GIGAZINE

TAF 2009: Stills from the movie "Eureka Seven: Pocket Full of Rainbows" - GIGAZINE

TAF 2009: Trailer and Original Drawings of "Magical Girl Lyrical Nanoha The Movie 1st" - GIGAZINE

TAF 2009: Stills and rubber stamps from "Movie Version Tengen Toppa Gurren Lagann: Episode Lagann" - GIGAZINE