New Lineups of Kaiyodo's REVOLTECH Action Figures featuring "Evangelion: 2.0"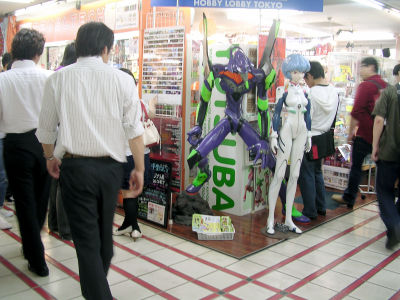 (This article was originally posted in Japanese at 11:24 Jun. 17, 2009)

With a fortnight to go until the opening of Evangelion: 2.0 You Can (Not) Advance, action figures of Unit-01, Unit-02 and Provisional Unit-05 came out on June 15 as new models in Kaiyodo's Revoltech Yamaguchi Series.

The lineup were released on Saturday June 13 at Kaiyodo Hobby Lobby Tokyo, Akihabara, as an exclusive head-start release, attracting many devoted fans.

Pics after the cut!
Customers were queueing before the shops opening. Quite understandable considering it's the first release in seven months for Revoltech Yamaguchi Series.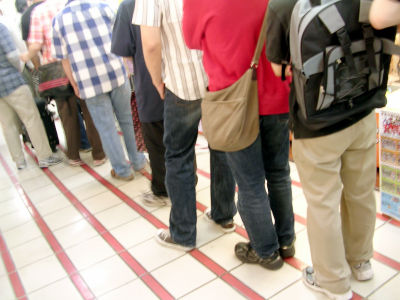 Three new models.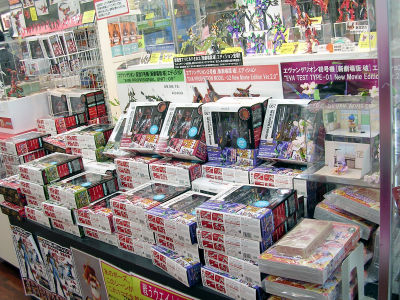 Evangelion Unit-01 [Shingekijoban: Ha] Edition 2,400 yen.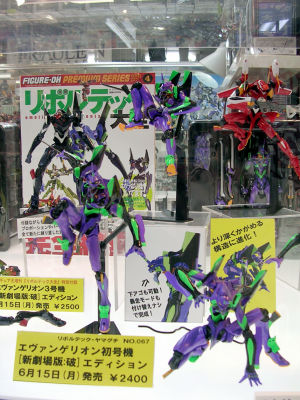 Evangelion Unit-02 [Shingekijoban: Ha] Edition 2,400 yen. Unit-02 was seen flying in the trailer.


Eva Provisional Unit-05 [Shingekijoban: Ha] Edition 2,400 yen. New Evangelion piloted by the new character Mari.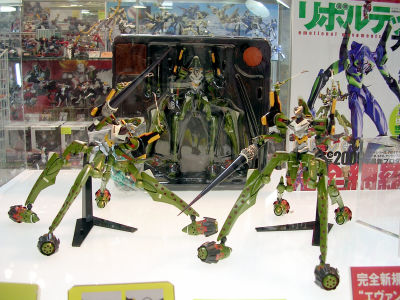 "Evangelion Unit-03 [Shingekijoban: Ha] Edition" bundled with Figyua-Oh Zokan "Revoltech Daizen", a special issue of monthly Figyua-Oh (Figure King) magazine catalogueing all models in Revoltech's history. 2,500 yen.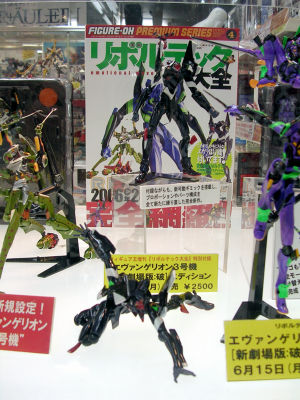 Plentiful.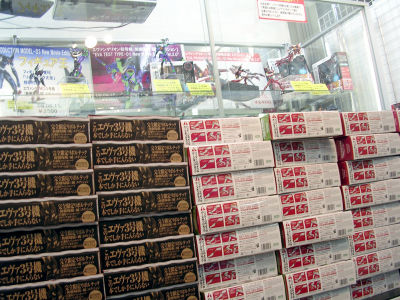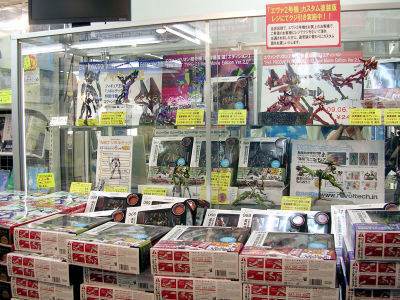 Papercraft Tokyo-3 for Revoltech. This is a prototype but the diorama is soon to be released by Union Creative.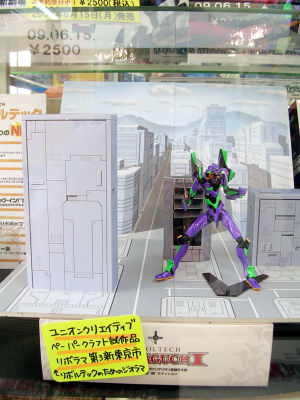 Buying a bunch.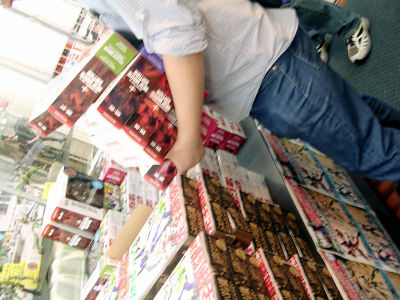 Press.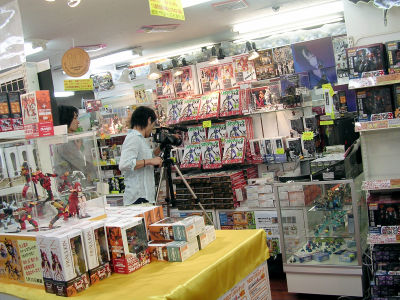 Asuka Langley Shikinami. Figures of the pilots were displayed as well as the Evangelion units.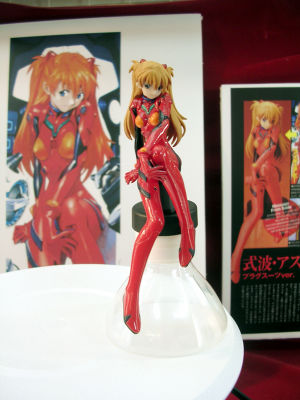 Asuka posing with a rifle.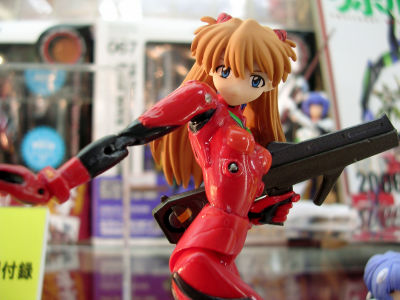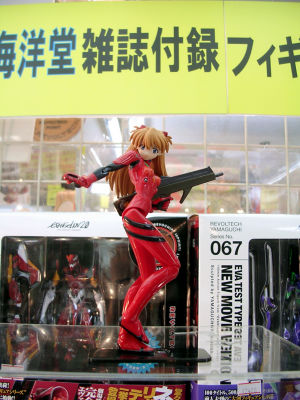 Rei Ayanami with Lance of Longinus.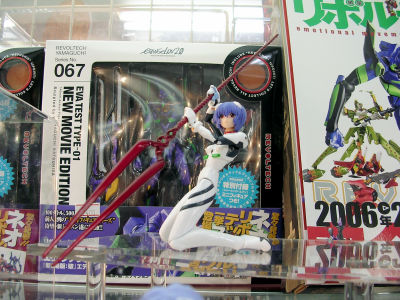 Mari Illusrious Makinami, the new pilot.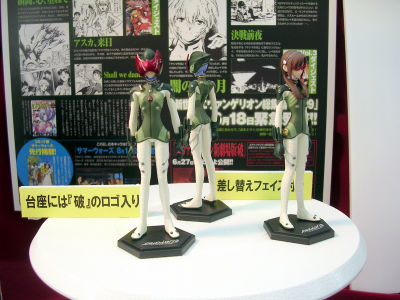 Wearing glasses as seen in the trailer.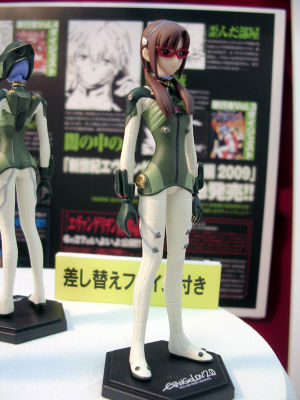 Mari's plug suit and helmet looks quite different from other pilots'. These figurines of heroines are freebie attacheed to Kadokawa Shoten's magazines. Mari in plug suit comes with Young Ace Vol.1, the new monthly seinen manga magazine to be launched on July 4. "Mari school uniform ver." comes with August issue of Newtype (out Jul. 10), "Asuka: Sadamoto's Illustration ver." comes with Young Ace Vol.2 (Aug. 4).


"Hakone Complementation Map" was displayed.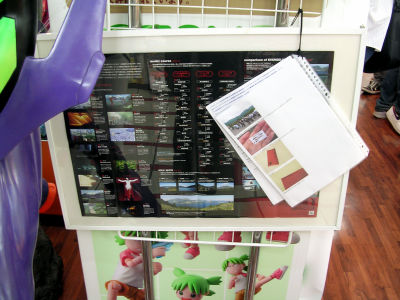 Our article about the map was printed out to inform the customers the novelty of the map.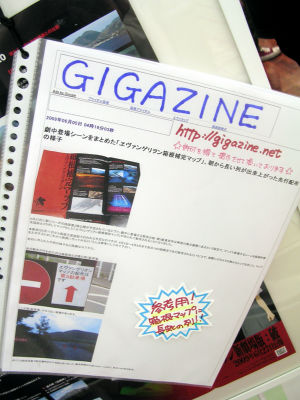 Glad to see someone reading it. The maps were distributed only in Hakone but they're considering some way to reach people too far away from Hakone to get a hand on it, so maybe you can wait in hope.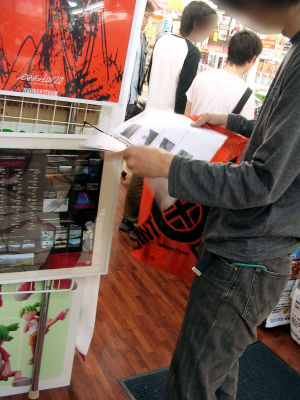 Related Posts:
Beautiful Stainless Steel Unit-00 of "Evangelion SUS Figure Project" - GIGAZINE

Cutest USB Flash Drive / Action Figure of Lupin III, Rei Ayanami, Ranka Lee and more! - GIGAZINE

Latest Trailer of "Evangelion 2.0" came out on YouTube, revealing the new "Child" Mari - GIGAZINE

For Your Pilgrimage to Tokyo-3: "Evangelion Hakone Hokan Map" Distributed - GIGAZINE

Pilgrimage to Tokyo-3, with "Evangelion Hakone Hokan Map"(1/2) - GIGAZINE

Pilgrimage to Tokyo-3, with "Evangelion Hakone Hokan Map"(2/2) - GIGAZINE

Top 20 Awesome Robots in Anime History - GIGAZINE
in Anime, Posted by darkhorse_log