NintendoDS, everywhere: Nintendo develops DS-aided education system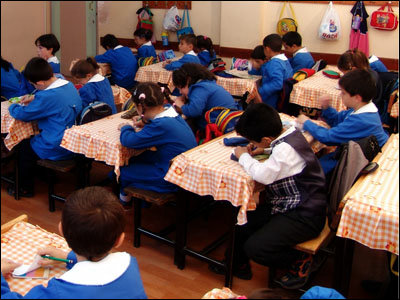 Apple is famous for their marketing in education industries. Succeeding in the place of education, Apple extended their market share greatly. And since iPod and iPhone succeeded in mobile market, we see the "bitten apple" trademark almost everywhere. The branding strategy of Apple is skillful and trustworthy.

The same thing may happen even in Japan. Using their portable game console, Nintendo is now developing a grade mangement system for classrooms while fixing free wireless LAN access point in cooperation with fast food chain.

Read on for detail.

"DS Classroom" Nintendo's education shows students' ability in touch. Kyoto Shimbun

Nintendo to provide "Nintendo Zone" at McDonald's and train stations.

Collaborating with Sharp System Products, Nintendo developed "Nintendo DS classroom" the lesson supporting system for NintendoDS console.

As well as an ordinary database function like mark management and attendance check, teacher can check which student wrote what kind of answer, the correctness of a Kanji character written on the touchpad, how long has a student studied home using DS and so on, which can never be done with the old paper-and-pencil style. This speed can only be achieved by a computer.

Also, Nintendo is fixing free wireless access spots called the "Nintendo Zone" in collaboration with McDonald's and Tsukuba Express. It enables DS users to download free contents like the train's timetable and the burger chain's menu, et cetera. Moreover, applications of Nintendo DS can be downloaded and purchased there. Being provided in populous places make expectable not only an increase in download but also an opportunity of gaining visibility.

People will get positive impressions, like "DS can be used in various ways and it's even used in school", which can distinguish the console from others.

Well, there are too many examples of wide-spreading products with no value. We must not forget it's our benefit we should consider, not the manufacturers' marketing policies. Education is the matter of human, not machine.

Related Post:
Nintendo is to release Super Mario Brothers' sequel on Wii - GIGAZINE

Nintendo to start Free Video Service for Wii, also downloadable to Nintendo DS - GIGAZINE


"[email protected]" coming to NintendoDS, with three new Idol Candidates! - GIGAZINE

Return of tabletop RPG? "Sword World RPG" coming to Nintendo DS in gamebook style - GIGAZINE
in Note, Posted by darkhorse_log