Products featuring Evangelion: 2.0 You Can (Not) Advance -Part 3. Snacks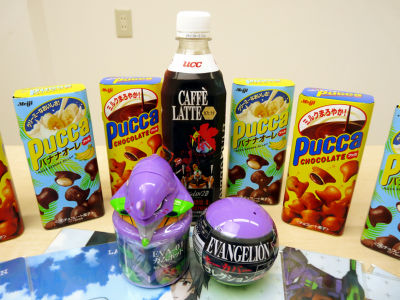 (This article was originally posted in Japanese at 11:15 May 29, 2009.)

Following beverages and foods, now we are going to introduce Evangelion-related snacks. In addition to the Evangelion-related snacks, we bought a bunch of other snacks, for LAWSON is giving a special freebie paper folder for each two purchases.

Read on for detail.

"AT Field Snack Black Pepper flavor" 105 JPY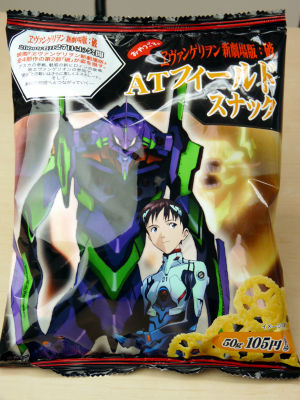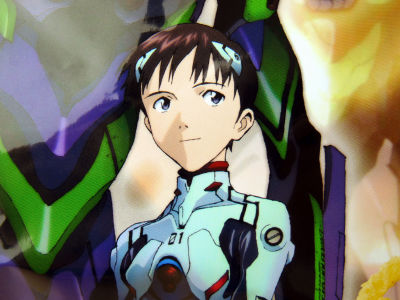 As everybody thought, we are going to experience totally new story in the 3rd sequel.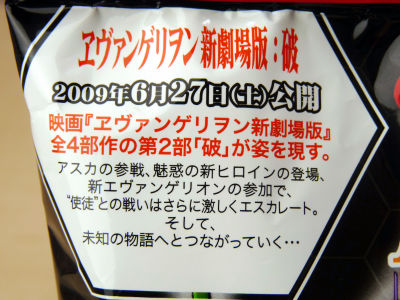 Nutrition facts. 256kcal per bag.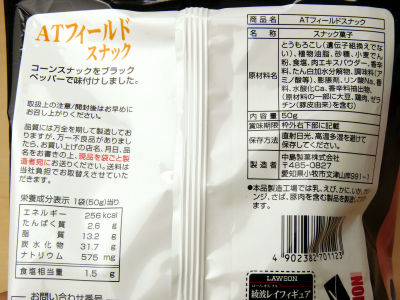 The "Garlic Ramen Snack" 105 JPY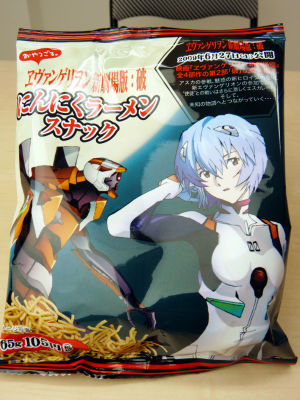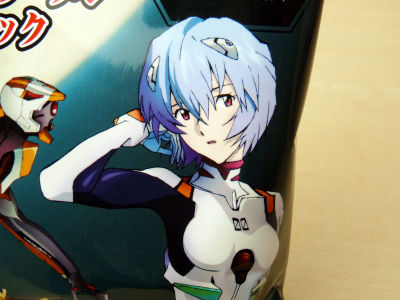 320kcal per bag.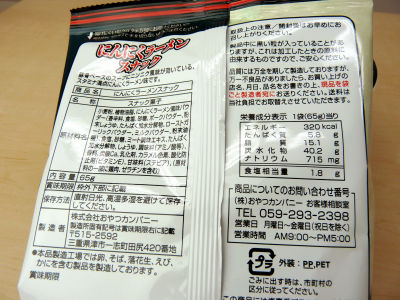 And "Evangelion New Theatrical Version Wafers: Special Edition" 105 JPY, with special trading card.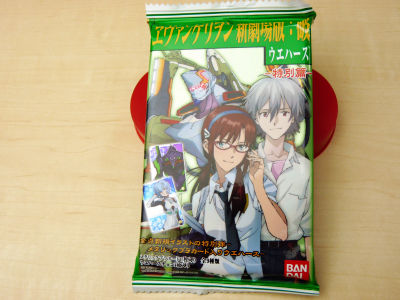 There are eight normal cards and a secret card.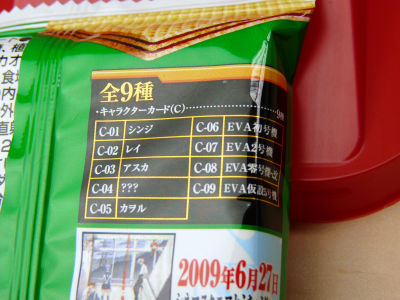 Serving out on a dish


The AT Field Snack. Unlike the name, the shape seems slightly different from AT Field. It's bland and tastes of pepper only.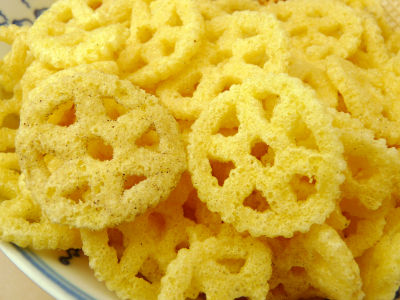 Garlic Ramen Snack tastes the same as other fried noodle snacks. Its garlic flavour might go well with booze.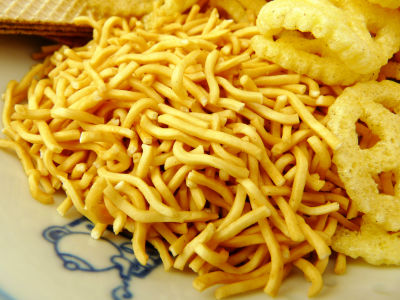 Wafers are just average. But among other salty snacks, its sweetness made us relieved.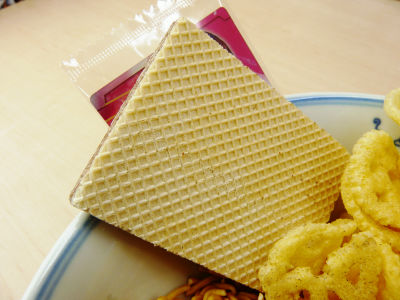 The secret "C-04" card turned out to be "Mari Illustrious Makinami"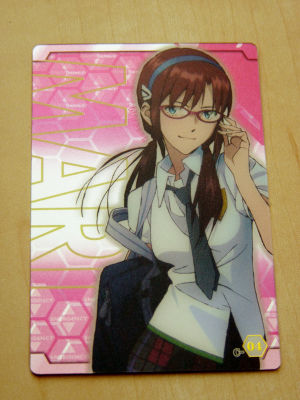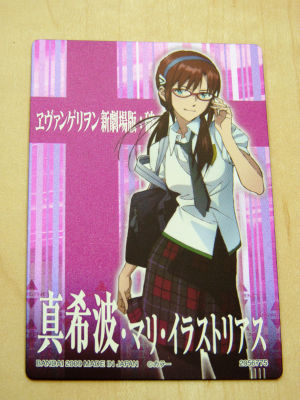 Unit-01 model "Evangelion Gum Pot" for 698 JPY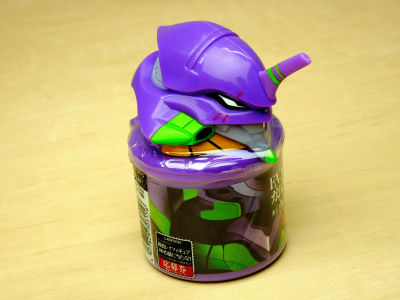 There seems to be plenty of gum balls in it but no room for them in the head.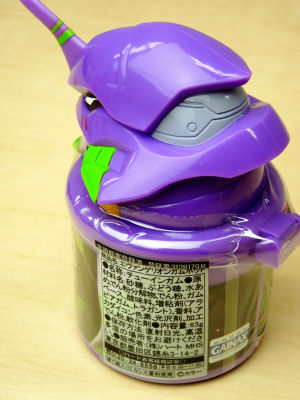 The cassis-flavoured gum reflecting the core of Angels.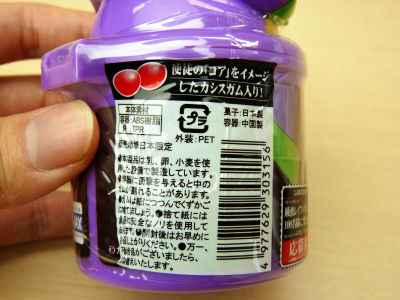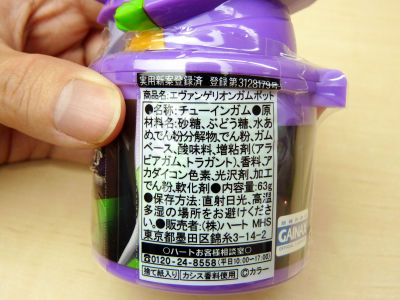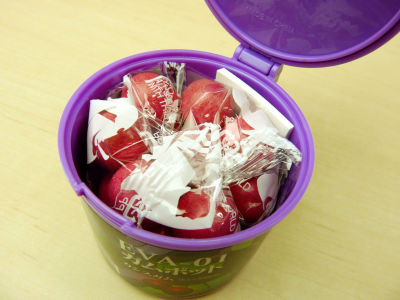 NERV logo printed on the bag.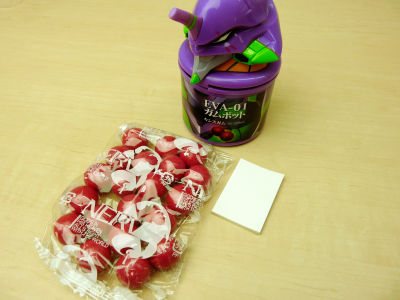 "Evangelion Key Cover Collection" for 399 JPY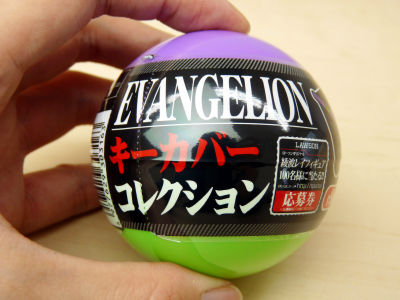 Of course key cover is not edible. There are candies inside.


The purple + green colored capsule resembles Unit-01, kinda weird.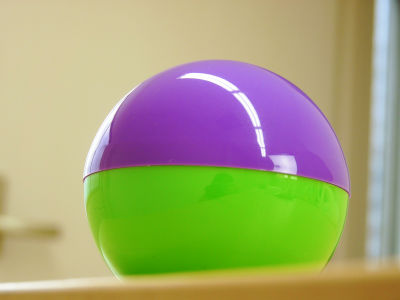 The content of the capsule. There are 9 types in all. We got the one with a NERV symbol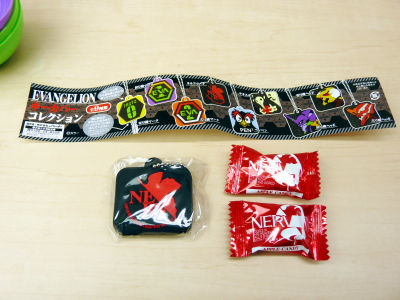 The candies are apple flavored. Maybe the flavour choice was inspired by the forbidden fruit from the Book of Genesis.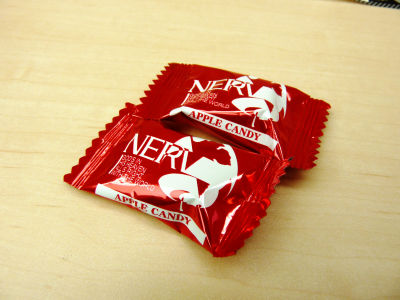 LAWSON also provides a plastic folder for every two purchases of specified snacks as a special campaign. You should note that the snacks introduced above are not included in the list of featured products.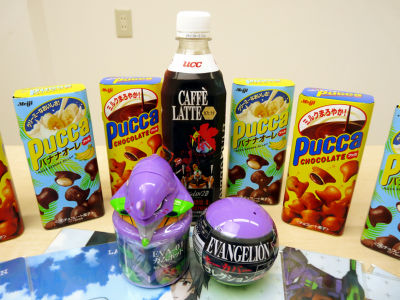 So here's the complete collection of paper folders. "Rei Ayamani + Unit-00", "Shinji Ikari + Unit-01", "Asuka Langley Shikinami + Unit-02", "Rei Ayanami in LAWSON" and "Mari Illustrious Makinami + Kaworu Nagisa". These are first-come-first-served so you should hurry to LAWSON if you want the one with your favorite design.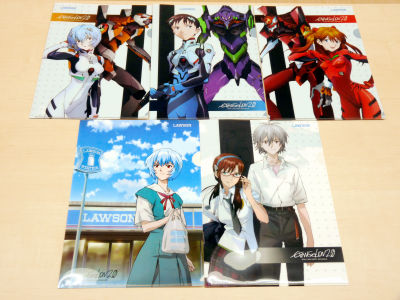 The back side. Only the "Mari + Kaworu" one has Unit-05 on the back.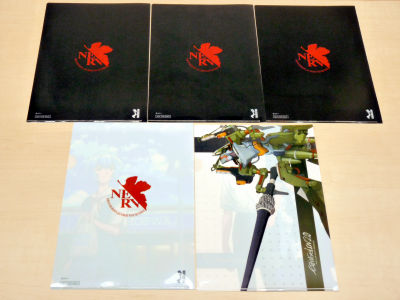 That's all for now. Hope we can get LAWSON's "Rei Ayanami Figure" and UCC's "Asuka" figure. Wish us luck!

Previous Posts:
Products featuring Evangelion: 2.0 You Can (Not) Advance -Part 1. Beverage - GIGAZINE

Products featuring Evangelion: 2.0 You Can (Not) Advance -Part 2. Noodles and Bun - GIGAZINE

Related Post:
EVANGELION Subway Card to be released in Fukuoka - GIGAZINE

EVANGELION Boxer Shorts: You Can (Un) Dress to Kill! - GIGAZINE

NTT docomo's EVANGELION Phone Unveiled! - GIGAZINE

The advance film ticket of "Evangelion: 2.0 You Can (Not) Advance" on sale, and Asuka's name changed - GIGAZINE

Special Evangelion-Illustrated Canned Coffee released, with chance of getting special figures! - GIGAZINE