Products featuring Evangelion: 2.0 You Can (Not) Advance -Part 1. Beverage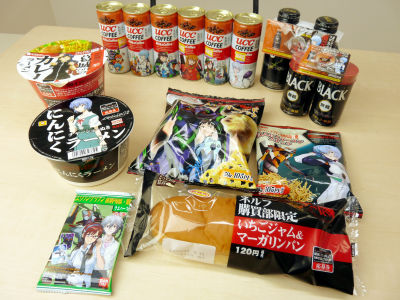 (This article was originally posted in Japanese at 20:38 May 28, 2009)

With only a month to go until the opening of Evangelion: 2.0 You Can (Not) Advance, there's a lot of related commercial products released to the market in Japan.

Convenience store franchise LAWSON has launched a campaign (May 26 to June 8) featuring the movie, releasing various food and stuffs with original freebie plastic folder.

So we've collected all the Evangelion-related snacks and beverage out there, and here's our photo review. This post will show you the beverage, three kind of canned liquid coffee.
(Japanese)EVANGELION CAMPAIGN :: Campaign :: LAWSON

These are Lawson's original products and UCC's canned liquid coffee. We thought this was all, but-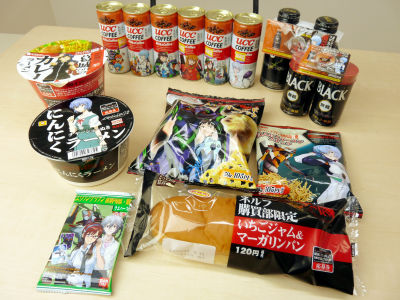 There was more. The freebie plastic folders come with non-Evagelion snacks, you have to note. One folder for every two products purchased from the specified confectioneries.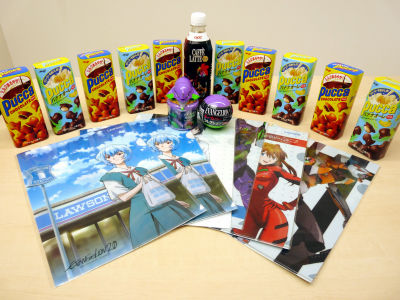 UCC has a history of collaborating with Evangelion since featuring characters from The End of Evangelion on their cans in 1997 as "Eva-Can", re-releasing them in 2007 when the movie Evangelion: 1.0 You Are (Not) Alone opened. This time, they came out with new designs as "Eva-Can 2009".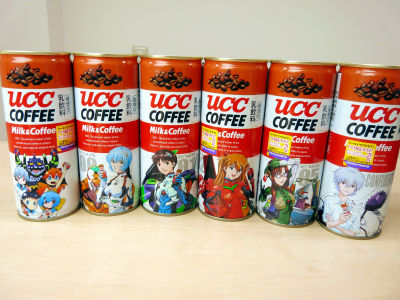 UCC COFFEE Milk&Coffee. There are six designs in all. These aren't limited to LAWSON but we had a hard time collecting them all since some shops had only few kind left, or completely sold out in some case.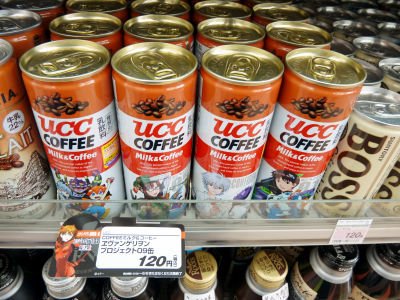 Petit Eva.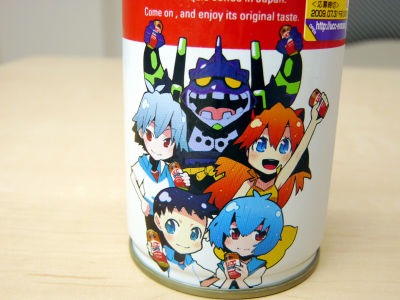 Rei Ayanami and Unit 00.


Shinji Ikari and Unit 01.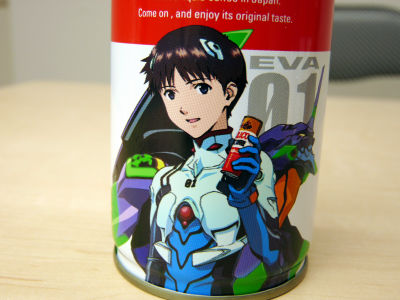 Asuka Langley Shikinami and Unit 02. Design of Unit 02 changed slightly, with little horns on the head.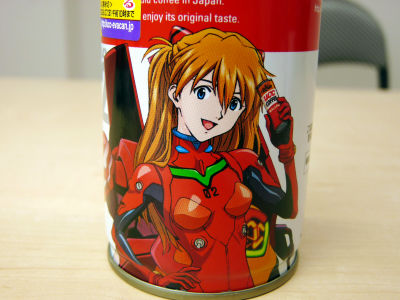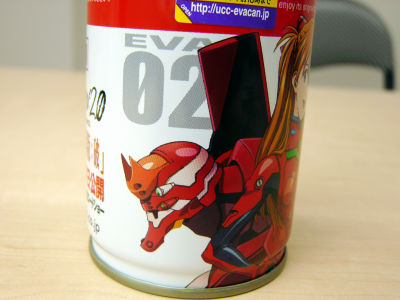 New character Mari Illustrious Makinami and Unit 05.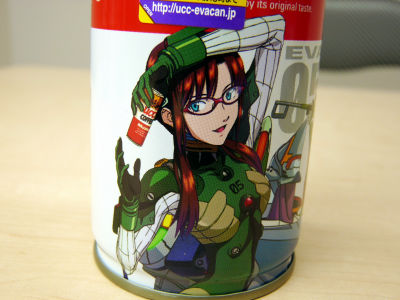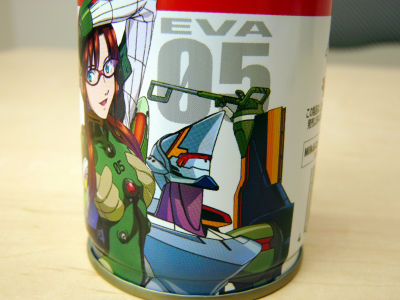 Kaworu Nagisa and the Moon Giant. These six are specially illustrated for the can by chief animator Hidenori Matsubara of the new movie and Ryusuke Hamamoto, character designer of Petit Eva.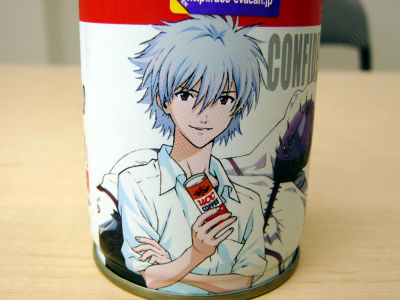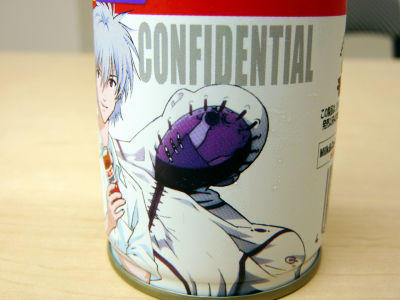 This is the 40th anniversary year of UCC's canned coffee.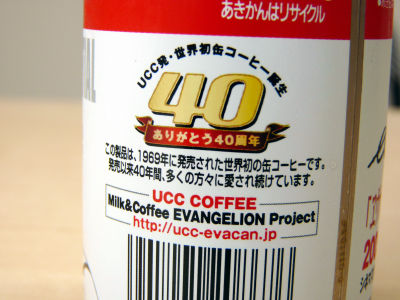 Ad of the movie.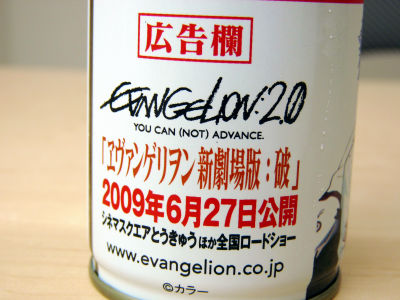 Contains the same old sweetened liquid coffee with milk-ish stuff.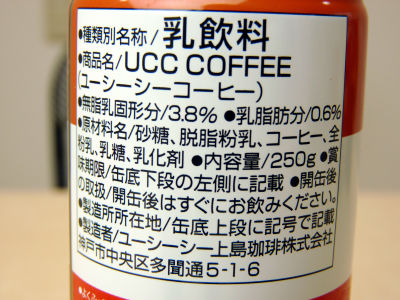 QR Code and ID pass on inside the sticker.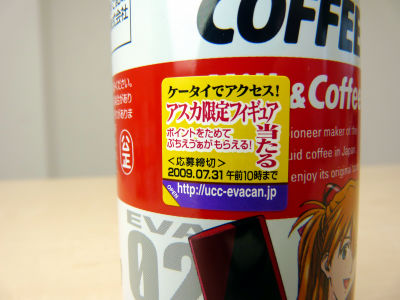 You can challenge a game from a cell phone, to win an Asuka figure especially made by Kotobukiya for lucky 1,000 canned coffee drinkers.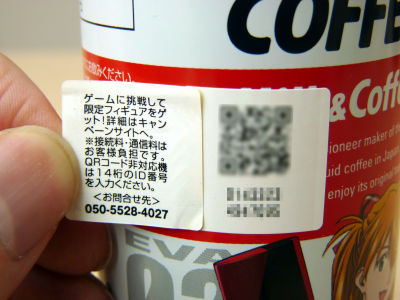 Bottled Caffe Latte, with gorgeous label featuring Evangelion illustrations on three sides.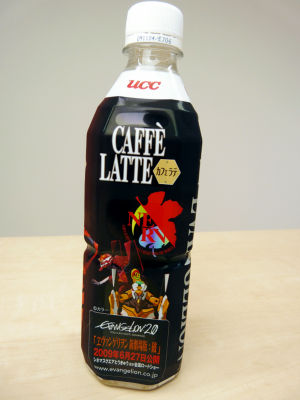 Unit 00 and Unit 02 on front.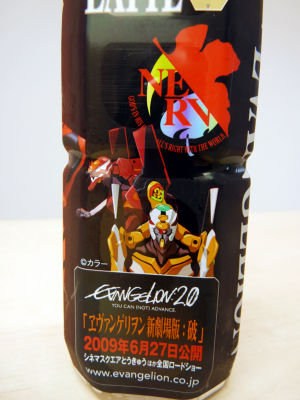 Asuka and Rei on each side.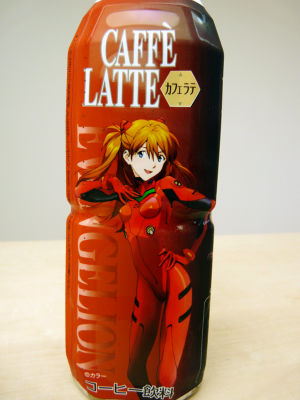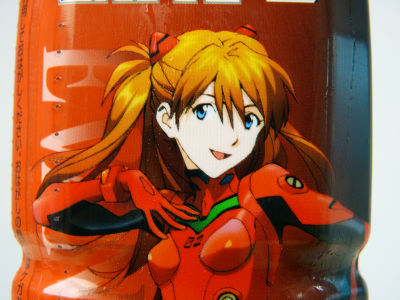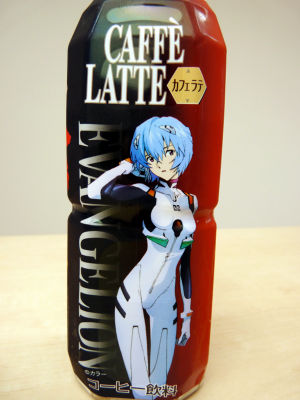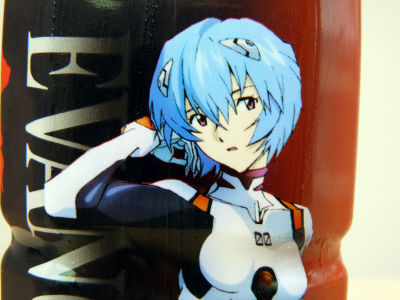 Nutrition facts. 41kcal per 100ml.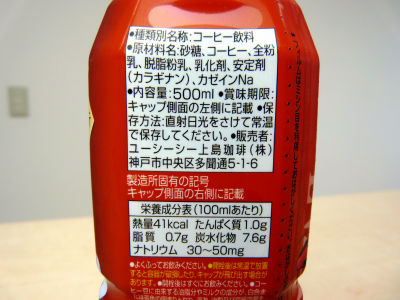 NERV logo on the cap would have been a nice touch.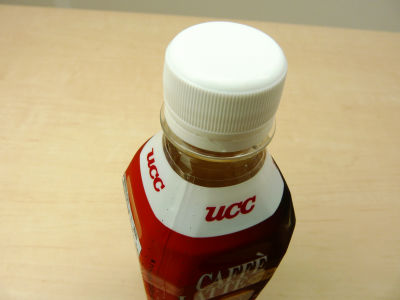 "BLACK Non-sugar" and "Platinum Aroma". No special cans, but you can get a fastener mascot (accessory to be attached to pull tab of zippers) per every two cans.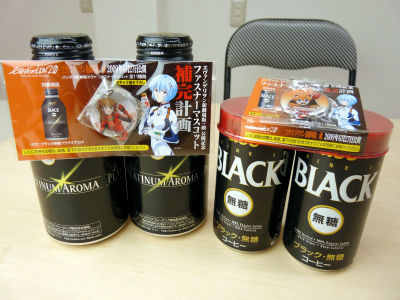 11 types in all.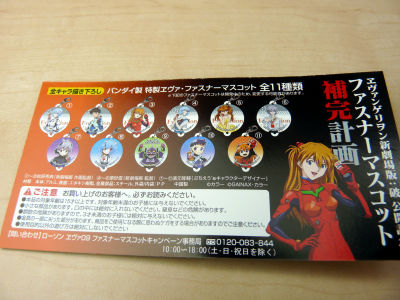 We got two Asuka versions. You can choose the one you like from the window of the package.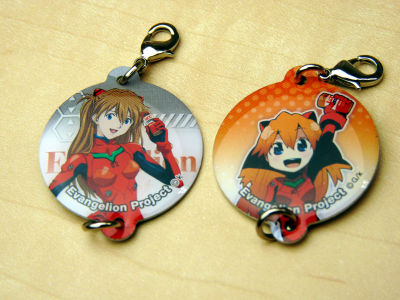 Related Posts:
EVANGELION Subway Card to be released in Fukuoka - GIGAZINE

EVANGELION Boxer Shorts: You Can (Un) Dress to Kill! - GIGAZINE

NTT docomo's EVANGELION Phone Unveiled! - GIGAZINE

The advance film ticket of "Evangelion: 2.0 You Can (Not) Advance" on sale, and Asuka's name changed - GIGAZINE

Special Evangelion-Illustrated Canned Coffee released, with chance of getting special figures! - GIGAZINE