Photo review: "Mobile Hi-Vision CAM Wooo" the nation's first cell phone with HD camcoder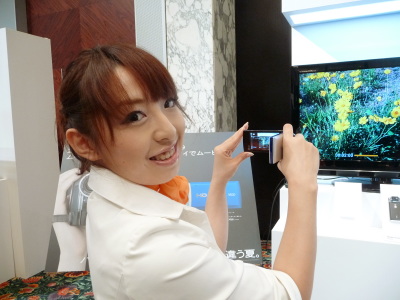 (This article was originally posted in Japanese at 15:32 May 25, 2009.)

KDDI has announced their "Mobile Hi-Vision CAM Wooo" cell phone at the press conference held in Tokyo. The cell phone is manufactured by Hitachi and equipped with 3.0" full-wide VGA IPS LCD and anti-shake 5.0M auto focus 3x optical zoom camera. The camera also can be used as 1280*720 30fps HD camcoder, which is the first attempt in Japan.

The camera also adopted "Byou-Satsu(lit. Shoot in a second)" the Ultra-Fast boot up mode and "Sound Zoom" special sound enhancer modes, which are also adopted in Hitachi's DV camcoder "Woooo" series. The phone also has HDMI connector for output. It can really be called "Mobile Cam-coding cell phone".

Read on for the photo review.

The "Mobile Hi-Vision Cam Wooo".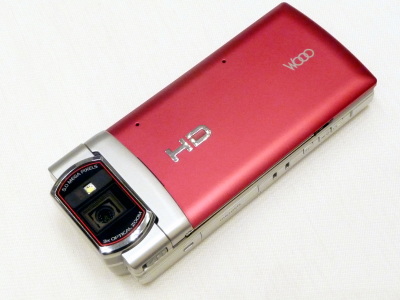 The back strongly appealing its HD feature.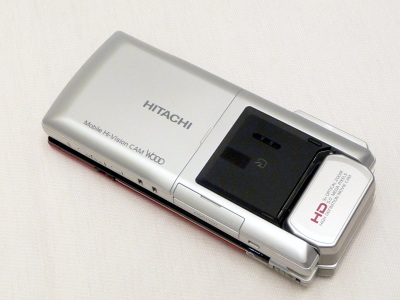 Opened view.


Equipped with anti-shake 5.0M auto focus 3x optical zoom camera. The camera features face detection, programmed AE, "Picture Master for Mobile" the image processor CPU adopted in Hitachi's TV and camcoders and so on, which make this phone a powerful camcoder.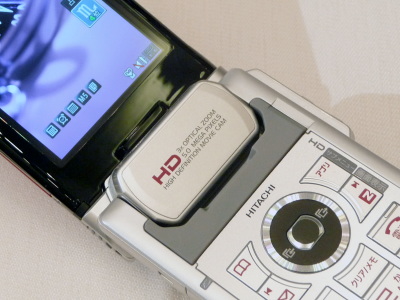 The unique hinge encloses camera.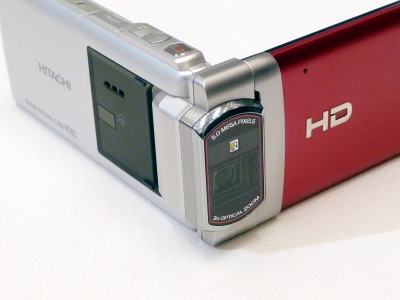 The right side. From right: Record button, zoom button, HDMI connector.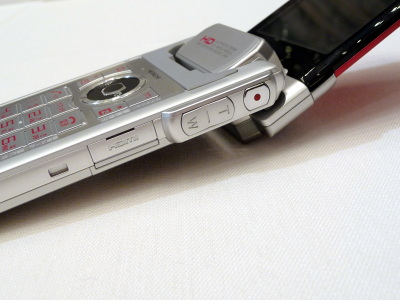 It beccomes the first cell phone to have HDMI connector.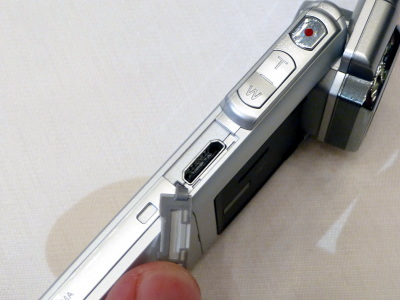 microSD memory slot is equipped on the left side. Supports microSDHC card up to 8GB.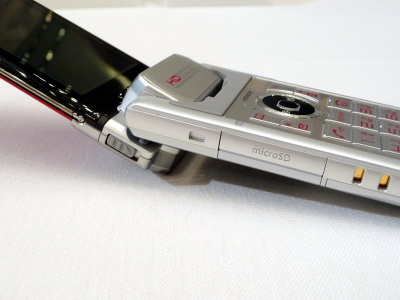 "HD movie" icon in the middle of menu display.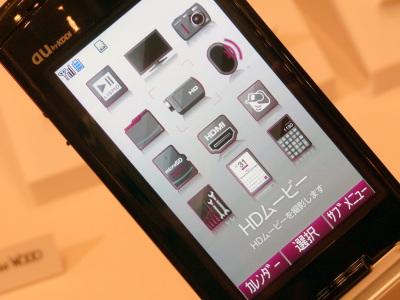 Horizontal mode seems good for playing videos and 1-seg TV.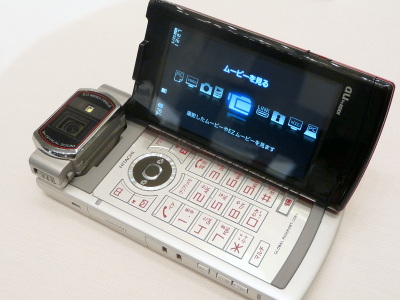 Used like this. It's the proto type so they won't provide us HD videos taken by the phone. But they connected the phone to the HD display and played the video on it.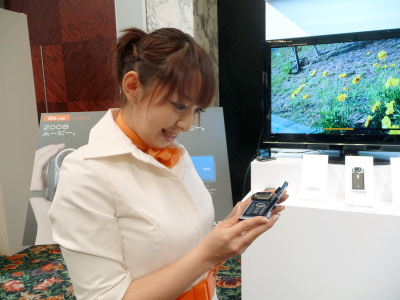 Following is the official page of "Mobile Hi-Vision CAM Wooo"
(JP)Mobile Hi-Vision CAM Wooo | Cell phone handset KDDI Inc.

Related Post:
KDDI's new cell phone lineup for 2009 summer announced No.1/2 - GIGAZINE

KDDI's new cell phone lineup for 2009 summer announced No.2/2 - GIGAZINE

KDDI's 7GB "biblio" cell phone with large touchscreen E-book Reader for Booklovers - GIGAZINE