How to make DIY 130,000,000 pixel digital camera with Epson scanner CCD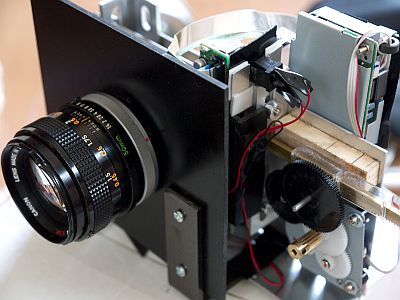 This is really Huuuuge! A Japanese geek made massive 130M pixel digital camera with CCD used in Epson's ordinary flat-bed scanner. As you can see in the image above, it looks more like a junk than a camera. But this adoreble device with 50mm lens can take insanely detailed images.

Let's see the great work done on this, and the pictures taken by the camera.

Oversaturated
http://d.hatena.ne.jp/spyuge/

This is how he started:

Flatbed Scaner for Large Format Camera - Oversaturated

The scanner he used was the 1200dpi. So if I were to use the recent 4800dpi scanner...It is 16 times bigger so...It goes to order of GIGA. Wow.
Flatbed Scaner for Large Format Camera No.2- Oversaturated

Too much difficulties in Mecha-tronics. I never know how difficult to move the CCD parallel. Maybe I should have given up the thing. After some try-and-error I finally noticed that gear-driving the CCD works. And this is the photo of the thing which came out.
So here's the prototype.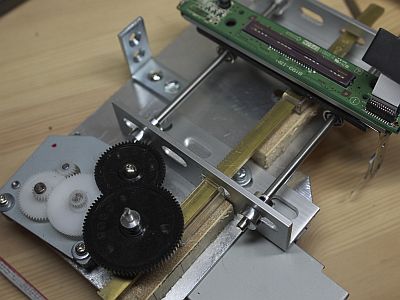 Well, the road was tough. The first prototype broke by short circuit.

Bogging - Oversaturated

To say honestly, I lost my first prototype by short circuit. This is the 2nd one...(The time and money I put on this is too huge. Does this really work?)

Here's the continuation. To cheat the light-check by scanner driver, I put the dummy LED and a switch. It's pretty primitive, but it works.
It's getting like a real camera, isn't it?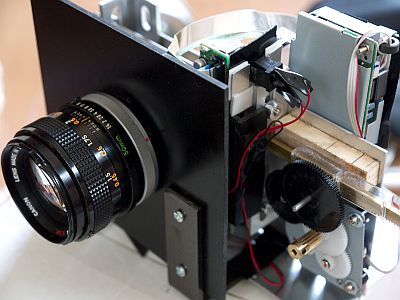 And he succeeded in battery operation. Following is the video of actual shooting by the camera with scanner sound.

YouTube - scanner camera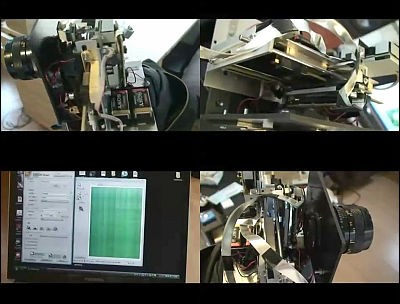 And here's the gallery of sample images taken by the device on Flickr. All the images are artistically beautiful and technologically distinguished.

Flickr: spyuge's Photostream
http://www.flickr.com/photos/[email protected]/

And this is the complete setup of the camera.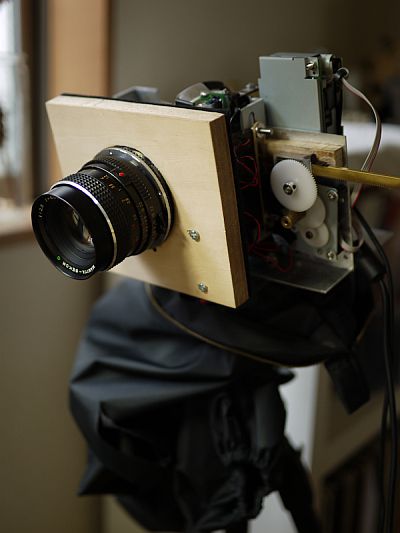 There are few massive DIY project done by Japanese. Hope there will be more like this one.

Related Post:
"Godzilla 5th Form Pattern" is more than amazing, with Kamata, Shinagawa, Kamakura Form Figures - GIGAZINE

Interview with Mamoru Oshii: Details of Releasing "The Next Generation -Patlabor-" Director's Cut - GIGAZINE

Highway Night Bus "COCOON" by WILLER EXPRESS Secures Private Spaces For All Passengers - GIGAZINE

"Nissin Cup Noodles Matcha Seafood Flavor" Review: What Does Green Noodle Taste Like? - GIGAZINE

Interview with Fumito Ueda, "The Last Guardian" Game Director and Designer - GIGAZINE

Photo Imaging Expo 2009: "Fine Pix Real3D" the world's first 3D shooting camera - GIGAZINE

Photo Imaging Expo 2009: Review of Panasonic's DMC-GH1K Digital SLR Camera with pics and video - GIGAZINE

Photo Imaging Expo 2009: Sony's super panorama camera "DSC-HX1" - GIGAZINE