Haruhi Suzumiya's new episode title revealed on a TV timetable web site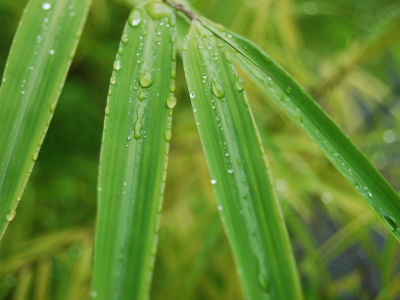 No one ever could predict precisely what is going on with the ongoing anime "Suzumiya Haruhi no Yuutu (Melancholy of Haurhi Suzumiya)". It started airing "afresh" this april but showed no sign of newly constructed episodes though there are 14 new added episodes.

The only clue is that the ongoing airing has sorted the episodes in chronological order, where it was aired randomly in the previous season. And now, it seems that an episode that none of us have ever seen before is coming. Timetable of TV Wakayama has shown an unseen title for "Haruhi".

Read on for detail.

(JP)TV Wakayama May 24(Sun), 2009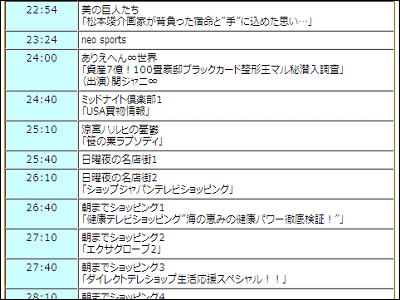 This is the timetable posted on TV Wakayama's website. From 25:10, "Melancholy of Haruhi Suzumiya" starts airing and it has unseen title "Sasanoha Rhapsody". The episode will also be aired at May 21, 24:40 on Sun Television and May 21, 25:00 on Television Saitama.

"Sasanoha Rhapsody" is included in the 3rd volume of the original novels, depicting SOS brigade's Tanabata day. In chronological order, it should come after "The Boredom of Haruhi Suzumiya". So far the rule has not broken yet.

Accoring to the phone interview we made on TV Wakayama, they say "We were told not to show the episode title but it accindentally went out. So we are now working to erase them". We actually checked that it was erased by 10 o'clock.

There has been no specific change yet on the official sites below.

(Jp)SOS Dan web site

(Jp)Melancholy of Haruhi Suzumiya Special Fan Site

Related Post:
The Complete Instruction of "KeyHoleTV", the world-wide P2P TV viewer - GIGAZINE

2nd Season of "Melancholy of Haruhi Suzumiya" starting from this April - GIGAZINE

"Melancholy of Haruhi Suzumiya" to start airing "afresh" from this April - GIGAZINE

"Haruhi"started airing at last, with 14 NEW EPISODES!!! - GIGAZINE

The inimitable Kickboxer-cum-Cosplayer-cum-Otaku Nagashima "Jien-ots" Yuichiro - GIGAZINE

Artful Ascii Arts of "Suzumiya Haruhi" and her company. - GIGAZINE
in Anime, Posted by darkhorse_log