Special Evangelion-Illustrated Canned Coffee released, with chance of getting special figures!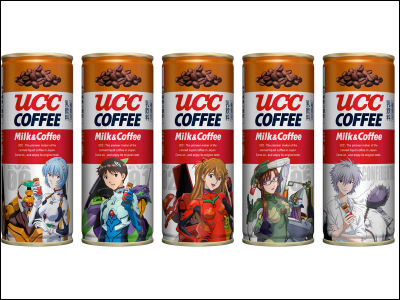 (This article was originally posted in Japanese at 20:27 May 8, 2009.)

Before the showing of "Evangelion: 2.0 You Can (Not) Advance" on June 27th, Japanese coffee distributer Ueshima Coffee Company has released canned liquid coffee with six different kinds of special Evangelion illutration as "UCC Coffee Milk&Coffee Evangelion Project".

You can also get "Asuka Langley Shikinami's figure by Kotobukiya", "Petit Eva Special Figure Set (5 kinds)" or "UCC Special Eva cell phone wallpaper '09 ver (18 kinds)" by subscribing the QR code on the can via Internet.

Read on for the close view of cans and a picture of special figure of Asuka.

(Japanese)Six Eva-Can for "Milk & Coffee" debut! | News Release | UCC Ueshima Coffee - Good Coffee Smile

(Japanese)UCC COFFEE Milk&Coffee Evangelion Project Evangelion
http://ucc-evacan.jp/pc/index.html

Here are the six illutrations of the can.

Rei Ayanami



Shinji Ikari



Asuka Langley Shikinami



Mari Illustrious Makinami



Kaworu Nagisa and the Giant of the Moon



Evancho & Petit-Eva



And the special figure of Shikinami Asuka Langley made by garage kit giant Kotobukiya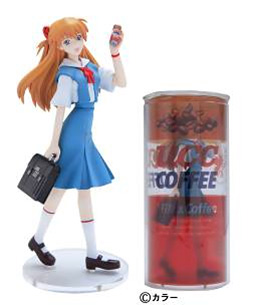 The Eva-Can campaign will be held like the following.

-Style of the campaign
The campaign is opened for customers of "UCC Coffee Milk&Coffee Evangelion Ver 250g" only.

-How to participate
Access the web site of the campaign, directly or via QR code on the can with the cell phone's browser. On the site, subscribe "My Page" on the database, and enter 14-digit ID number on the can's label.

-Implementation Date
From 10:00 May 18(Mon), 2009 to 10:00 July 31(Fri), 2009

-Prizes
(1)"Asuka Langley Shikinami's special figure": 1000
(2)"Petit-Eva" Special Figure (Set of 2)
You need 60 rejected points to apply. Two figures are selected randomly from five.
(3)"UCC Special Evangelion Cell phone wallpaper"(18 kinds) for all applicant.

-Result Presentation
"Instant-Win" style. You can know whether you win or not immediately. You need to send some information to get prizes.

You need at least 1 + 60*3= 181 cans of coffee to get all the prizes. The fight seems to be heavy.

Related Post:
Latest Trailer of "Evangelion: 2.0 You Can (Not) Advance" Relaesed - GIGAZINE

The advance film ticket of "Evangelion: 2.0 You Can (Not) Advance" on sale, and Asuka's name changed - GIGAZINE

Official English title of the movie "Evangelion Shin Gekijoban: Ha" decided - GIGAZINE
in Anime, Posted by darkhorse_log