Despairing for the 3rd time, the new series of "Sayonara Zetsubou Sensei" announced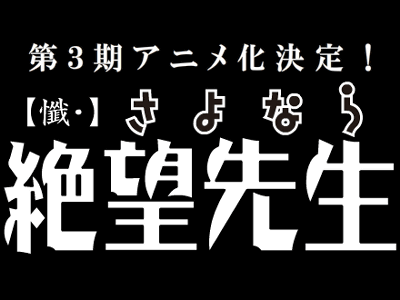 (This article was originally posted in Japanese at 15:34 Apr. 22, 2009.)

Another "desperation" for those are waiting. Zetsubo Sensei is coming back on this July to make sarcastic remarks on every bullshits in this society. Titled "Zan - Sayonara Zetsubou Sensei (lit. Repent: Goodbye, Mr. Despair)", it will be the third anime adaption. The anime will be aired on Independent UHF stations and the same staffs and casts from previous series
will take over the part.

Read on for details.

(Jp)StarChild: Zan - Sayonara Zetsubou Sensei

Serialized in Shonen Sunday from 2005, the original comic has been adapted into TV anime twice. The first season was held from July, 2007 to October, and Titled "Zoku - Sayonara Zetsubou Sensei", the second season of the anime broadcasted from January, 2008 to March.

The series gained much popularity and on October 2008, the OVA "Goku - Sayonara Zetsubou Sensei" was released. Ever since the second season, there have been rumor of the third season and finally it is revealed to be on the road.

As same as the former series Shaft produces the anime. Also the director Akiyuki Shinbo and other casts and staffs from the prior ones will participate in the third season. The opening theme song will be sung by "Kenji Otsuki and Despaired Girls"

Can't wait for his sarcasm coming back? We too. Let's get ready for it.

Related Post:
List of New Anime Series launching Spring 2009 - GIGAZINE

"Melancholy of Haruhi Suzumiya" to start airing "afresh" from this April - GIGAZINE

Sneak Preview of "Spice and Wolf II", the second anime season of Spice and Wolf starting this July - GIGAZINE

"Kara no Kyokai", "Strike Witches" and more -Animes screened at Japan Media Arts Festival - GIGAZINE

Anime adaption of "Umineko no Naku Koro ni" starts airing July - GIGAZINE