The World's First Waterproof Solar Cell Phone by KDDI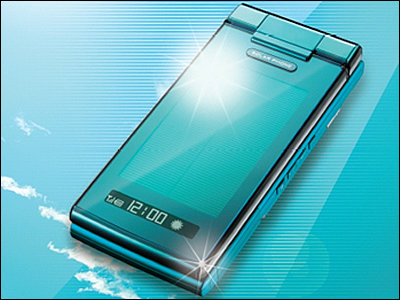 KDDI announced the launching of "Solar Ketai (Solar Mobile)" this summer for their "au" cell phone line.

We've heard about it for years, but finally the solar powered cell phone is coming true in Japan. And it will be the first waterproof model in the world featuring solar panel, durable for all weather, outdoor use and at the time of disaster.

Read on for details.
(Japanese)10 minutes to sun, 1 minute to talk "Solar Ketai" comes out this summer :Business, Economy News: YOMIURI ONLINE

(Japanese)Our approach to environmental preservation through au product | 2009 | KDDI

According to Yomiuri Shimbun, KDDI is releasing the first solar powered cell phone in Japan "Solar Ketai" this summer.

The device is made by SHARP, carrying a compact solar panel which can charge up to 80% of the battery's capacity. Ten minutes exposure to direct sunlight will charge enough power for a one minute call, or two hours of standby time.

It will also be the first waterproof model in the world for a solar powered cell phone. The price is expected to be somewhere between 40,000 yen to 60,000 yen (about 400-600 USD). To be released in June, 2009.

Related Posts:
Solar Power Bags by Sunload exhibited at CeBIT 2009 - GIGAZINE

3 New Models from KDDI's New Cell Phone Line "iida" - GIGAZINE

KDDI revealed today new cell phone lineup for 2009 spring sales - GIGAZINE

2008 Autumn/Winter model cellular phone of KDDI - GIGAZINE