Free comic-strips and novel of FULL METAL ALCHEMIST available online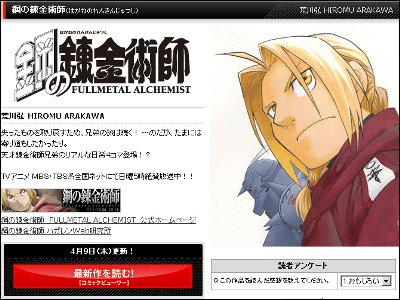 (This article was originally posted in Japanese at 15:43 Apr. 09, 2009)

The new anime season of FULLMETAL ALCHEMIST started airing on TBS and NBS networks (to be webcasted on GyaO from April 10th) and it already seems engaging, gaining high reputations among fans.

And more good news for the fans! From today some yonkoma comic-strips featuring the Elric brothers by author of the original manga series Hiromu Arakawa can be read on the official website. There's also free sample chapters of the light novel adaptation by Makoto Inoue, accompanied with illustrations by Arakawa.

Read on for details and pics.
(Japanese)FULLMETAL ALCHEMIST: Manga : GANGAN ONLINE -SQUARE ENIX-

The original comic-strip by Hiromu Arakawa is described as some kind of side trip Edward and Alphonse Elric got carried away during their journey to find the Philosopher's Stone, with a comical twist.

A full sample chapter of the light novel adaptation Fullmetal Alchemist: The Land of Sand is also offered, with more to come on May 14th. Click the red rectanglar button to read.

(Japanese)FULLMETAL ALCHEMIST: Novel : GANGAN ONLINE -SQUARE ENIX-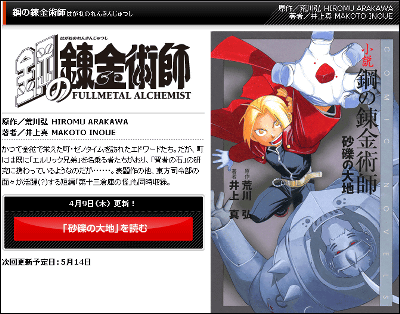 Naturally, they're all written in Japanese but maybe you'll enjoy the illustrations.

Related Posts:
TAF 2009: FULLMETAL ALCHEMIST featured in Aniplex booth with gigantic Gate and life-sized statue - GIGAZINE

TAF 2009: Booth Babes in Cosplays - STAR BLAZERS, FULLMETAL ALCHEMIST, GURREN LAGANN and many more! - GIGAZINE

TAF 2009: Giveaway Goodies of ASTROBOY, Gurren Lagann, Fullmetal Alchemist, Umi Monogatari and more! - GIGAZINE

List of New Anime Series launching Spring 2009 - GIGAZINE