Awakening from 43 years' sleep, "Daimajin" becomes TV drama from autumn 2009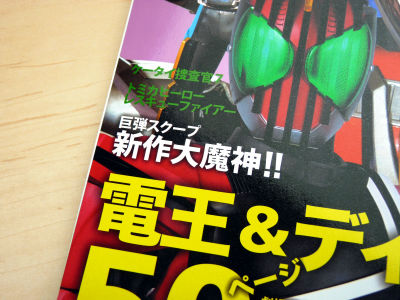 (This article was originally posted in Japanese at 12:34 Apr. 01, 2009.)

It's not an April Fool joke, nor Seattle Mariners closer Kazuhiro Sasaki. The "Daimajin", the VFX spectacular trilogy produced by Daiei is about a statue of a guardian god, being rampageous to bad guys and answering innocent people's sadness and wrath. Giving huge influence to "Super Robot" movement, this 1966 movie is now rewritten as a live-action TV drama for the first time in its 43 years.

Titled "Daimajin Kanon(the official English title as yet undefined)", it's production is announced on Tokusatsu Newtype issued on April 1st.

Read on for details.

Tokusatsu Newtype May issue, the magazine specialized in live-action movies and TV dramas with tokusatsu feature, such as Masked Rider. 1200 Yen (about 12 dollar)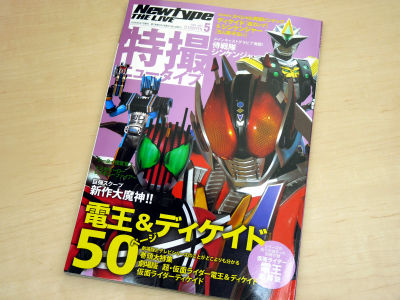 The featured page delivering shocking news that "Daimajin Kanon" is to start on this fall. We thought it's sort of April Fool joke.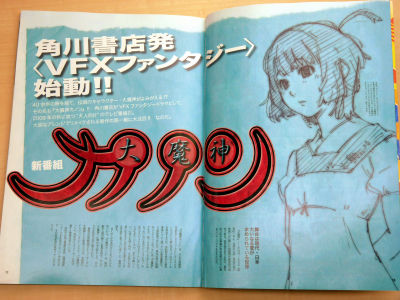 The drama will be an radically arranged remake of original movies. The girl sketched on the picture seems to be one of the main characters. The word "Kanon" is a mystery too. Does it mean a "cannon" or the female god "kan'on"? Both seem to match the theme.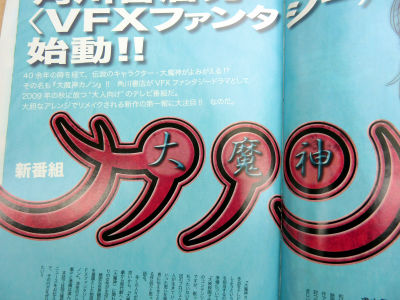 The booklet "Kamen Rider Den'ou Chou Kaisetsu(Masked Rider Den'ou Super Description)" was attached to the magazine.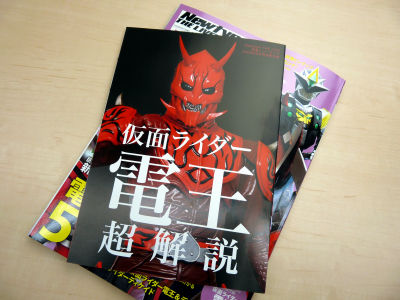 The booklet fully covers the information about TV series, trilogy movie and "The movie: Super Masked Rider and Decade" which starts from May. 1st, 2009. Of course you fans do know this kind of trivias, but sometimes you need to brush up your knowledge.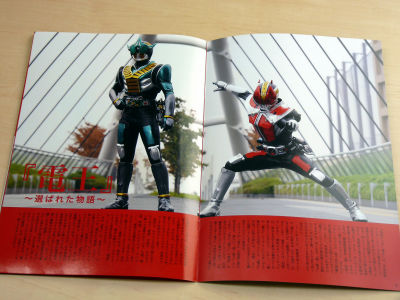 Related Post:
Tokyo Motorcycle Show 2009: Super Machines from KAMEN RIDER series, CUTIE HONEY, WILD HOGS and more! - GIGAZINE

TAF 2009: Moe-personification of Super Robot!? "Toei Robot Girls" launched - GIGAZINE

New "Mazinger Z" directed by Yasuhiro Imagawa coming on TV - GIGAZINE

TAF 2009: Stills and rubber stamps from "Movie Version Tengen Toppa Gurren Lagann: Episode Lagann" - GIGAZINE
in Note, Posted by darkhorse_log