Video of Super Low-pen-pressure Detection of Wacom's new Intuos4 pen tablet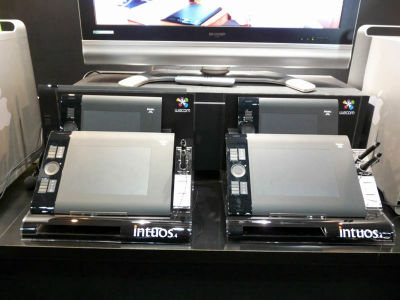 (This article was originally posted in Japanese at 23:25 Mar. 26, 2009.)

Following the photo review of upcoming Wacom's "Intuos4" pen tablet, here's the video review of the features of super-low pen pressure detection and the touch wheel.

For the artists, instinctive interface is needed not to prevent their emotion. The tablet well supports them with its fine pressure sensitivity and useful touch wheel utilized to zoom up, change brush size, selecting layers and rotating canvas. Also super low-pen-pressure sensitivity enables you to give the smooth and precise touch to your artwork.If you are loooking for alternative for old-fashioned pen-and-paper style, you should check this out.

Let's check videos on following.

The small white LED aroung the wheel turns on when pushed the button in the middle to indicate what function you are using now. The "?" button shows you the help description on the screen


Zooming in and out by rotating the touch wheel


Changing layer palette of Photoshop using the touch wheel


Changing size of the brush with the touch wheel


The demonstration of ultra-low pen pressure detection. Notice that only a light scratch with the pen could be detected by the tablet. Utilizing it with 2048 levels of pressure detection, the product offers you the feeling just like drawing with a real pencil and brush.


Related Articles:
Photo Imaging Expo 2009: Photo review of the long awaited "Intuos4" tablet for professional - GIGAZINE