Photo Imaging Expo 2009: Photo review of the long awaited "Intuos4" tablet for professional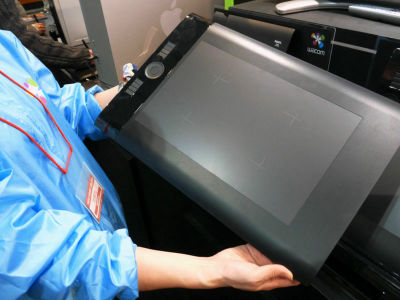 (This article was originally posted in Japanese at 23:00 Mar. 26, 2009.)

The last Intuos3 tablet series was released on September of 2004, which was as long as 5 years ago. Today at Photo Imaging Expo 2009, Wacom finally announced the launch of new "Intuos4" pro tablet series at their booth. The product will be in store on Apr. 3rd.

They had a working demo at their booth so we checked what has changed from the last series. In short, it's sure and steady. Every single feature is well brushed up. Only a glance would be enough for you to notice how much opinions and claims from the users are reflected in the product.

So, here's the photo review of the just-revealed new "Intuos4" professional tablet.

Wacom | Intuos4
http://intuos.jp/

Wacom booth had a large "Intuos4" flag.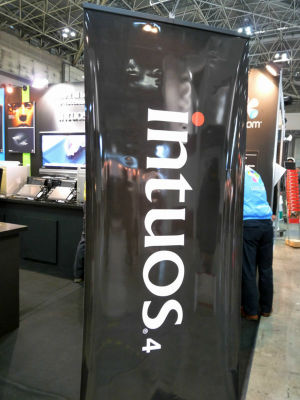 Booth exteriors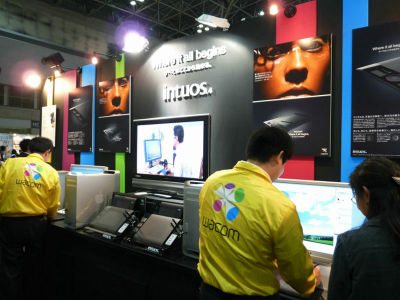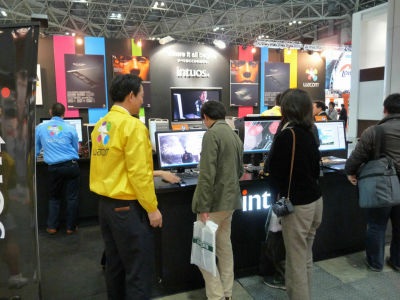 The working demo of Intuos4 tablet.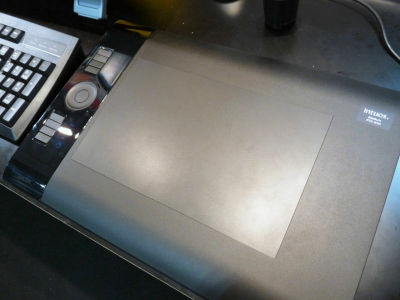 Comparing the size with a keyboard.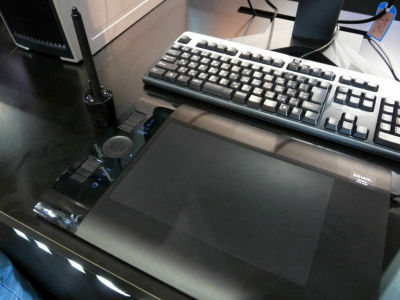 The two on the right are Intuos Medium. Intuos Small is on left front and Intuso Large is on left back. Small is for 22.8 thousand yen(about 235 USD), 32.8 thousand yen (about 338 USD) for Medium and 42.8 thousand yen (about 441 USD) for Large. The Extra Large, which wasn't exhibited at the show, is for 84.8 thousand yen(about 874 USD).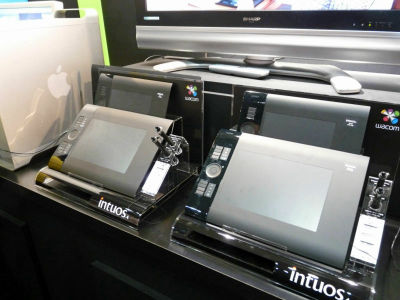 The microchip for touch pen is newly developed and there's some increase in detecting speed of pen pressure. It features 2048 levels of pressure sensitivity, which is twice higher than Intuos3's 1024 levels.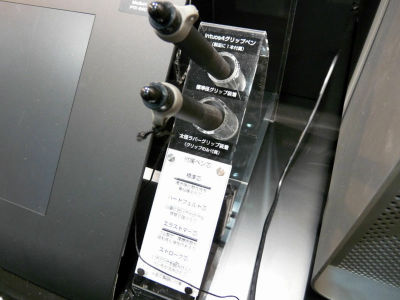 The 2nd generation tip sensor can detect pressure as small as 1g(about 0.03oz.), which was 10g(about 0.4oz.) on Intuos3. Well, seeing is believing. We will show you the video which shows how amazing this is.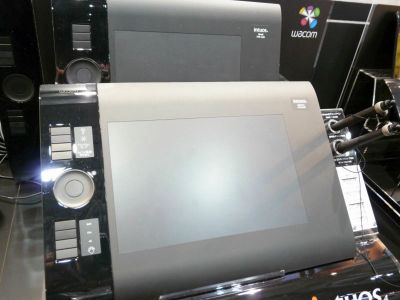 The normal grip pen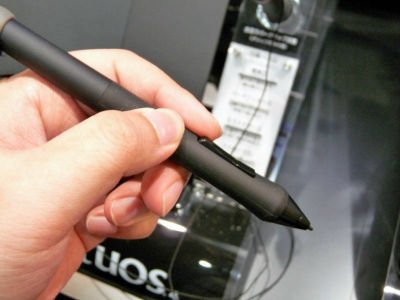 The set includes a wider grip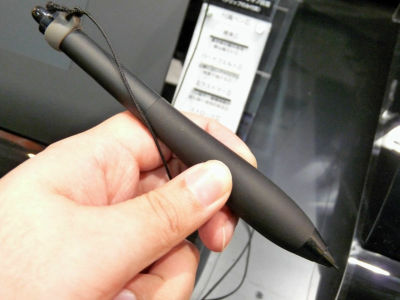 Up: Normal, Down: Wider grip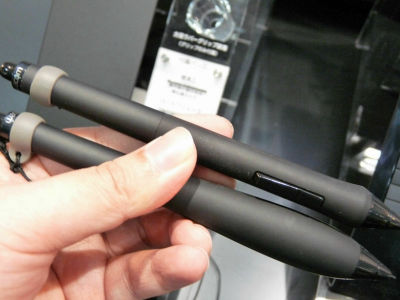 The pen tip is convertible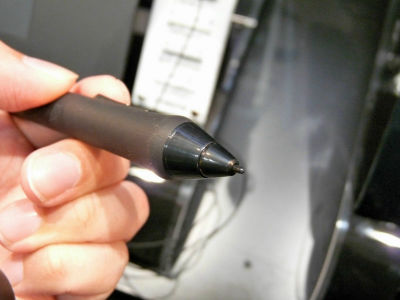 From the top; Standard tip, Hard felt tip, Elastomeric tip, and Spring tip. All tips come with the product.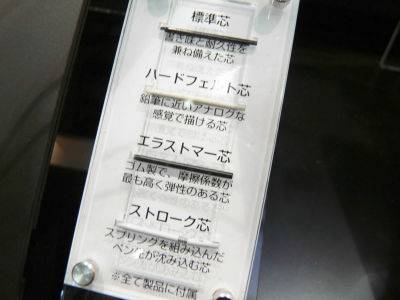 The list of new features. It's designed for both right and left handed. Even the alternative USB connector for lefties is provided. That's what we call universal.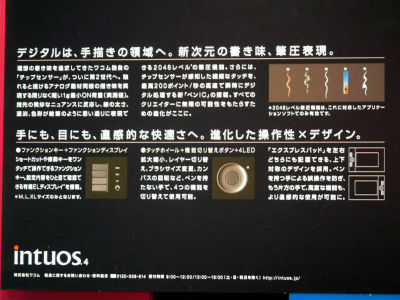 Touch wheel setting menu seems almost the same with Bamboo series. We took the video of switching so you could check it yourself on our following article.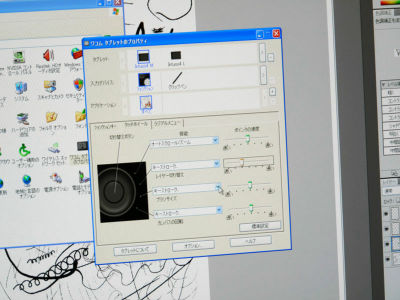 Used like this.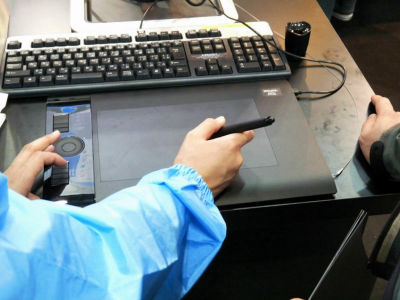 Intuos4 in the front.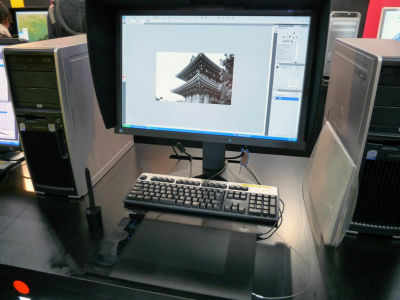 Comparing Intuos Large and a pen. 474*320*14mm (19"*12"*0.5") and 1.8kg(about 4lbs.). 309*208*12mm(12*9*0.4in.) and 0.7kg (1.5lbs.) for small, 370*254*12mm and 1kg for medium and 623*462*28 and 3.5kg for extra large.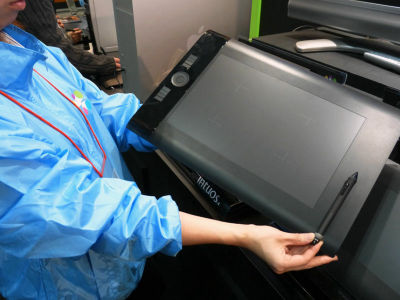 The key mapping for function keys indicated on embedded "Function Display" adopting organic EL display.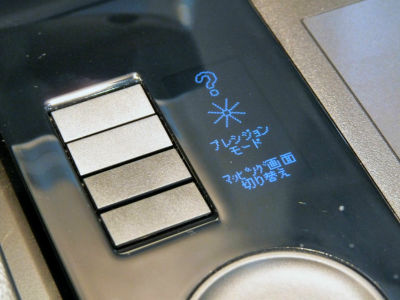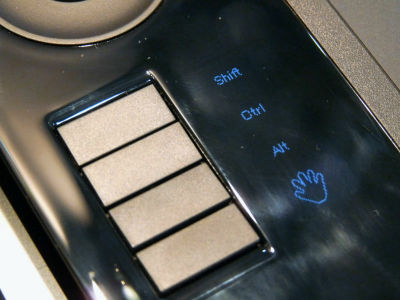 Three pen tips with different frictions and a springy tip can be contained in this pen stand.


The pen could be placed laying.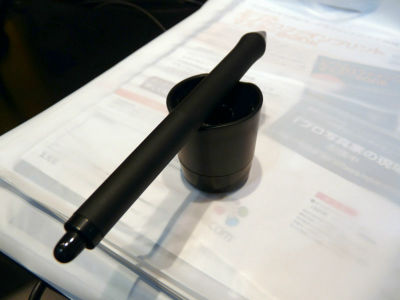 Continutation:
Video of Super Low-pen-pressure Detection of Wacom's new Intuos4 pen tablet - GIGAZINE

Related Post:
CeBIT2009: At last in Europe! Photo review of "Google Phone" European Edition. - GIGAZINE

CeBIT2009: At last in Europe! Photo review of "Google Phone" European Edition. - GIGAZINE