TAF 2009: Stills from the movie "Eureka Seven: Pocket Full of Rainbows"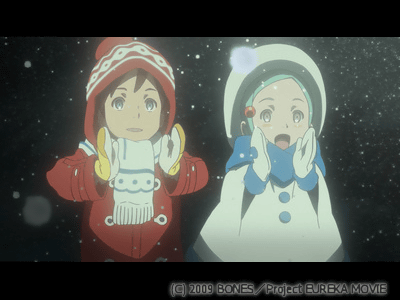 (This article was originally posted in Japanese at 15:33 Mar. 20, 2009)

"Kokyoshihen Eureka Sebun: Pocket ga Niji de Ippai(Eureka Seven: Pocket Full of Rainbows)", the feature film of Kokyo Shihen Eureka Seven(Psalms of Planets Eureka Seven) is to premiere on April 25, 2009. It will retell the story of the TV anime series which aired during 2005 to 2006, but not just a "cut and edit" job like movie adaptions of TV anime series tends to be, with considerable amount of newly illustrated original pictures and sequences edited with picture-by-picture precision.

Here's some stills from the movie, exhibited at Tokyo International Anime Fair 2009.

Pics after the cut!

(Japanese)Eureka Seven: Pocket Full of Rainbows Official Website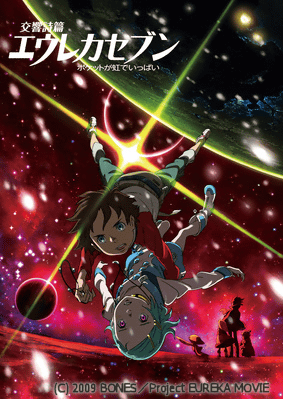 Young Renton and Eureka. Unlike the TV series, they're childhood friends in the movie.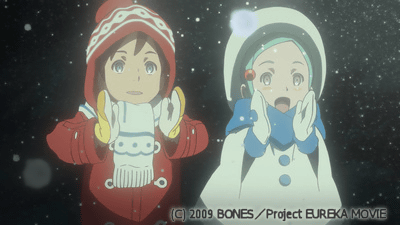 Their teacher Dominic Sorel who was a lieutenant of the United Federation of Predgio Towers in the TV series.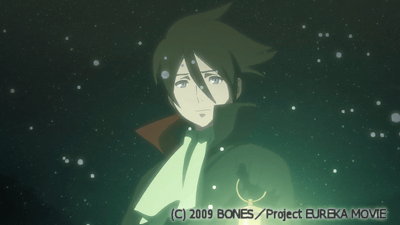 You can count on some spectacular aerial dogfights by LFOs including Nirvash.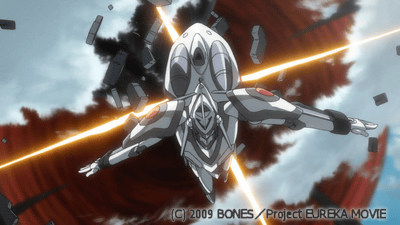 Anemone also makes appearance.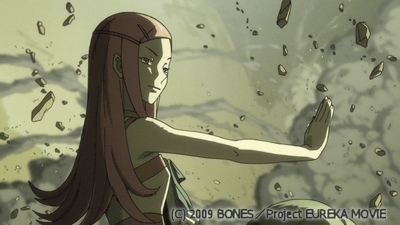 Who is Eureka pointing her gun at?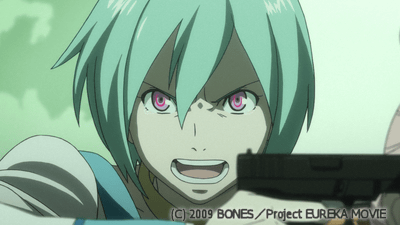 The movie will premiere on Saturday, April 25, at Theatre Shinjuku, Theatre Umeda and other theaters. A special advance film ticket is now on sale, bundled with a original poster illustrated by character designer Ken'ichi Yoshida.

© 2009 BONES/Project EUREKA MOVIE

Related Posts:
List of New Anime Series launching Spring 2009 - GIGAZINE

TAF 2009: PSN anime "Xam'd: Lost Memories" to be aired on TV - GIGAZINE

Tokyo Anime Award announced -"Ponyo on the Cliff by the Sea" was chosen Animation of the Year - GIGAZINE