Rumiko Takahashi's New Manga to serialize in SHONEN SUNDAY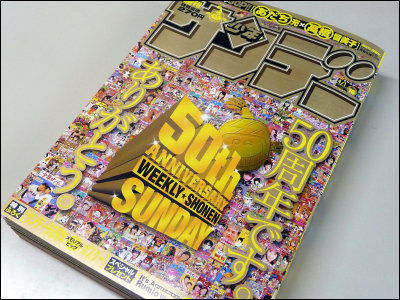 (This article was originally posted in Japanese at 10:36 Mar. 18, 2009)

It became apparent that popular manga artist Rumiko Takahashi known for Urusei Yatsura, Ranma 1/2 and Maison Ikkoku is going to start a new serial manga series in Weekly Shonen Sunday.

"My Sweet Sunday", her one-shot collaborative work with Mitsuru Adachi of Touch and Miyuki has just came out in Shonen Sunday's 16th issue today, and fans must be thrilled to hear the additional good news.

So what would her new serial manga - much awaited since the conclusion of InuYasha - be like? Read on for details and pics.
"Special Preview of 50th Anniversary Projects" featured in the first pages of this week's Shonen Sunday which came out today. It says Rumiko Takahashi's new serial manga will start on "21st-22nd double number issue" of Shonen Sunday, coming out on Wednesday, April 22nd.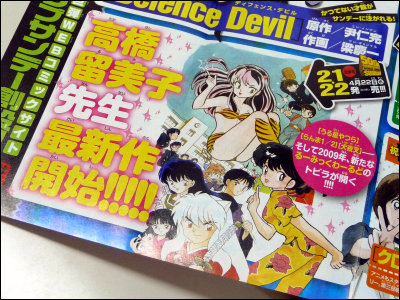 Other details including the title of the series are as yet undisclosed, but fans must look forward to eventual disclosure and wait in anticipation for a month.

Related Posts:
Front Page: 50 covers representing 50 years of SHONEN SUNDAY - GIGAZINE

Manga authors Rumiko Takahashi of "InuYasha" and Mitsuru Adachi of "Touch" Collaborating - GIGAZINE

Original manga manuscripts and enlarged panels at Japan Media Arts Festival - GIGAZINE
in Note, Posted by darkhorse_log