TAF 2009: Bishojo Mahjong Anime SAKI is to come out as a Mahjong Game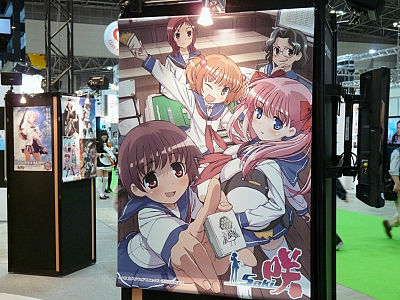 (This article was originally posted in Japanese at 11:14 Mar. 18, 2009)

The anime adaption of Bishojo Mahjong Manga "Saki" produced by GONZO of Strike Witches' fame is to be aired from this April as we've repeatedly reported.

Today it was revealed that an arcade game adaption of "Saki" is in production, at GONZO's booth at Tokyo International Anime Fair 2009.

Read on for details and pics.
GONZO is collaborating with SEGA, and there will be a "Saki Single Mode" featured on "MJ4 Ver.C", a new version of arcade Mahjong game "SEGA Network match-up Mahjong MJ4". In the mode you can play with "Saki" characters instead of matching-up with opponents online. The characters are dubbed by voice actresses of the anime.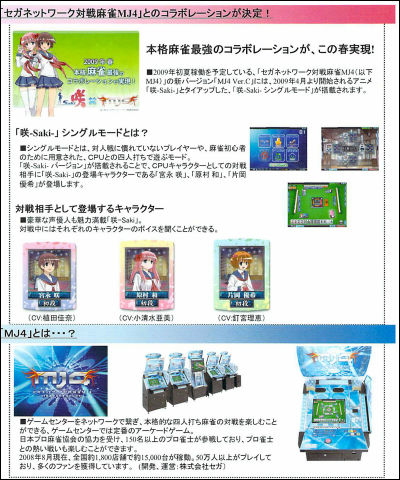 The console exhibited at GONZO booth.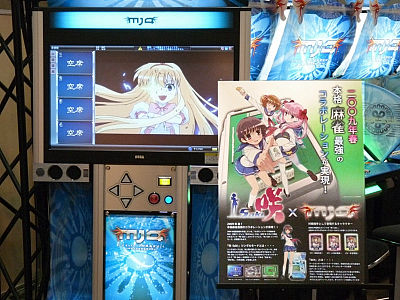 A newspaper-like pamphlet distributed.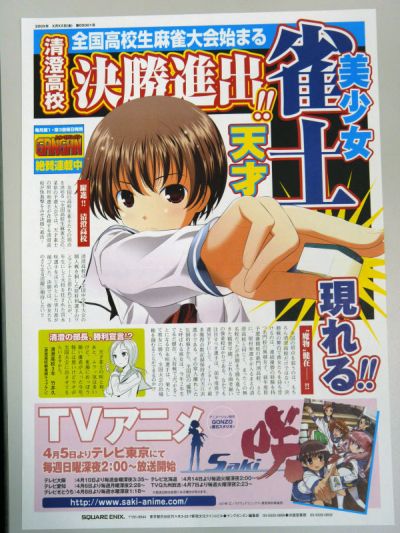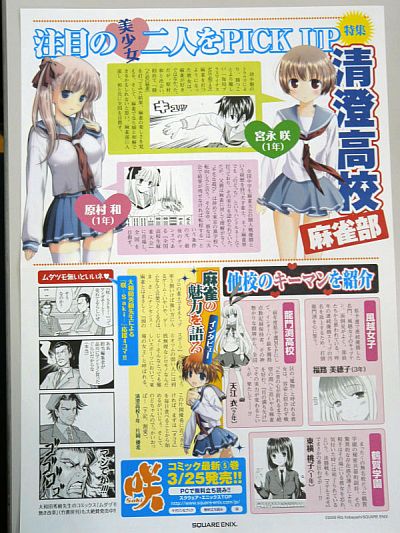 Related Post:
Bishojo Mahjong Anime "Saki" to be aired from April 2009 - GIGAZINE

Mahjong Bishojo Anime "Saki" to be aired from Apr. 5th on TV Tokyo - GIGAZINE

Bishojo Mahjong Anime "Saki"'s concept sketches of rival characters - GIGAZINE

List of New Anime Series launching Spring 2009 - GIGAZINE

Videos of talkative characters with slick movements in Demos of "Higurashi no Naku Koro ni Jong" - GIGAZINE

AOU2009: "Higurashi No Naku Koroni - Jong" - Mahjong game spinout of famous visual novel - GIGAZINE