CeBIT 2009: How were Ubuntu guys doing in CeBIT 2009 booth?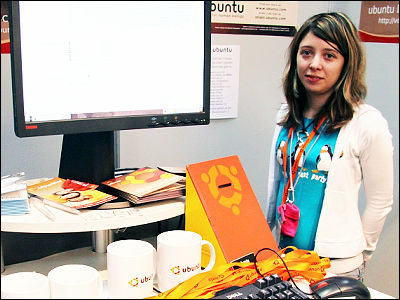 (This article was originally posted in Japanese at 20:55 Mar. 09, 2009.)

CeBIT is one of the leading event for IT manufacturers of the world concentrated on business market rather than consumer markets. The effect of IT technology to the economy is no more ignorable, so German prime minister Merker came to greet us for reception.

But some participants put their weight more on fun than being keen. Ubuntu, the name selling open source operating system, is one of those fun-seeking exhibits.

Let's take a look at how much the Ubuntu guys enjoyed CeBit 2009. We also got some booth photos of OpenOffice.org.

Hall 6 has an area for opensource-related exhibits. From One-man software developer to Stanford-origin Sun.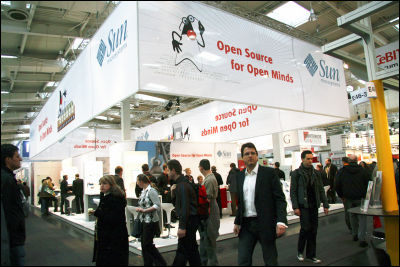 OpenOffice.org, the rising open source office suite had decent space and demo machines for visitors.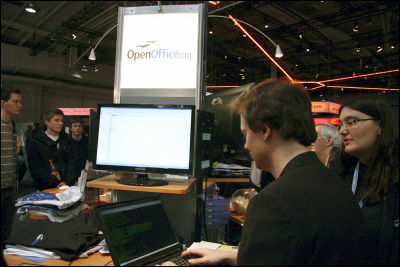 And here's our Ubuntu booth. Though the booth is small, it should have cost them a lot to participate in CeBIT.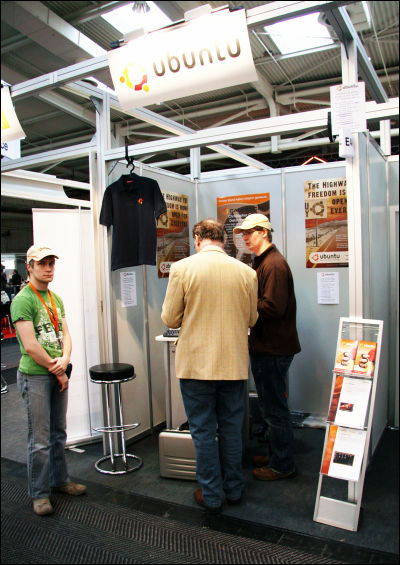 Some pamphlets about Ubuntu on side of the booth. On the table, LCD with Ubuntu interface, CD-ROM of German version, mug cups, stickers and that's all they got.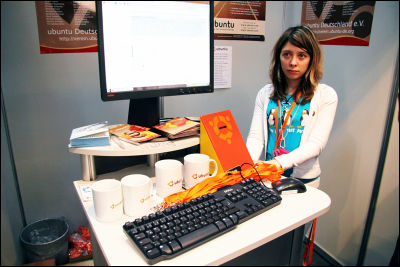 It's only natural to wonder why they got a booth in this business-centered convention, paying not small an amount of money. So I directly asked the guy with Ubuntu cap in the booth . With his face saying 'why can't this Asian see the obvious thing?', he told me the very simple reason; "For fun!"

He told me that it's just fun to tweak and discuss Ubuntu with friends on Ubuntu Community. So he naturally kept related to Ubuntu, and find himself participating in CeBIT.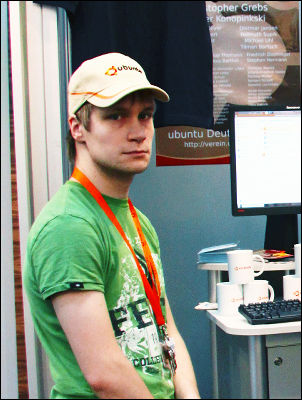 It's the age of money ruling the world. Of course money is important, but guys like him, chasing his interest without giving a thought to money, makes my heart relieved. The girl next to him is his girlfriend. She also uses Ubuntu, affected by her boyfriend. Not sure what it is, but there seem to be something in the opensource scene that make people happy, something more or less like love.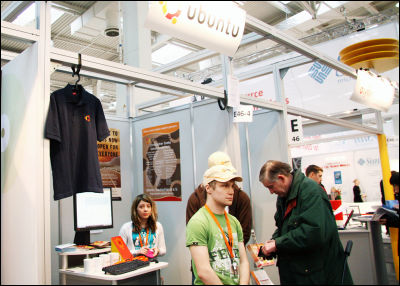 (Coverage, Text: Hiroyuki Watanabe / Edit: GIGAZINE)

Related Articles:
"MAGI System" the Supercomputer of EVANGELION Actually Exists! - GIGAZINE