CeBIT2009: At last in Europe! Photo review of "Google Phone" European Edition.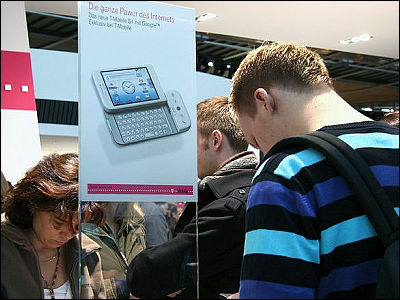 (This article was originally posted in Japanese at 22:49 Mar. 08, 2009.)

In Last September, the first "Google Phone" was released from T-Mobile as T-Mobile G1. In Germany, it was only this February that the product was released. So Europians visit T-Mobile's booth with great interest to see operating sample.

In America, the product was not so much evaluated. According to many reviews, it's "too plain and ugly" and "far inferior to iPhone". Well, seeing is believing. Let's check the thing out.

Read on for photo reviews.

It's true that the design of Google Phone is "Too Simple". But it's also true that its simplicity well describes its practical utility. Its matte texture evokes us Motorola StarTAC, one of the masterpiece in early days. Several icons related to Google web service like "Maps" and "Browser" were in the display. "Camera" icon also available. When you scroll it there's "YouTube" icon too.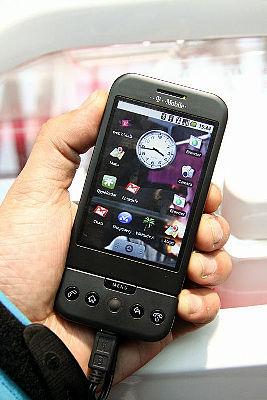 Built-in keyboard slides out from under the display. "Zoom" or "ALT" can be seen on the keyboard, which is rarely seen on other smart phones. The key is so small that it's hard to say they are easy to type, but it's a common problem for smart phones in this size.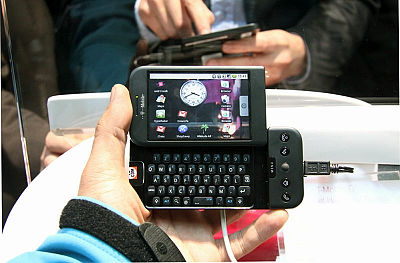 Using camera function. You have to wait several seconds to activate the function after pressing "Camera". The CPU may not be fast enough. Other application also boots up slowly so some of you might be frustrated. Also, touch panel won't respond so quickly. But comparing with Taiwan HTC's Touch Diamond, its much more practical.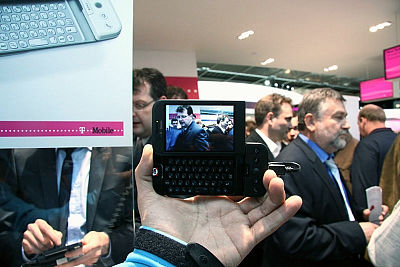 There's a visitor with US edition Google Phone. So I asked him for a permission to take some photos. I found some minor difference on the interface. All icons on hardware buttons are painted white on the European edition(left) but on US edition(right), talk button is painted green while power button is red.


Checking firmware version. European firmware is newer than US edition.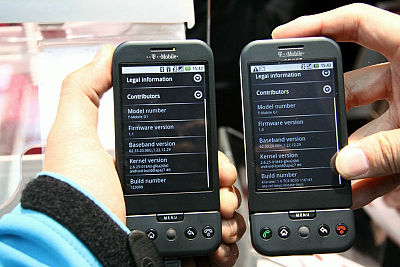 Playing 3GPP2 video file on US edition. Sometimes it goes slow but it won't bother you. In total, though I couldn't check all the application on the google Phone, I can say it's a lovely gadget. The US edition owner told me that he bought it at 250-260 USD which seems to be nice price for me. How about you?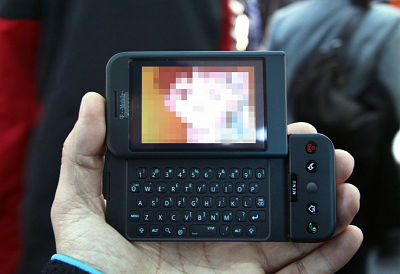 (Coverage, Text: Hiroyuki Watanabe / Edit: GIGAZINE)

Related Post:
Reviewing Willcom's newest phone device "BAUM" and "WX340" - GIGAZINE

2009 Spring model cell phone of SoftBank announced - GIGAZINE

KDDI revealed today new cell phone lineup for 2009 spring sales - GIGAZINE