PSP got another new color, and "Little Big Planet" to be ported to PSP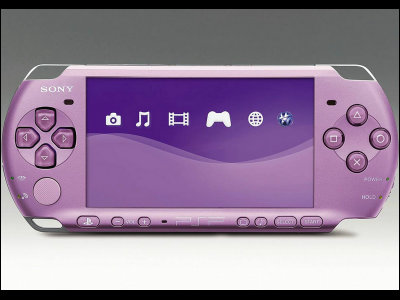 (This article was originally posted in Japanese at 14:56 Feb. 25, 2009.)

The new "Lilac" colored PSP is going to be released by SONY on July. And also there's an announcement that PS3 games such as "Little Big Planet", "Motor Storm Arctic Edge" and so will be adapted into PSP.

Read on for detail.

PlayStation.Blog >> Destination PlayStation News: LittleBigPlanet, MotorStorm, Assassin's Creed, more coming to PSP

This new colored PSP will be sold as "Hannah Montana PSP Entertainment Pack", which aims female customers. The pack is a bundle of Disney Interactive's "Hannah Montana" game, UMD containing some episodes, a 2GB Memory Stick and stickers to dress your PSP up.

And also, several PS3 games are made into PSP version. It starts with "LittleBigPlanet" and "MotorStorm Arctic Edge" and the relase will be in autumn. In addition, there's an announcement that Square Enix's favorite RPG "DISSIDIA FINAL FANTASY" will be adapted to English.

The brilliant and glossy "Carnival Colors" models which we formerly reported, are sold in Japan only, but this time "Lilac" is for markets outside Japan only. Hope we could see this in Japan.

Related Post:
"CARNIVAL COLORS" -SONY's New Candy Colored PSP-3000 - GIGAZINE

Affordable new adapter "CR-3100" can expand record capacity of PSP to 32GB - GIGAZINE

PSP software "DISSIDIA FINAL FANTASY" comes out in December - GIGAZINE

The PSP's online software store starts in this October. 20% off price from retail package version. - GIGAZINE
in Note, Posted by darkhorse_log