New Character "Neon" designed by Noizi Ito to promote Nipponbashi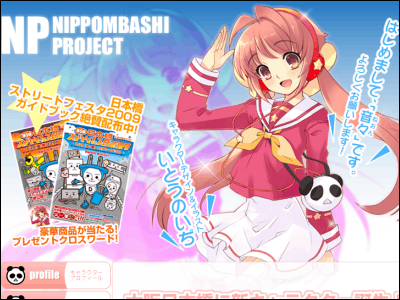 (This article was originally posted in Japanese at 01:40 Feb. 16, 2009)

Nipponbashi, coloquially known as "Ponbashi" or "Denden Town", is the biggest electronics and geek (and/or otaku) related shopping district in Osaka, often compared to Akihabara in Tokyo though not as widely recognised.

To gain publicity, boost tourism and shopping crowd, a new character is introduced. Her name is "音々 (pronounced Neon, the Chinese characters meaning sound-sound)", designed by Noizi Ito of Shakugan no Shana and Haruhi Suzumiya series.

Read on for details and pics.
(Japanese)Nipponbashi Project

Neon is introduced as the official character of Nipponbashi Project(Jp), a publicity campaign of Nipponbashi district. Original products featuring her are to be sold at Nipponbashi Street Festa 2009(Jp) on March 20th.

Neon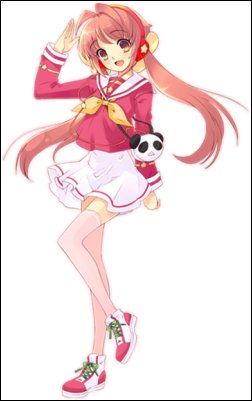 Name: Neon
Age: 16
Freshman (10th grade) at Nipponbashi High School. Said to be a bookish good student at school, wearing glasses.

Height: 158 cm (5'2")

Family: Father(45) running a lighting shop in Nipponbashi, mother(41) who once placed 1st runner-up in Miss Denden Town contest, and a younger sister(14) in 8th grade.

Hobbies: Gaming, Cosplaying, Cooking
Good chef and an excellent baker. Loves music, listens to pretty much anything, Rock, Pop, Japanes-Pop music and Anime songs, and she also loves to sing.
Started as a cosplayer when her sister force-dressed her, but she seems to be still shy about it.

Related Posts:
2nd season of the anime "Nogizaka Haruka no Himitsu" in production - GIGAZINE

Geekiest Refreshment ever! "Comic Green Tea" on sale Exclusively at Tokyo Big Sight - GIGAZINE

Virtual idol "Securina" produced by Ministry of Economy, Trade and Industry - GIGAZINE

Dojin rice "Toho Akita Komachi" with characters from Toho Project - GIGAZINE

Eating "Windows Millenium Combo" in OH-SHO chinese restaurant - GIGAZINE

A poster for municipal event of Osaka has too much impact - GIGAZINE
in Note, Posted by darkhorse_log