A poster for municipal event of Osaka has too much impact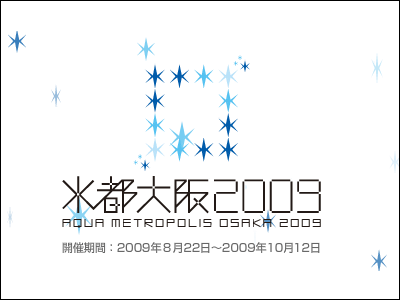 (This article was originally posted in Japanese at 11:16 Feb. 06, 2009.)

In 17th century, Osaka was called the city of merchants. They got the most out of its canal as a transportation. Now, to appeal their canals as their tourism resource, Osaka going to run a campaign called "Aqua Metropolis 2009".

Bizarre is it's promotional poster. It has a strange design featuring Mayor Hiramatsu of Osaka city and Governer Hashimoto of Osaka prefecture, which looks like some monster films.

Read on for the images of the posters.
(Japanese)Poster for "Aqua Metropolis Osaka 2009" debut! Appears from Feb. 9th at metro stations | Press Releases | News | Aqua Metropolis Osaka 2009

According to the press release, the officials are to display two version of posters at 120 municipal metro station in Osaka from Feb. 9th to 22th.

And this is the very poster. Humongous Mayor Hiramatsu appearing from under water.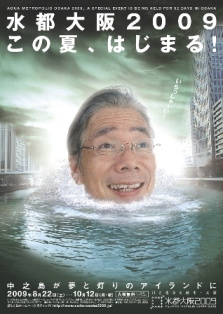 Governor Hashimoto version of the poster.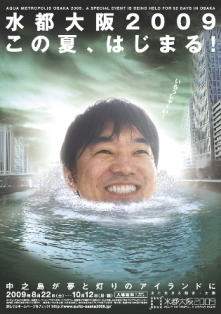 Two shot. Fantastic.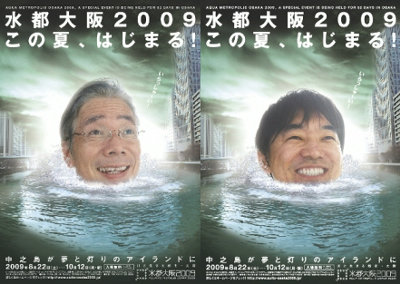 But who would take this as a promotion of splendid "Aqua Metropolis" thing?

Related Post:
Shinsekai and Tsutenkaku Tower in Osaka - GIGAZINE

Eating tons of Kushikatsu, the spitted cutlet - GIGAZINE
in Posted by darkhorse_log