Size DOES Matter!! Fattest condom in Japan released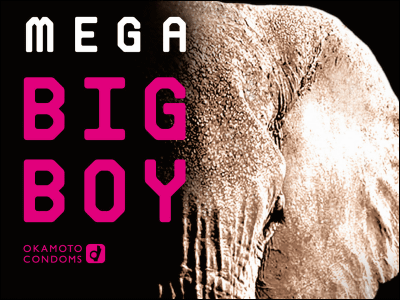 (This article was originally posted in Japanese at 13:14 Jan. 27, 2009.)

Who said Japanese guys got the tiniest pricks? To answer the growing demand for bigger condoms due to the improvement in male physique, Okamoto is introducing to the Japanese market one of the biggest, fattest condoms in the world.

Read on for details and pics.
(Japanese)NIKKEI NET -OKAMOTO releasing world class "Mega Big Boy" and tight-fitting "Smart Boy" condoms

According to this press release, Okamoto is releasing the new condom "Mega Big Boy" on March 16th. The diameter is 46mm (1.81 inch), which would be the biggest in mass-produced condoms of Japan and one of the biggest in the world. Recommended retail price is 2100yen(about 23 USD, including tax) for 12 pack.

Okamoto is a Japanese manufacturing company of rubber and plastic products, one of the leading manufacturers of condoms in the world. The Crown brand and Beyond Seven brand condoms merchandised in the U.S. are product of Okamoto. The current largest sized condoms of Okamoto is "Super Big Boy" which measures 37 mm (about 1.5 inch) in diameter.

Let's take a look at the production process of condoms. These glass moulds mounted on conveyer belts are dipped into latex compound.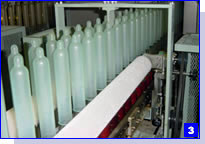 A very thin layer of compound is formed on each mould.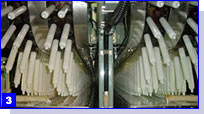 These pictures are not the product line of "Mega Big Boy". Since condoms are flexible, the 9mm growth in diameter must mean the moulds are going to be much bigger than these.

On the package, an elephant not-so-subtly implies the size.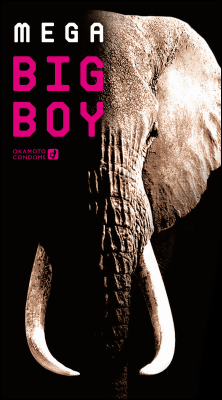 For customers uneasy with loose condoms or those who prefer a tight feeling, Okamoto is releasing "Smart Boy" at the same time, same price. The diameter is 31mm(about 1.2 inch) which will fit snugly for most people.

Vanity or insecurity might make some customers hesitant of purchasing "slim" or "small" condoms, but it says nothing about slimness on the cool Bald Eagle-designed package, making it easier to pick up.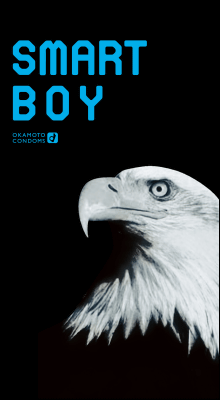 Related Posts:
World's most expensive condoms released on Valentine's Day - GIGAZINE

in Note, Posted by darkhorse_log