HD video of the real size "Tomodachi Tower" of "20th Century Boy"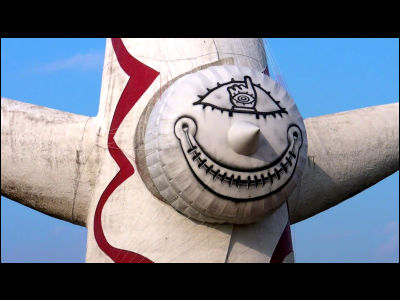 (This article was originally posted in Japanese at 20:46 Jan. 19, 2009.)

In the prior article, we showed you "The Tower Of The Sun" modded into "The Tomodachi Tower" which appears in the movie "20th century boy". And, in case you can't realise its hugeness, let us show you some HD format videos.

Read on for the videos.

"The Tomodachi Tower" from distance.


The central entrance.


Close up.


Even closer.


From the back.


Incoming helicopter.


Reconnaissance accomplished


Position mark for the press conference. You can see the author Naoki Urasawa's name on it.

Farewell to the abandoned Expo Land.


Following:
GIGAZINE - HD video of the real size "Tomodachi Tower" of "20th Century Boy"

Related Post:
Bizarre and Fantastic artworks at Japan Media Arts Festival - GIGAZINE

A die-hard Gundam fan made 7 meter "Z GUNDAM" by 7 years of solo work - GIGAZINE

"KINPAK":an Facial Mask made of 24k Genuine Gold Leaf - GIGAZINE