Kitaro and Neko Musume's announcements on Kitaro Train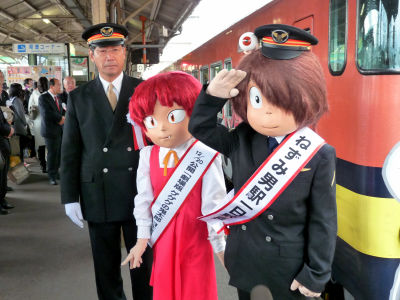 Celebrating the film GeGeGe no Kitaro Nippon Bakuretsu (Spooky Kitaro Blowup Japan)'s release on Dec. 20th, the on-train announcements of "Kitaro Train" running JR Sakai Line is going to be made by voices of Kitaro and Neko Musume(Cat Girl) from December 14th. An opening ceremony was held on Dec. 14 at Yonago Station and voice actresses Minami Takayama (Kitaro) and Hiromi Konno (Neko Musume) along with living dolls of Kitaro and Neko Musume made an appearance.

Read on for details and pics.

Sunday December 14th. Unfortunately it was rainy in Yonago.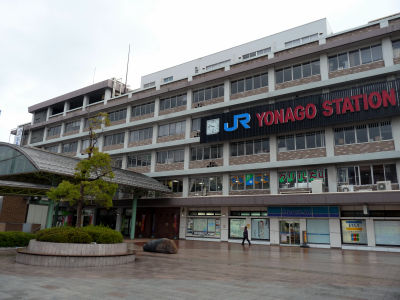 Sakai Line departs from platform 0 (the number zero could be also read "lay" in Japanese, pronounced the same as "霊" meaning ghosts.)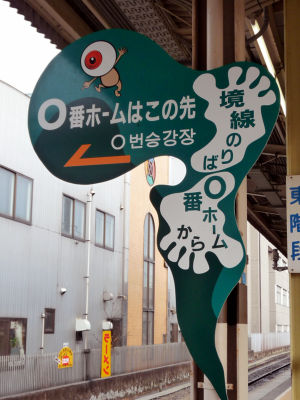 Ittan-momen flying over your head.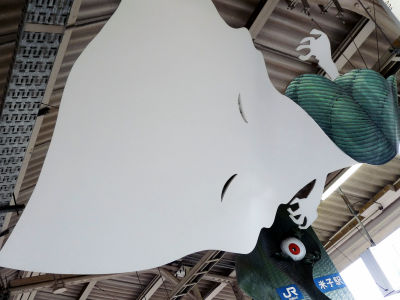 Yonago Station has the pet name of "Nezumi Otoko(Rat Man) Station".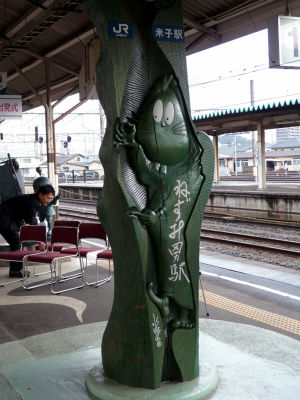 Statue of Kitaro, Medama-oyaji (Old man Eyeball) on his head.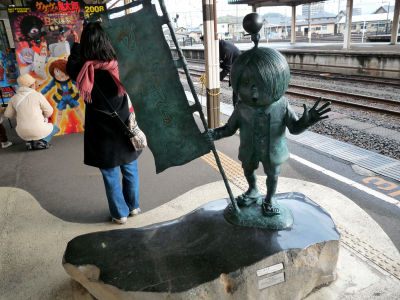 9 A.M. The press and fans waiting for the ceremony to begin.


Added security for the event.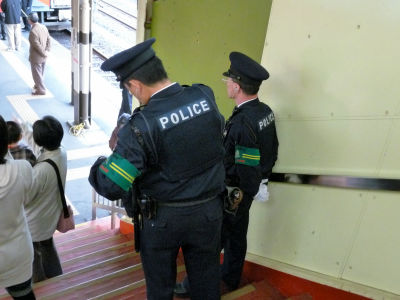 Mayor of Yonago and Sakaiminato celebrated the event. They're counting on Kitaro to pump up the tourism.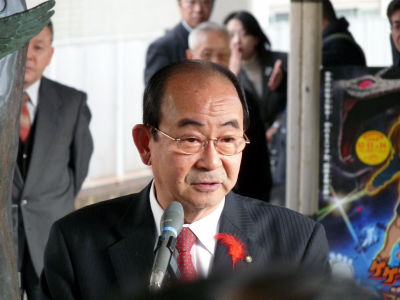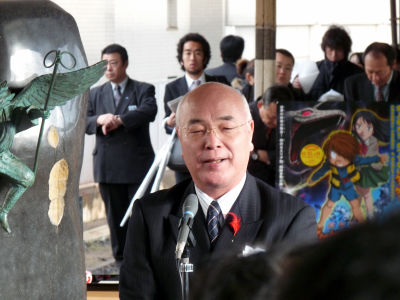 Kitaro and Neko Musume arrived.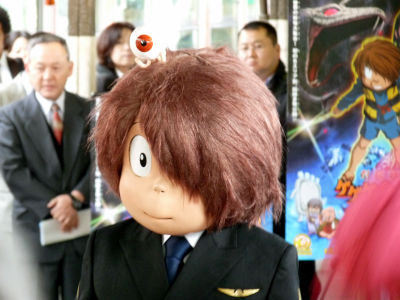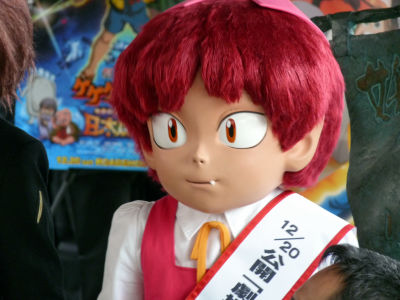 Riku Sanjo, the screenwriter of the movie was there.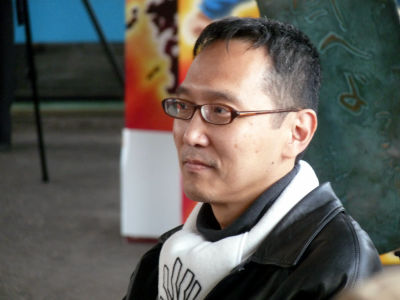 Kitaro was assigned stationmaster of Yonago Station for the day.


Kitaro and Neko Musume in front of the Kitaro train.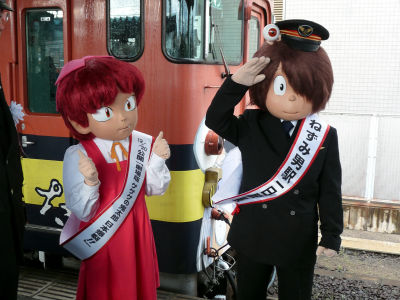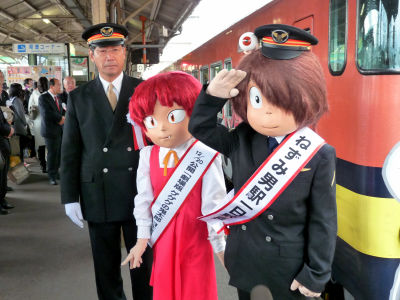 "Kitaro Train" is Kitaro-theme painted DMU KiHa 40 -2118.


This is the third generation of "Kitaro Train"s, first launched in 1993.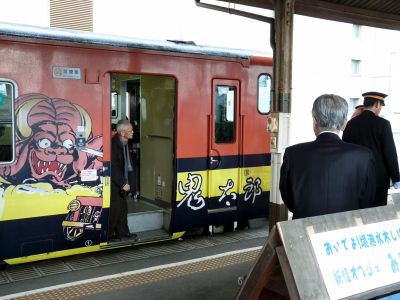 "Neko Musume Train" is KiHa 40-2094.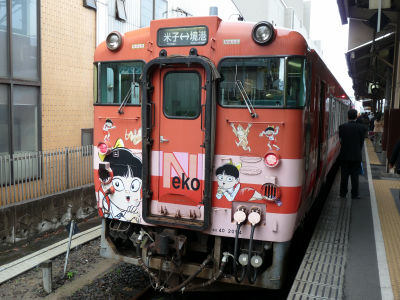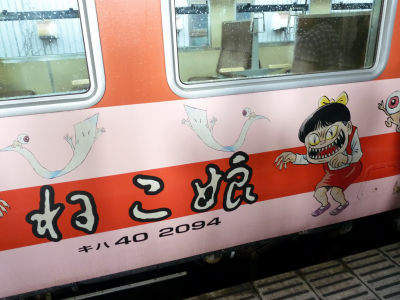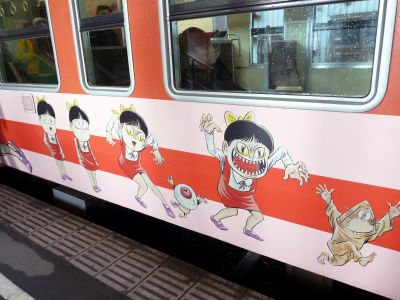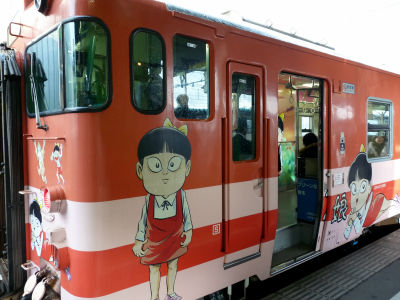 With Kitaro's departure signal, the train pulled out heading Sakaiminato Station. It will be a 40 to 50 minutes journey from Yonago to Sakaiminato.


Getting ready to head home after the ceremony, we spotted an illustrated car on the far side.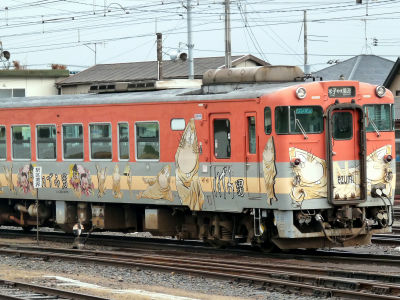 Identified as "Nezumi Otoko Train", KiHa 40-2115.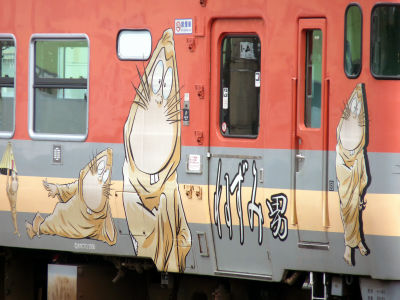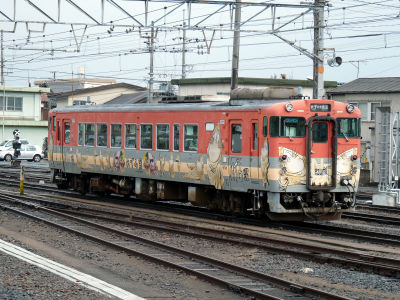 The kiosk at Yonago Station is called "Nezumi Otoko Shop", with shop clerk clad in Kitaro's magic chanchanko vest.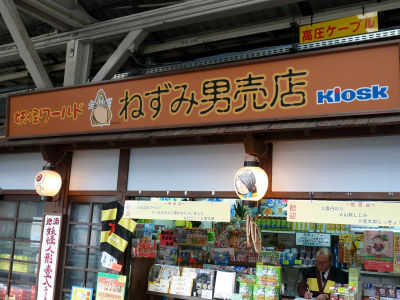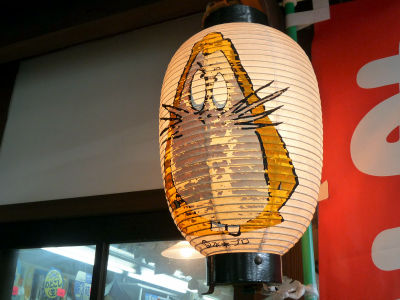 Kitaro vending machines.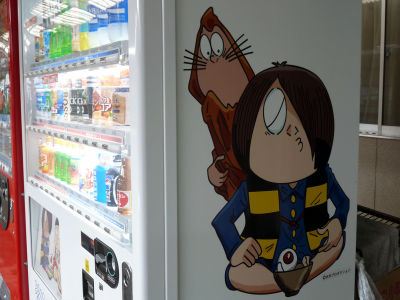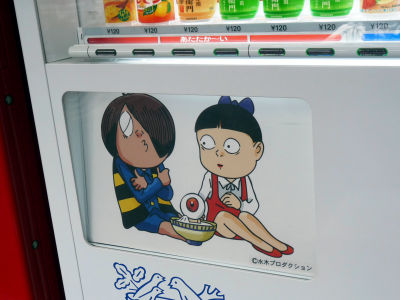 Painted stairways. This is Kitaro.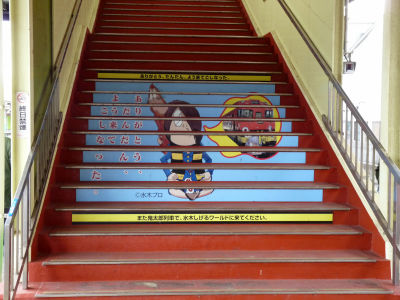 Nezumi Otoko.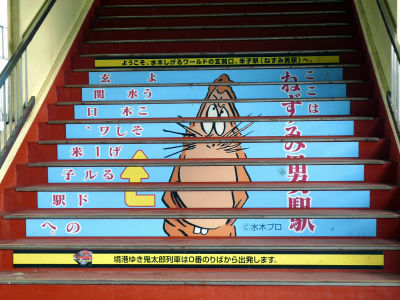 Each stations have pet names, like Yonago Station being "Nezumi Otoko Station" as well. On the train Kitaro announce the real name and Neko Musume announce the pet name of the next station.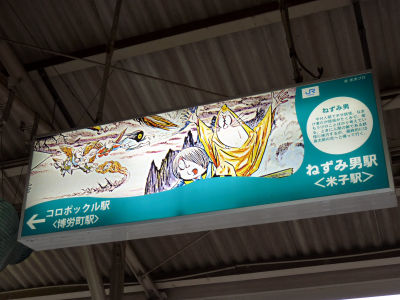 Babasakimachi Station next to Sakaiminato is nick named "Kijimunah Station".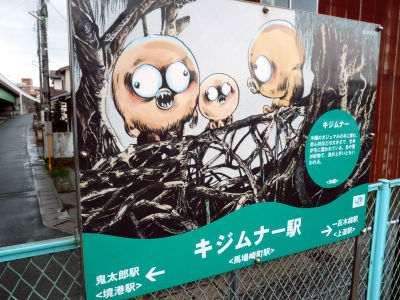 Sakaiminato Station named "Kitaro Station".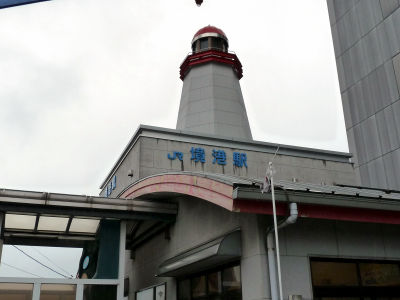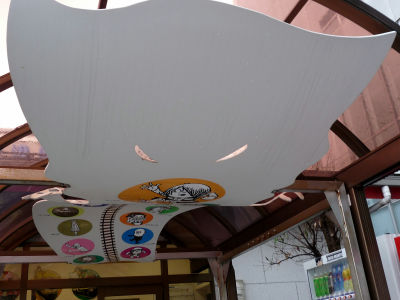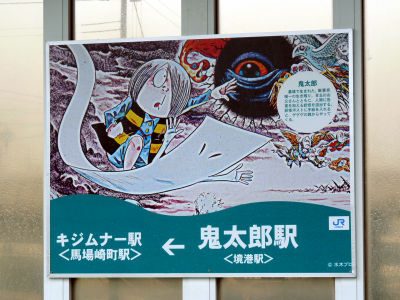 "Medama-oyaji Train" arrived.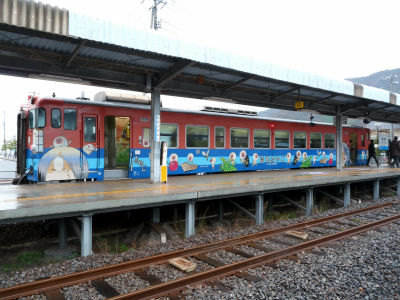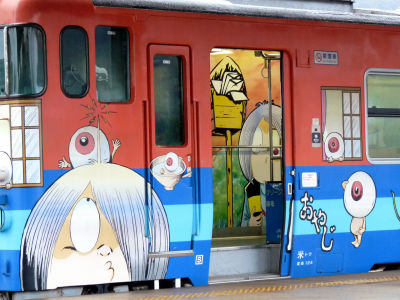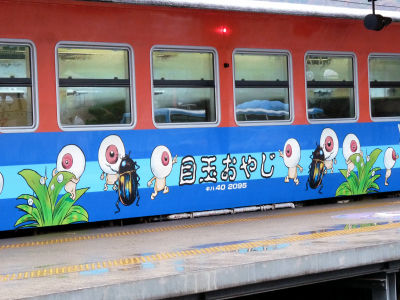 Tail lights are made to be iris of Medama-oyaji's eye.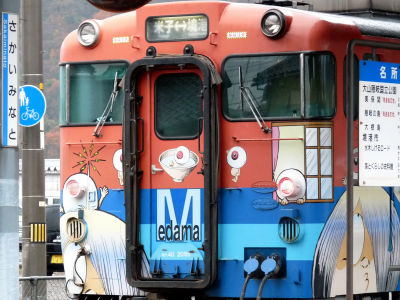 Kitaro painted on Wakatori Koutuu's taxi.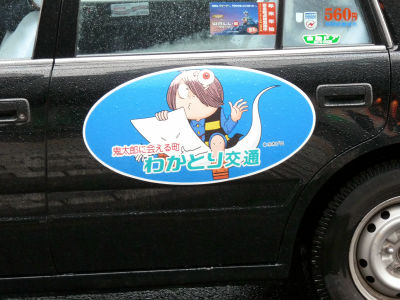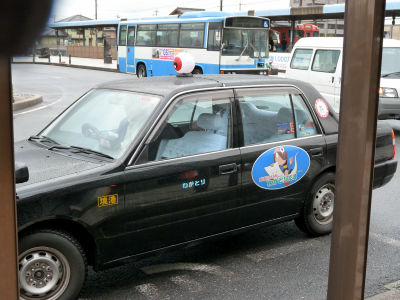 The roof sign lamp in the shape of Medama-oyaji.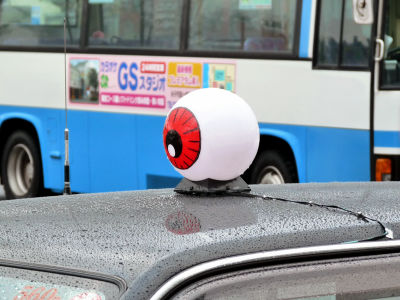 The Sunrise Izumo that slipped in to the next platform during the ceremony.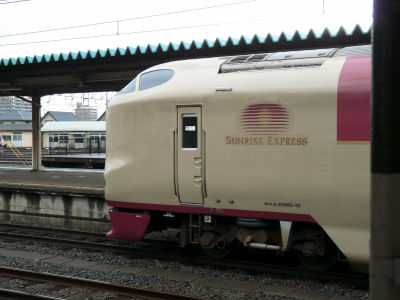 Regular KiHa 47 DMU seen at Yonago Station.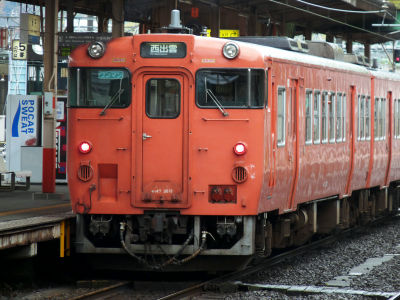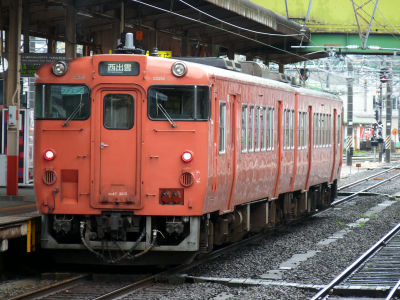 Hydraulic snow removal train,DE15-2520 DMU.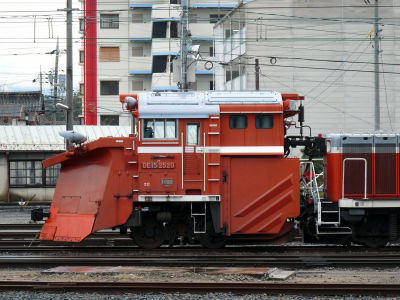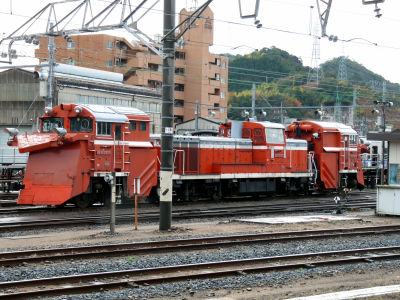 Related Posts
Papercraft Kitaro planes distributed by Japan Air Self-Defence Force - GIGAZINE

Picnic with spooks at Kitaro-Chaya - GIGAZINE