McDonald's Staff Burned Customer's Car after Complaint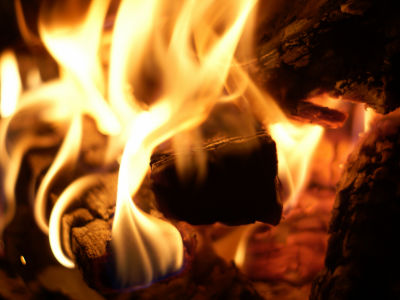 Of course we consumer has a right to demand for proper service and products worth the cost we pay. But the rule seems to be broken in a McDonald's restaurant in Japan.

Read on for detail.

McDonald's Staff arrested for setting fire on complaining customer's car : Weekly News : Kyushu Religion : YOMIURI ONLINE

Several newspapers and TV news reported that Fukuoka Prefectural Police arrested 25 year old male McDonald's staff for an alleged arson attack.

According to the police report, the suspect drew complaint from a 35 years old man for forgetting to enclose a prize toy for Happy Meal. The suspect visited the man's house and showed his apology on July 2nd.

And on July 4th, the staff set a blanket soaked with kerosene under 35 years old's car, set fire, and completely burned it down. The fire also caused some damages on the man's house and garage too.

The suspect admitted to the charges, stating "I didn't want him to report to my boss about the trouble. I thought If I set fire, he would be concerned with it and forget about my trouble."

Here are some clips from the video.

(JP)FNN News: McDonald's Staff of Kasuyacho, Fukuoka arrested for burning customer's car for being complained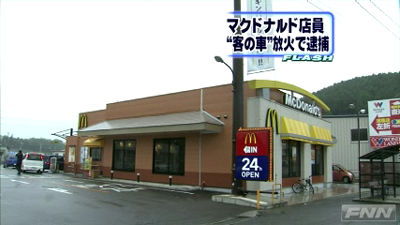 The man's house.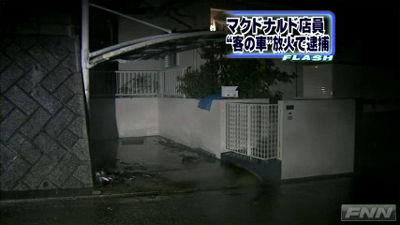 A burnt garage roof.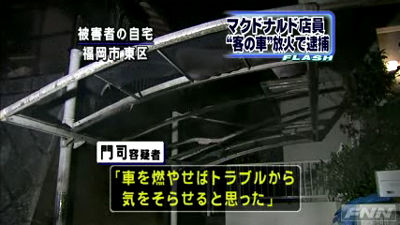 A piece of coal was still there at the site.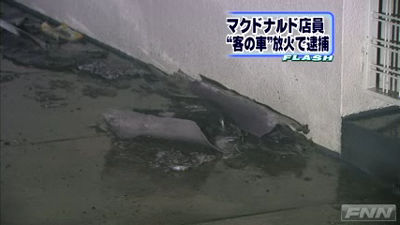 Nobody would have thought a McDonald's staff will come to your house and set fire. Quite scary.

Related Post:
Lotteria's "Tower Cheese Burger" is the ultimate alternative for KFC Double Down - GIGAZINE

Eating "Quarter Pounder Lettuce and Tomato" at McDonald's Secret Lab - GIGAZINE

Photo Tour on "Studio M", McDonald's Secret Laboratory - GIGAZINE

Never Call this a "Fast Food"; Eating "Windows 7 Whopper" is like an endless hill climbing - GIGAZINE