Review of KFC's "Next-Gen" Menu: Oven Roasted Chicken, Okra Salad and More!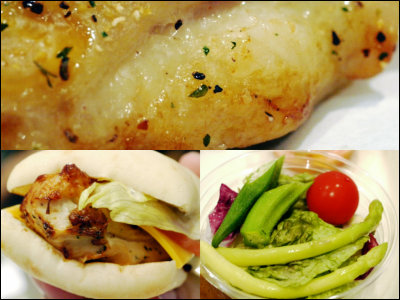 (This article was originally posted in Japanese at 22:36 July 04, 2010)

We got a chance to taste the new menus of KFC's "next-gen" restaurants ahead of the launch at KFC Shibuya Koen-Dori Store's press preview, so here's our review!

We also did a little interview with KFC Japan's president Masao Watanabe, and asked about the next-gen store's global launch, difference between KFCs in Japan and other countries, and what he thinks about Double Down, among other things.

Read on for details and pics.
Here's what we get to taste. "Oven Roast Chicken" with "Marinated Diced Tomato Sauce", "Brazer" sandwich, "Fresh Salad (Asparagus and Okra)".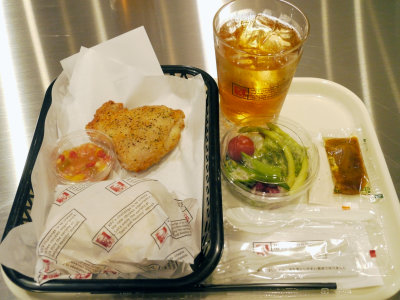 Oven Roasted Chicken, 280 yen (about $3.16). Although KFC's got grilled chicken in other countries and KFC Japan offers various roasted chicken for Christmas, currently all of the chicken menus in KFC Japan are deep-fried. This will be the first non-fried chicken to be regularly available at a KFC in Japan.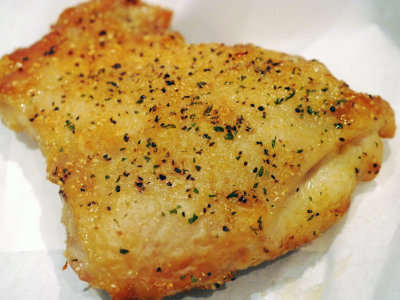 Seasoned with original blend of seven herbs and spices.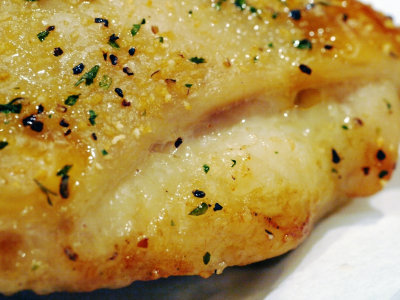 This paper wrap was specifically developed for this chicken.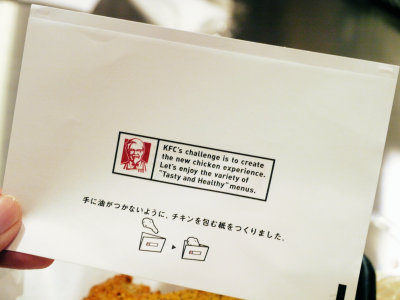 You can eat without getting your fingers greasy. The wet wipe that comes with the food is also designed to easily wipe off grease.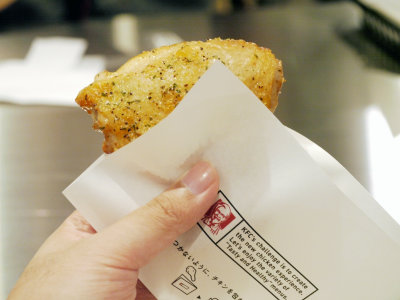 Tastily seasoned with herb and spices, not too salty. Despite being non-fried, the chicken felt juicier than the Original Recipe (called Original Chicken in Japan), not dry or overcooked. The chicken skin was crispy, not the disgustingly greasy soggy stuff.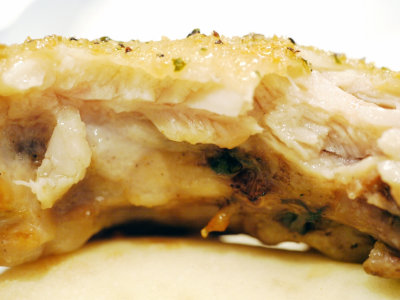 Oven Roasted Chicken comes with this Marinated Diced Tomato Sauce containing diced tomato, bell peppers and onion. You can dip the chicken in this sauce or eat it on its own.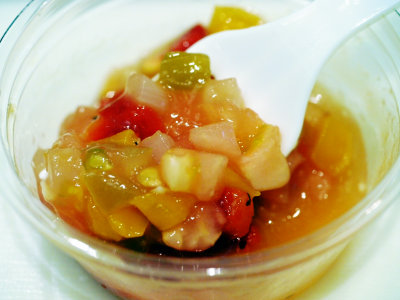 Brazer, 420 yen ($4.75 USD), is actually an adopted menu from KFC France. Also available in Germany, we believe.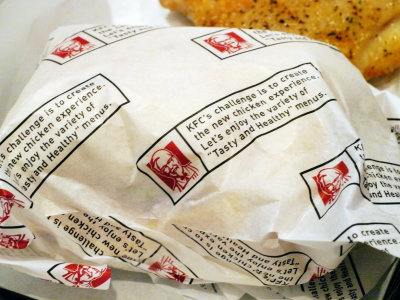 Basically a grilled chicken sandwich.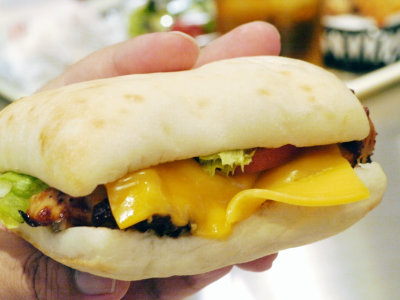 Using domestic chicken fillet.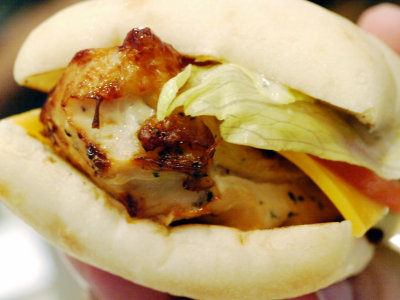 With veggie and cheese.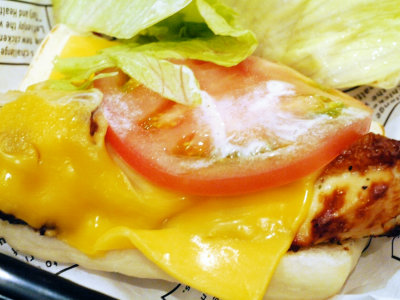 The chicken is chunky enough and the bread is kind of chewy, it actually feels like you're eating bread, unlike the fluffy, too-soft buns of most Japanese burgers. Black pepper in the mayonnaise-based sauce was a nice touch.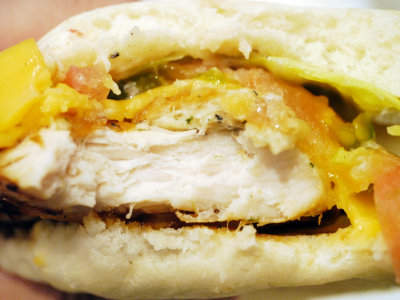 "Fresh Salad (Asparagus and Okra)", 250 yen ($2.80).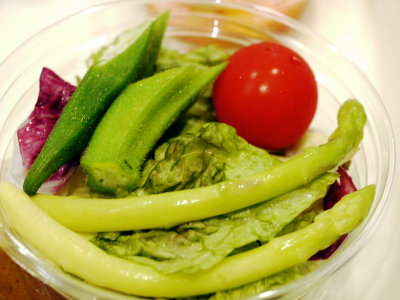 It might sound a bit pricey, but you can get a salad and drink with a Brazer for additional 300 yen like a box meal deal in ordinary KFC, which is in the usual price range for Japanese fast food chains.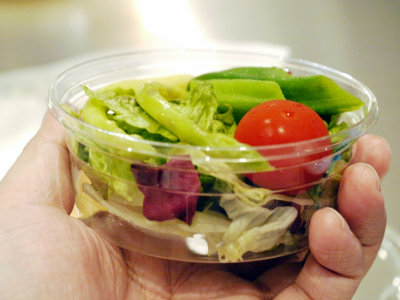 You can choose either soysauce-based Japanese dressing or Caesar dressing.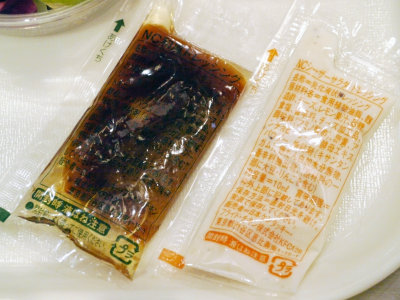 We opted for Caesar dressing, which went very well with asparagus. The other dressing tasted like Pietro Soy Sauce Dressing, a very popular brand of dresssings in Japan.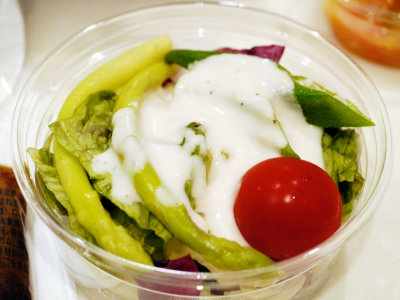 Oven Roasted Chicken Set, 790 yen ($8.95). You can choose either a salad or frenchfries as a side.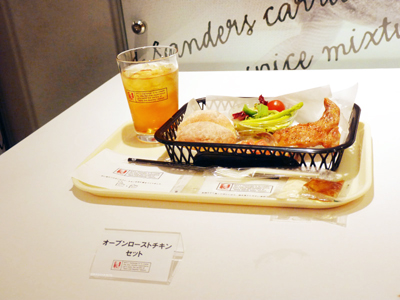 The set also includes bread, so you get carbon, protein and veggies to complete a meal.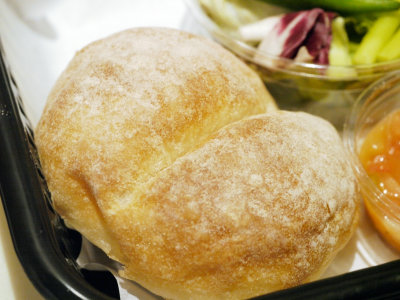 Brazer Set, 720 yen ($8.15). You can choose salad or french fries.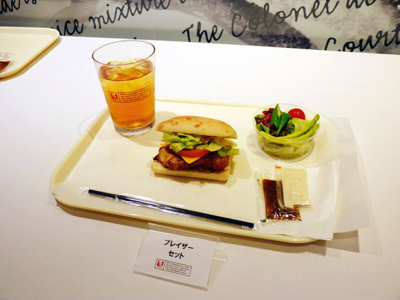 Original Chicken Set, 750 yen ($ 8.50).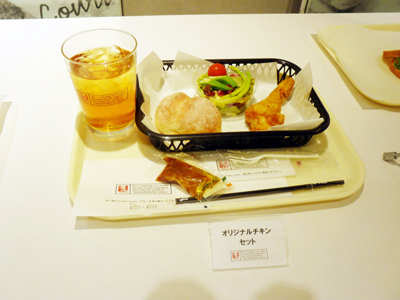 The chicken is the same Original Recipe you can get in any KFC restaurant, but you can choose salad instead of french fries, and you'd get bread instead of the usual KFC's biscuits.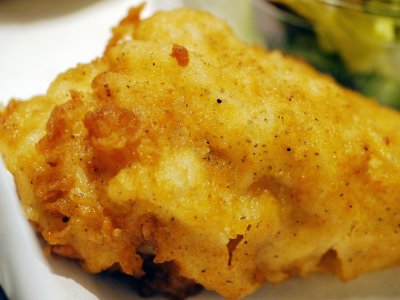 They also offer healthy-looking gourmet sandwiches.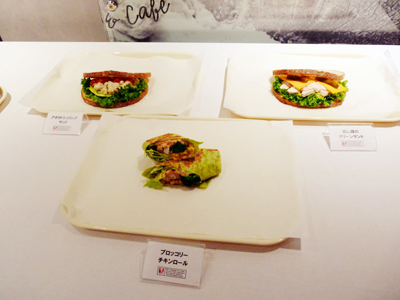 "Avocado Shrimp Sand", 420 yen ($4.70).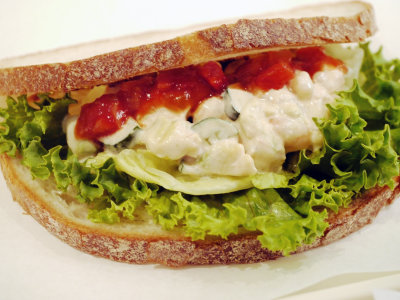 "Broccoli Chicken Roll", 420 yen ($4.70).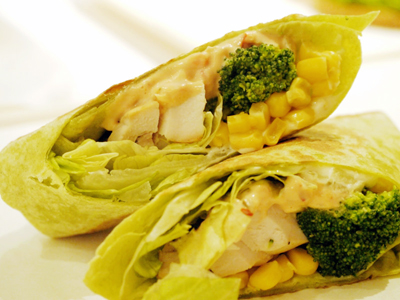 "Steamed Chicken Green Sand", 420 yen ($4.20).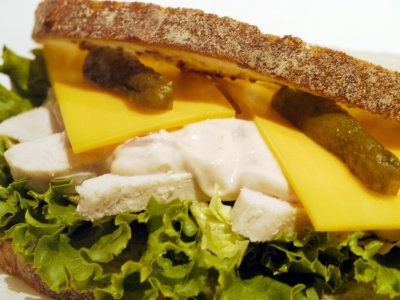 They've got five variety of salads as well as their usual cole slaw.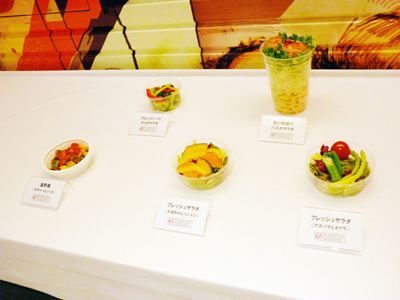 "Marinated Broccoli Salad", 250 yen($2.80)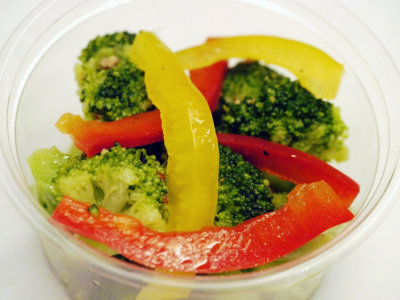 "Fresh Salad (Asparagus and Okra)", 250 yen($2.80)


"Fresh Salad (Pumpkin and Carrot)", 250 yen($2.80)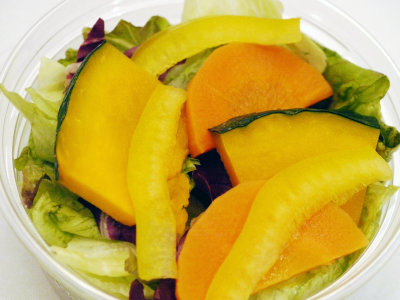 "Steamed Vegetable with Ratatouille Sauce", 280 yen ($2.80)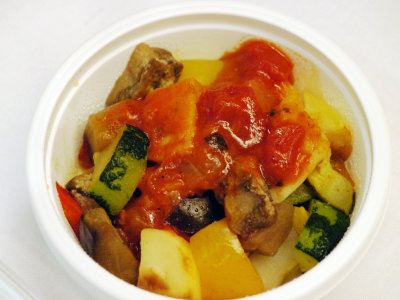 "Pasta Salad", 380 yen ($4.25)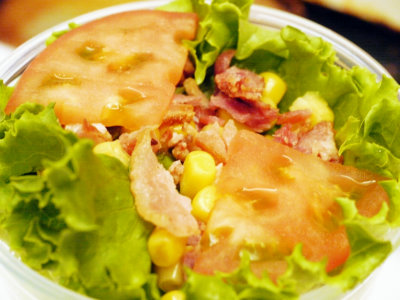 Toss the fettuccine and veggies in creamy Japanese dressing.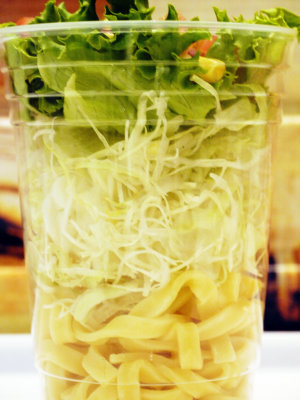 Four flavours of KFC Krushers will be available at this store: Kookies 'n Kream, Strawberry Banana, Cafe Mocha Crunch and MatchaAzuki (Green tea and sweet beans).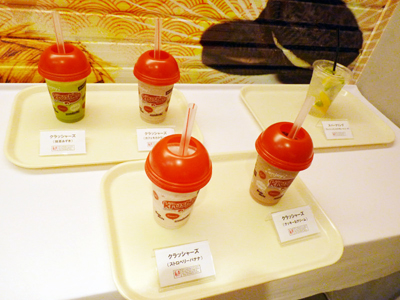 "Mojito Soda with Fresh Mint", 380 yen ($4.25). A non-alcoholic mixed drink that tastes like mojito, or a mojito without rum.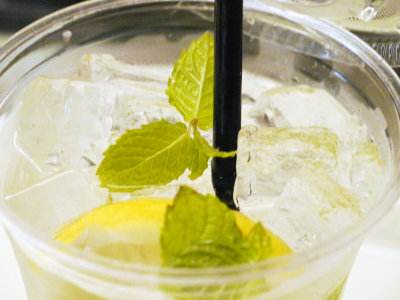 Pictured here is manager Otake of KFC Shibuya Koen-Dori Store. Many of her suggestions are reflected in the newly designed uniforms for the "next-gen" stores.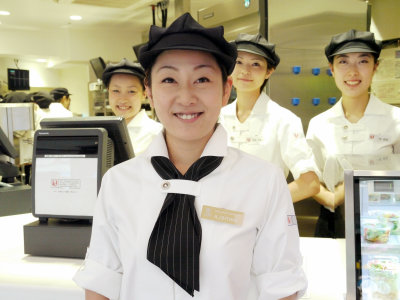 Development team of the new menu. There've been sleepless nights, but they've got confidence in what they could come up with and now thrilled about the store's opening.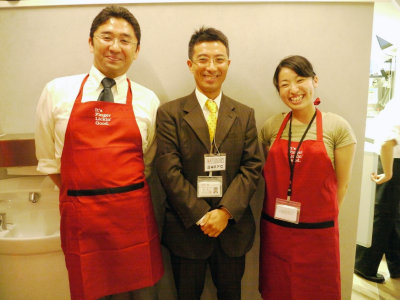 "Shibuya Koen-Dori Store is not only the first next-gen KFC restaurant in Japan, but the first in the world", says KFC Japan CEO Masao Watanabe. "It's been a trend these few years for American and European KFCs to adopt our Japanese original recipes such as Umadare Chicken, Karauma Chicken, Palipali Umami Chicken and Habanero Boneless. When we informed our plan of launching next-gen restaurants in Japan, people from the US liked the idea and the project expanded."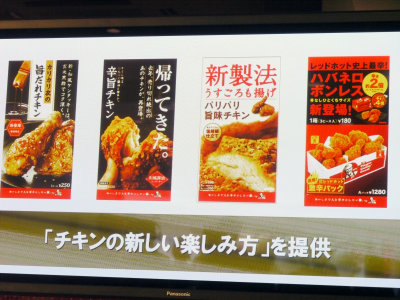 "So out of the 15 thousands KFCs in the world, Shibuya Koen-Dori Store was chosen to be the first to be converted to a next-gen KFC, and it will be followed by outlets in UK, France, Australia and Southeast Asian countries, to expand to one hundred outlets in three years. The London store and Manila store will open within the year, as well as several stores in Australia and Thailand."

"The store designs are actually revised every few years, and minor changes occur regularly. But there wasn't a makeover this drastic in the past, and we believe the new restaurant has the most contemporary look out of all the KFCs in the world. Designers from the US were involved alongside the Japanese team, and the design of next-gen stores in other countries will be akin to ours, although not identical."

"As for the service, at first we actually even considered serving the customers at tables," he admitted. "But that will be too far a leap from where we stand. So in the end we decided to not wait tables, but other than that we tried to bring the service up to the level where customers can clearly tell the improvement from our current standard. Staffs of the new restaurant went through special training at our facility in Ebisu, and there will be three full-time employees to operate the store, while our current outlets usually only have one or two full-time employees to manage the part-timers."

Lastly, we asked him if there is any chance of the notorious Double Down coming to Japan, which got us a wry grin. "To tell you the truth, I was going to try it while I was on a business trip to the US this May, but chickened out", confessed Watanabe. "I mean, bacon and cheese between two fried chickens? We actually experimented at our development center, and it's real heavy. We guess it's too extreme for Japanese. It might work for Americans, with their high metabolism and all, but for Japanese? ...We don't see it winning our customers."

So there seems to be no chance for Double Down in Japan, although our curiosity is piqued. We might have to try it in the US some day.

Related Posts:
KFC's New Concept "Next-Gen" Restaurant Debut in Shibuya, Tokyo - GIGAZINE

Lotteria's "Tower Cheese Burger" is the ultimate alternative for KFC Double Down - GIGAZINE