Kamen Rider Kamishibai for Pediatric Patients at Tokushima University Hospital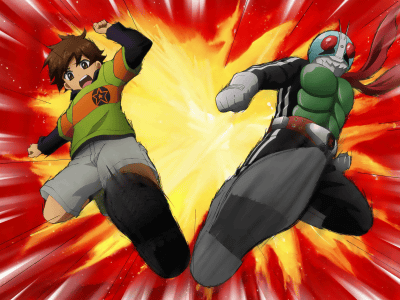 (This article was originally posted in Japanese at 06:43 July 01, 2010)

A specially made kamishibai(paper theatre: a form of storytelling accompanied by picture panels) of Kamen Rider will be performed at the children's ward of Tokushima University Hospital on July 1.

The story was written by a local special school student and illustrated by staffs of anime studio Ufotable, supervised by Ishimori Productions and Toei.

Read on for details and pics.
(Japanese)Kamen Rider Kamishibai to encourage children fighting desease - Tokushima Shimbun

(Japanese)Kamen Rider Kamishibai to be performed - Tokushima University Hospital

The project started when professor Tomiaki Morikawa of Tokushima University Hospital heard about Hiroshi Mitani, an 18-year-old highschool senior at Naruto University of Education Special School who has experience in writing kamishibai stories.

Mitani wrote a story set in Tokushima, about a boy fighting a monster called Yamiyoroi(lit. Dark Armour) plaguing patients at the hospital where his little sister is staying. He gets help by an ohenro-san(pilgrim) who transforms to Kamen Rider.

"I wanted to tell children that no enemy is unbeatable, no matter how terrifying they seem, if you face them head on", says Hiroshi Mitani.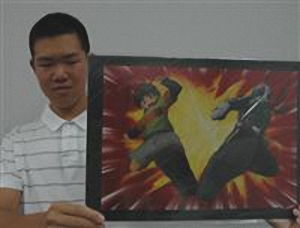 The project was officially approved by Ishimori Production and Toei, the license holder of Kamen Rider franchise. Ufotable volunteered for the production when Tokushima-born Hikaru Kondo, president of the anime studio, heard about the project from his friend Morikawa. Young animators of the studio took time out from their busy schedule and illustrated 23 panels (6.5" × 12") to accompany the story.

Here's the title panel. The story is called "Kamen Rider Ohenro Ayaushi Yamiyoroi no Kyofu"(Kamen Rider: Ohenro in Danger by Terror of Yamiyoroi).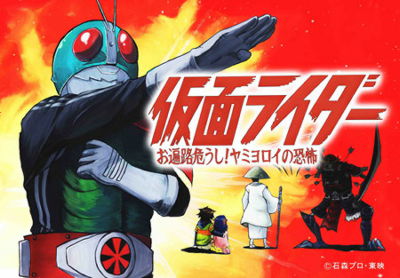 Related Posts:
Gundam and Kamen Rider Advent Calendar "Minna no Advent" by Bandai - GIGAZINE

Kamen Rider Now and Then…1st Rider and Kamen Rider Decade collaborated in TOKYO TOY SHOW 2009 - GIGAZINE

Tokyo Motorcycle Show 2009: Super Machines from KAMEN RIDER series, CUTIE HONEY, WILD HOGS and more! - GIGAZINE

POKEMON X-Ray to ease the children's anxiety - GIGAZINE