Shonen Gangan to republish the last episode of "Fullmetal Alchemist" on thier September issue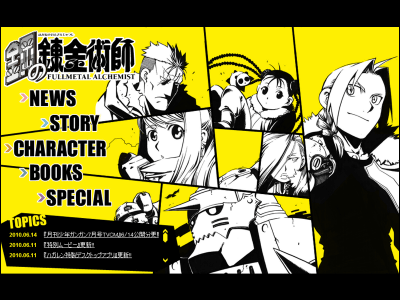 (This article was originally posted in Japanese at 19:15 June 21, 2010.)

Fullmetal Alchemist concluded its 9 years serialization in July issue of monthly Shonen Gangan recently. But the great popularity of the manga made the magazine sell out too quickly and there has been so many fans who couldn't get a copy.

Taking the matter seriously, Shonen Gangan publisher Square Enix announced to republish the last episode of Fullmetal Alchemist in the September issue of the magazine.

Read on for detail.

GanGan NET -SQUARE ENIX-
http://gangan.square-enix.co.jp/

Fullmetal Alchemist by Hiromu Arakawa started in 2001 and continued for 9 years until July 2010. The manga was awarded Shogakukan Manga Award in 2004 and adapted to anime twice in 2003 and 2009. The comic book has sold 42 million copies as of now.

This is the cover of July issue published on June 11, 2010.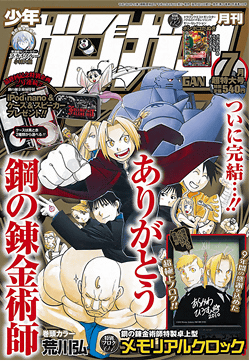 Great popularity helped lightning fast sales of the magazine. No-reprinting-policy made the magazine even more rare. Some of the copies went severalfold as expensive as the original price.

Answering requests of fans who failed to get a copy, Square Enix decided to republish the last episode of Fullmetal Alchemist on the September issue of the magazine coming out on Aug. 12.

Related Post:
Free comic-strips and novel of FULL METAL ALCHEMIST available online - GIGAZINE

"Trigun" fanart by Manga Artists of Fullmetal Alchemist, Ruroni Kenshin, Oh My Goddess and more! - GIGAZINE

TAF 2009: FULLMETAL ALCHEMIST featured in Aniplex booth with gigantic Gate and life-sized statue - GIGAZINE

"Fullmetal Alchemist" Postage Stamp to be released in JP Post's Anime Hero/Heroine Series - GIGAZINE

"Fullmetal Alchemist" Manga to Conclude Next Month - GIGAZINE