Best iPad Stand EVER; Turning Vintage Macintosh and iBook into iPad Stand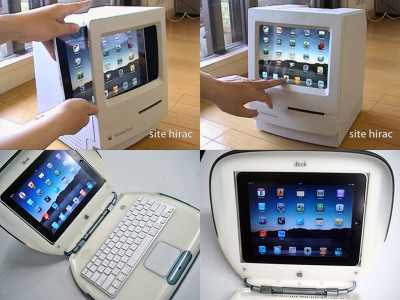 (This article was originally posted in Japanese at 18:20 June, 09 2010.)

Since the first iMac of 1998, Apple have shown their love of translucent plastics and hairlined aluminum enclosures, but there still is unignorable charm within their good old all-in-one Macintosh, like Macintosh Plus seen in famous 1984 Superbowl ad, or German-designed SE/30.

Fascinated by their cute looks, there are so many enthusiastic fans modding the machine to give them up-to-date performance. And finally a fan hit on a bold idea, to make them into handsome iPad stands.

Read on for detail.

(JP)DIY-ing iPad Stand - Macintosh iPad Stand | site hirac

It's Macintosh Classic, right at booting up showing Happy Mac icon.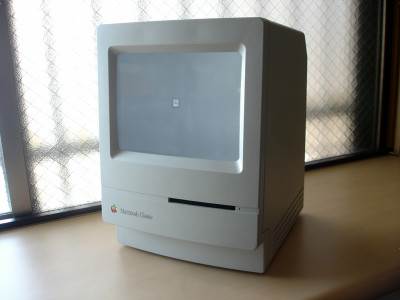 ...And loading extensions showing "iPhone OS - Version 3.2"...What?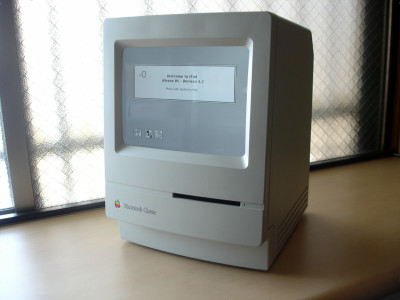 Yes. This is Macintosh Classic featuring iPad.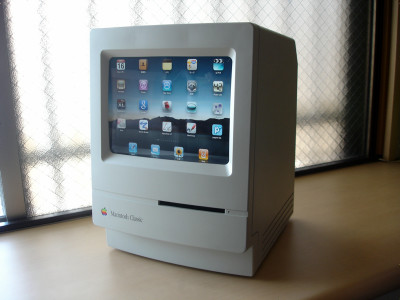 The original monitor was 9" and iPad has almost isometric 9.7" display. See how they match.


Only disadvantage is that you can't play the game using accelerometer with this stand. You won't want to turn and shake the entire enclosure.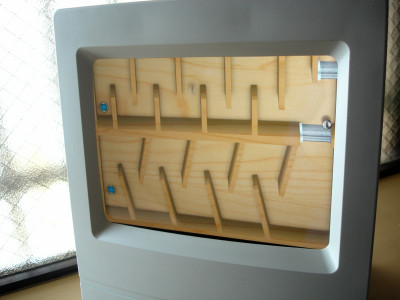 Running Pocket Pond HD, virtual aquarium software.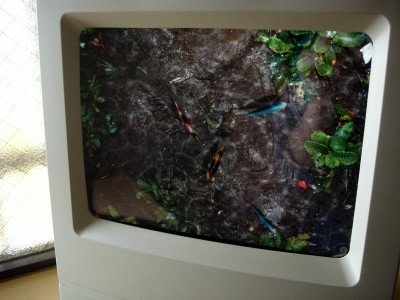 So here's a video by the author.

(JP)YouTube - Macintosh into Apple iPad stand "Macintosh iPad Stand"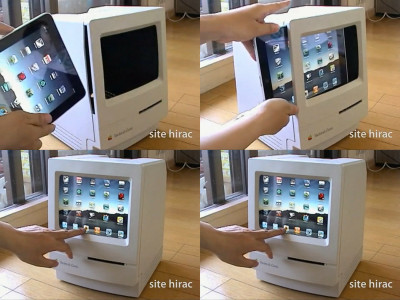 iPad is slid into the stand from here.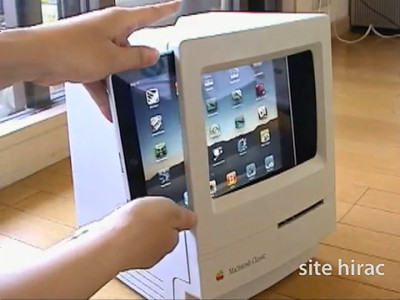 Touch-controlling a vintage computer looks quite odd.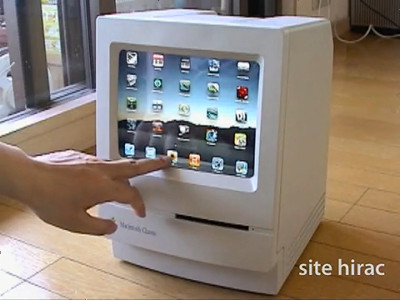 The stand itself is heavy enough to back up the slide movement.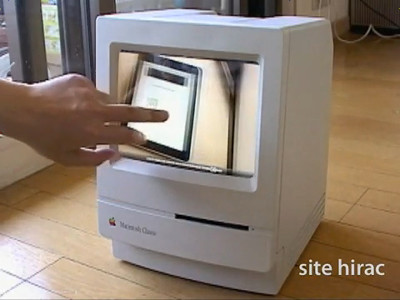 You can connect the keyboard via Bluetooth, or use USB keyboard with genuine Camera Connection Kit.

(JP)YouTube - "Connect the Happy Hacking Keyboard to iPad"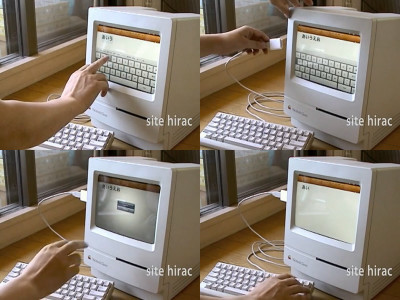 Connected to the side.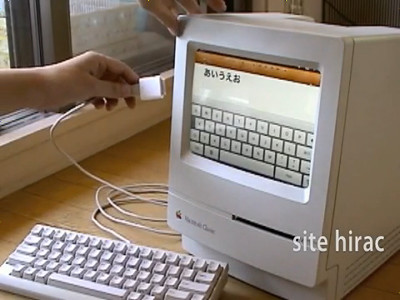 Keyboard shortcut seems to be working fine.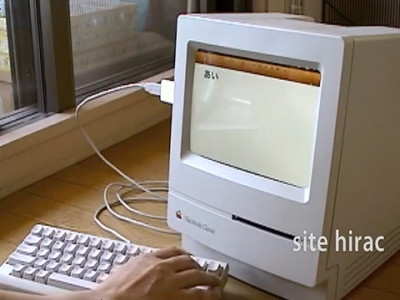 And here's another bright idea; iBook into iPad stand.

Apple NOIR >> iPad in iBook(Clamshell)

iPad can be embedded here.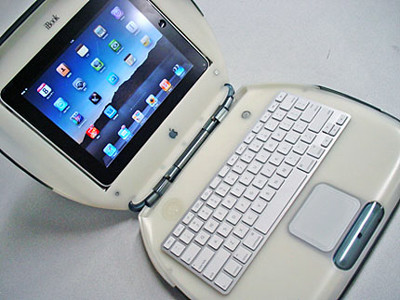 No discomfort, it seems.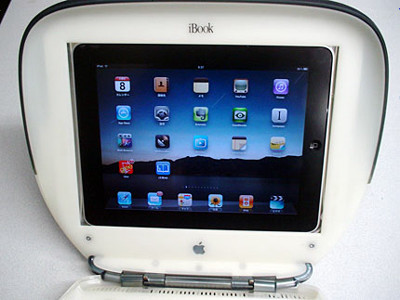 The keyboard is replaced with wired Apple Keyboard.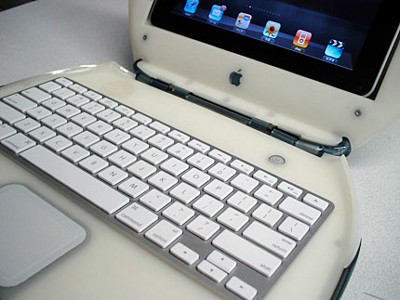 This keyboard is also connected via Camera Connection Kit.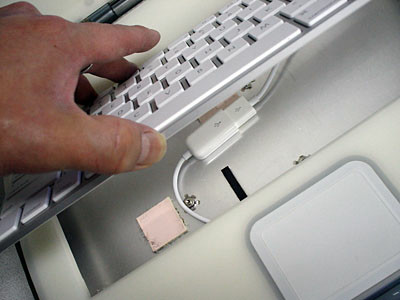 And this is the genuine iPad in our office.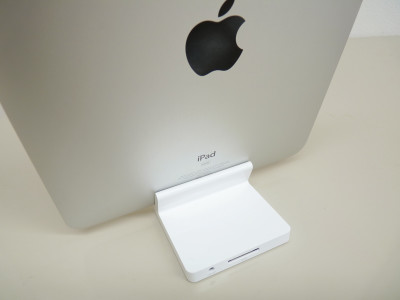 Quite minimal and futuristic.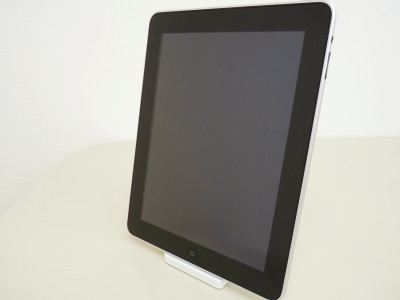 Related Post:
Japanese Surgeon X-rayed iPad - GIGAZINE

Japanese iPad to be SIM-Locked for Softbank - GIGAZINE

Video of Manga Artist Yoshitoshi ABe Drawing on iPad - GIGAZINE

Another Android Tablet to come from Sony, along with portable game console in 2010 - GIGAZINE