"Japanese Schoolgirl CONFIDENTIAL"; A Perfect Explanation for Japanese Schoolgirls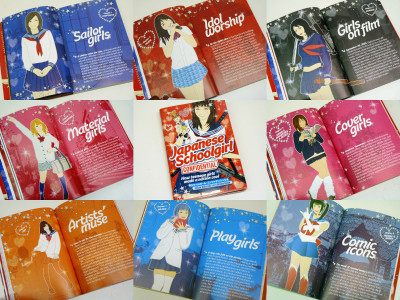 (This article was originally posted in Japanese at 11:56 May 24, 2010.)

Everyday in Japan we see the word "Jyoshi Ko-Sei", Japanese school girl, in news media. But we Japanese won't notice them much for they are too familiar to us. We take their existence for granted.

But actually they are one of the most influential groups in pop culture. Along with Geisha and Samurai, we can say schoolgirls has become an icon of Japan. The book Japanese Schoolgirl CONFIDENTIAL by WIRED and Kotaku writer Brian Ashcraft and Shoko Ueda describe this cultural superpower from every side, even from the aspects we Japanese are unaware of.

Read on for detail.

Japanese Schoolgirl Confidential

The book Japanese Schoolgirl CONFIDENTIAL is divided into eight chapters, such as fashion, movie, game, books, and describes this familiar-yet-mysterious beings.

The cover.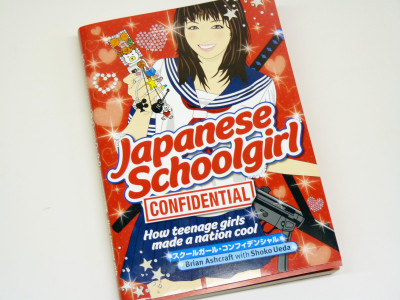 Opening the book will show you images of schoolgirls from many genres.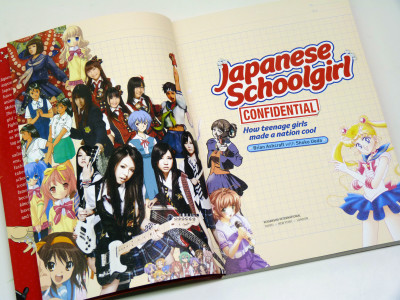 Index. As you can see, the author covers every topic about Japanese pop culture.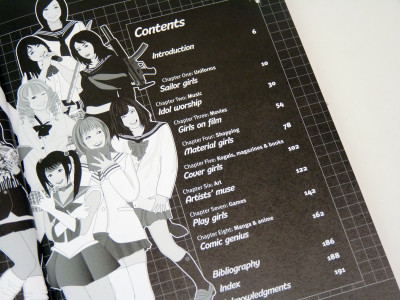 1.Uniforms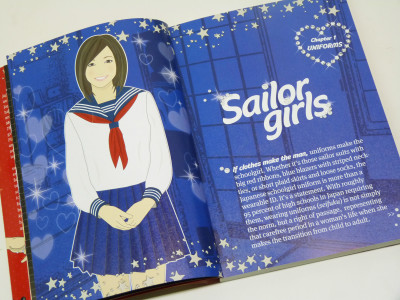 The chapter starts with a coverage of uniform manufacture giant Tonbow's "Uniform Museum" and handles the birth of traditional sailor-style uniforms and relatively-new blazer-style uniforms.

Describing the origin of sailor-style uniform.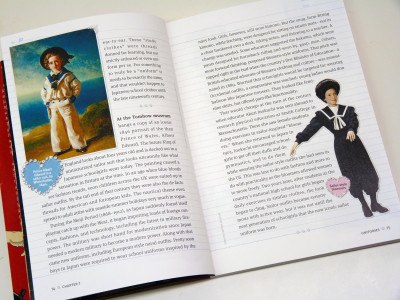 Development of blazer uniforms in the end of the 20th century and Kawaii Taishi(Cute Ambassador: Pop Culture Ambassadar of 2009)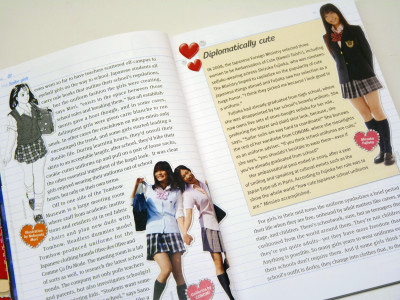 2.Music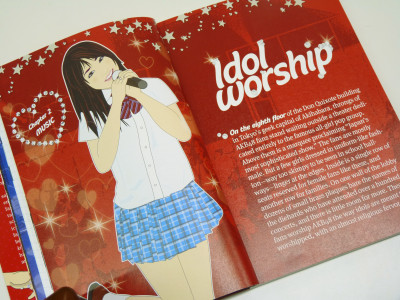 The chapter describes an Idol, or pop icon from post-WWII era to 21st century. You will be surprised to know there are so many Idols and their followers.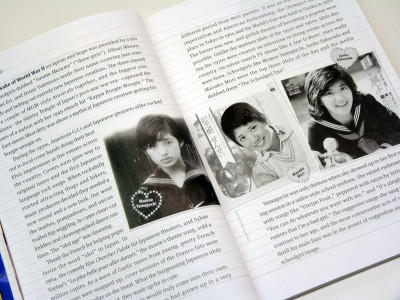 3.Movie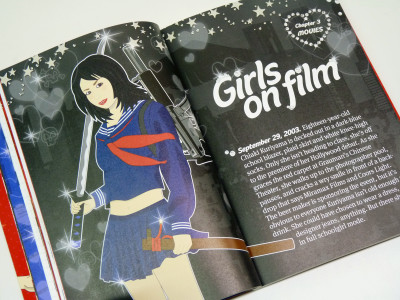 Starting from the interview on Chiaki Kuriyama, who starred in Kill Bill as schoolgirl Gogo Yubari, the chapter shows how Japanese schoolgirls have been portrayed in various motion pictures.

It is quite interesting to know the wide variation of schoolgirl movies.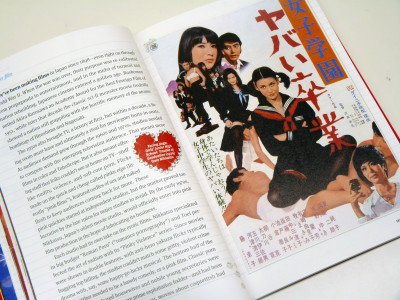 4.Shopping


It seems odd, but certainly one of the biggest-consuming groups in Japan is highschool girls. Their feelings are quite fickle and hard to predict, but surely they make up a great market of pop culture.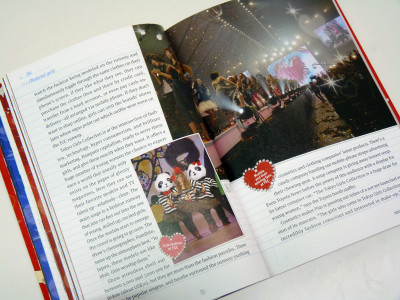 And the most uncomprehensive word in Japanese "Kawaii" is explained in detail.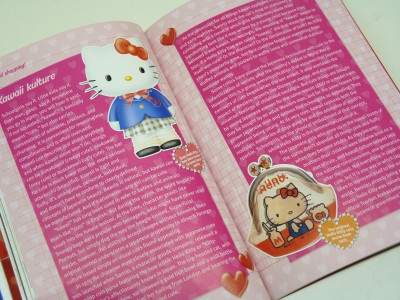 5.Kogals' Magazines & Comics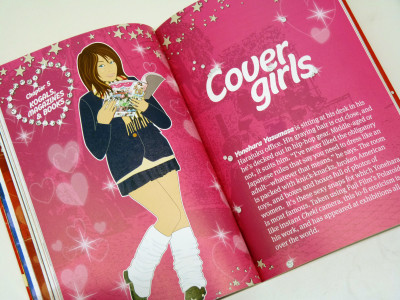 Gyaru style fashion magazine Egg has depicted schoolgirls in the raw. Through the interview on the magazine's editor and photographer Yasumasa Yonehara the chapter tells how media portrayed Japanese schoolgirls.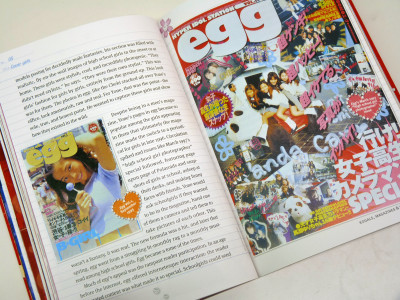 Schoolgirls are dramatic as is. And there are many works featuring them, Love & Pop, Babel and so on.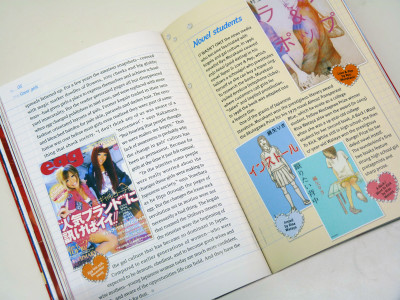 6.Art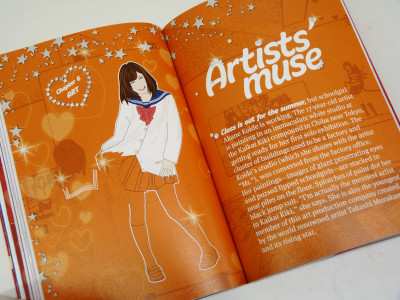 As well as movies and books, there are many artworks featuring schoolgirls as a motif.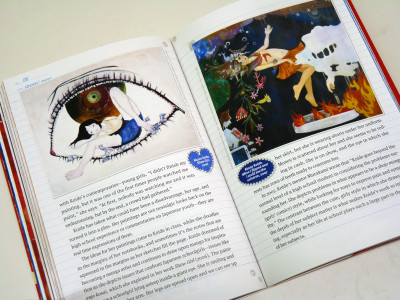 <

Makoto Aida's Ukiyo-e taste drawing.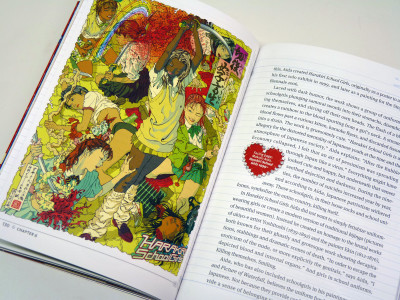 7.Games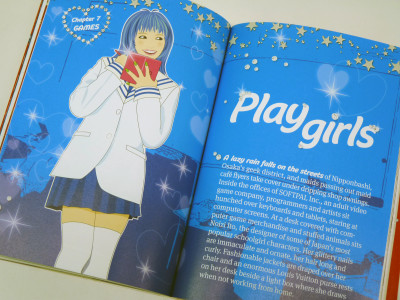 Japanese schoolgirls appear in every genre of games, starting from visual novels to head-to-head fighting games. The chapter has an interview with famous bishoujyo illustrator Noizi Ito, description on the word Moe, and history of how schoolgirl CGs have appeared in games.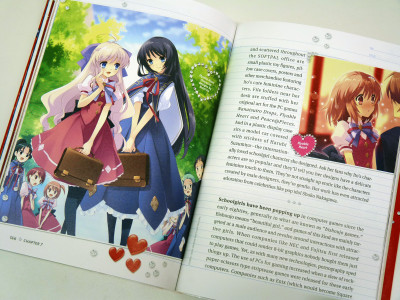 Every Japanese have some memory of schoolgirls, and they make the games' stories and characters quite sympathetic.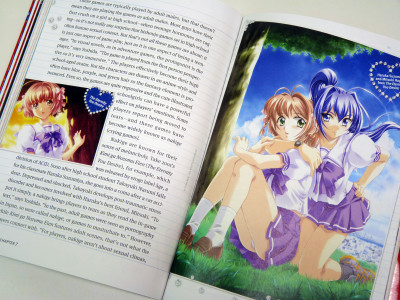 8.Manga & Anime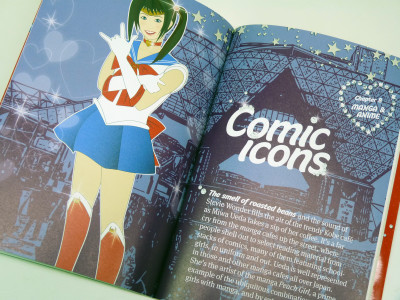 It's no wonder the world of Shojyo(girls') Manga is as wide as that of Shonen(boys') Manga, but it's seldom known to foreigners we think. The chapter handles how Japanese Schoolgirls have read mangas and have been in mangas as heroines.


Every page in this book has something impressive, even to us Japanese who should be familiar with Jyosi-Kosei. Not only the book is in detail, but also it organizes data quite objectively. The book is literally "Eye-Opening" for any reader both in and out of Japan.

The book has been in Japanese market and is to be sold internationally in August. Again this will be one of the best information source for Japanese
Schoolgirl culture.

Related Post:
Five Sailor Scouts' Reuion at 20th Anniversary Special Event of "Sailor Moon" - GIGAZINE

Girls' School Rock Band Coming Back! 2nd Season for "K-on!" Announced - GIGAZINE

Kill Bill actress Chiaki Kuriyama sings for "Gundam Unicorn" - GIGAZINE

Actresses in Cosplay announced "Magical Princess Minky Momo" musical at a conference - GIGAZINE
in Review, Posted by darkhorse_log