Sony's "New Ultra Mobile" VAIO P Might Actually Be Pocketable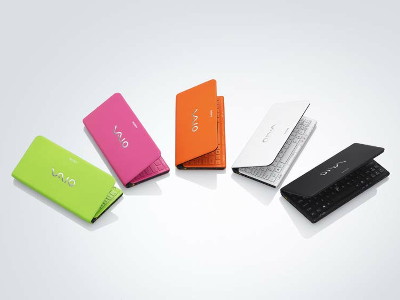 Sony has been teasing about VAIO New Ultra Mobile for a fortnight. Today the new product was announced.

Turns out the "New Ultra Mobile" is an updated VAIO P with a total new look, to come out on May 22, 2010.

The new VAIO P has optical touchpad and mouse buttons on the sides of the LCD for "grip style computing" and accelerometer to allow the display to be used vertically as well as horizontally. It also supports PS3 Remote Play. Sounds good? Still, the most noteworthy change must be the design, with distinctive wraparound-looking matte-coated shell in five new colours(they even have a mock crocodile version!).

Sony's obviously trying to attract the young and hip with the makeover. Can they? Check out the design in detail.

Pics after the cut!
(Japanese)VAIO P Series Personal Computer "VAIO" - Sony Style

The new design looks to be a love-it-or-hate-it kind, which can greatly affect the overall reception of the product since it's clearly aimed at the young crowd who won't be caught dead carrying around what they deem uncool.

VAIO P (VPCP119KJ). This is what we call the "wraparound" coat.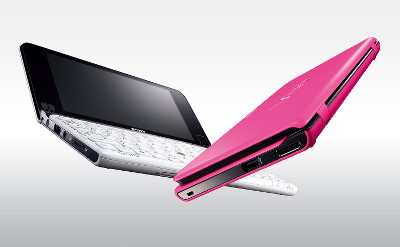 From the side. At first glance it looks to be folded twice.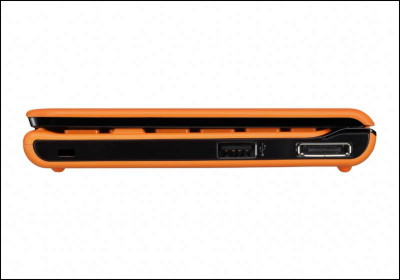 The paperclip-like icon on Sony's teaser was also kind of misleading. Some people even seriously debated on whether the keyboard/palm-rest should fold out or the display.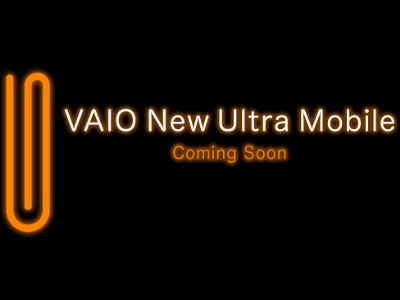 Mouse buttons(left) and optical trackpad(right) are built into the LCD bezel for "grip style computing".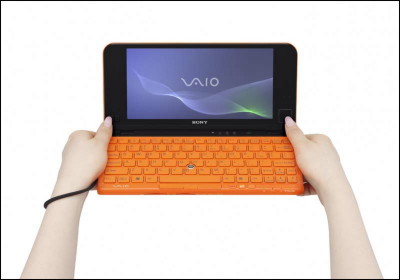 Accelerometer allows the screen image to automatically rotate when the device is flipped vertically. The mouse pointer button remains within reach of your thumb so navigation is still possible.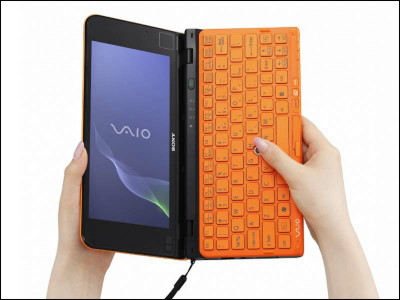 Tilt it to the left or right to move backward or forward while surfing the web or browsing your pics.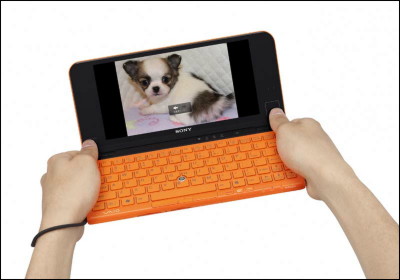 Supports PS3 Remote Play.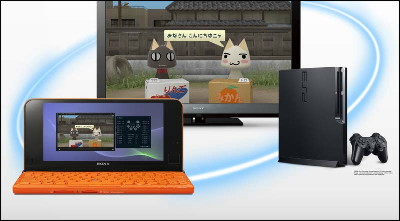 Comes in five colours: green, pink, orange, white and black.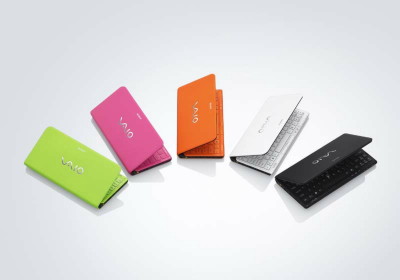 White.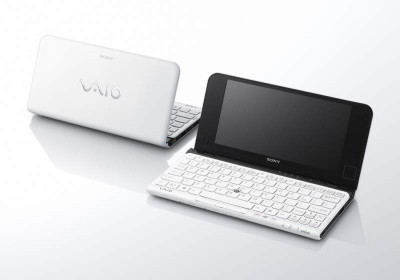 Pink.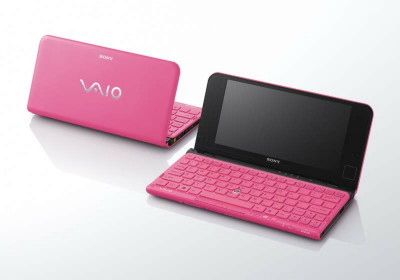 Orange.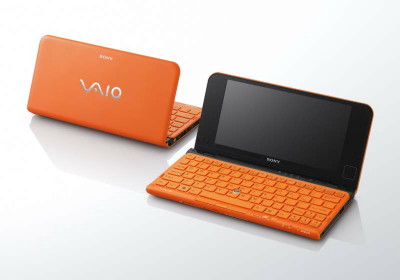 Green.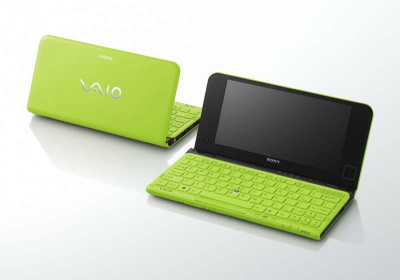 Black.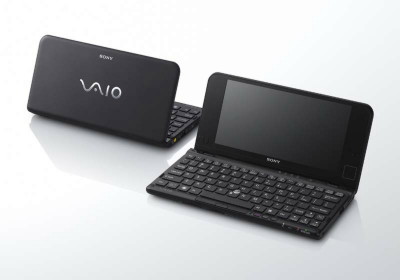 The orange, green and black colour scheme reminds us of au brand cellphones. Specifically, the orange and white ones strongly resemble MEDIA SKIN(2007) designed by Tokujin Yoshioka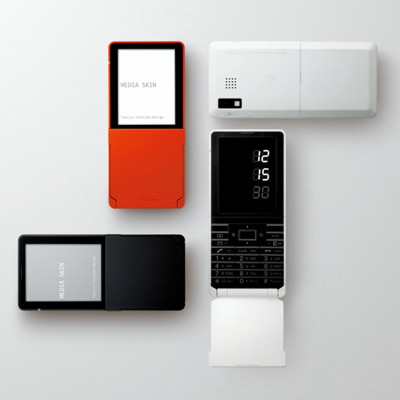 And the green one looks like PRISMOID(2009) designed by Naoto Fukasawa.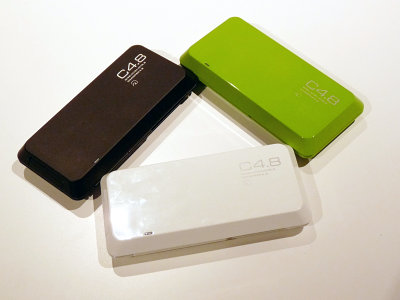 Surprisingly, the relatively sober black and green ones are the "special colours" exclusive to Sony Style whilst the pink, orange and white models will be available at shops. For the black model, you can also choose mock-crocodile leather texture.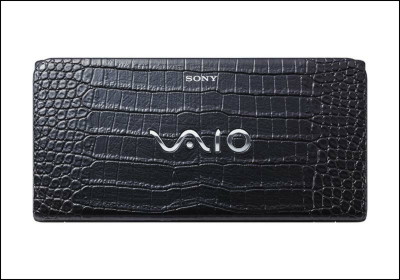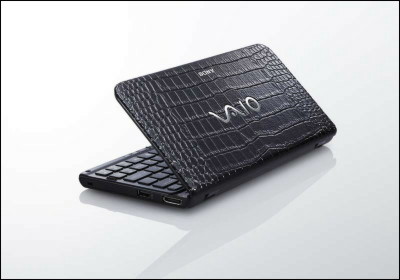 The regular models(VPCP119KJ -orange, pink and white), featuring 1.6GHz Intel Atom Z530 processor, 8-inch (1600×768) display, 2GB RAM, 64GB SSD, Wi-Fi 802.11n, Bluetooth, webcam, memory card reader and WiMAX connectivity, are expected to be sold around 100,000 yen (about $1,070) whilst the special models(VPCP11ALJ, VPCP11AKJ) can be customised at Sony Style so the price will depend on the options you choose, starting from 79,800 yen($857).

Matching mouse, sleeve and other accessories will also be released.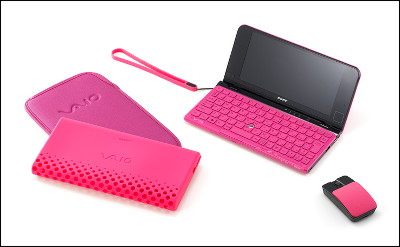 245mm×19.8mm×120mm, 595g. Now, calling this pocketable might be a bit of a stretch, but you wouldn't want to carry around $1K in your back pocket anyway.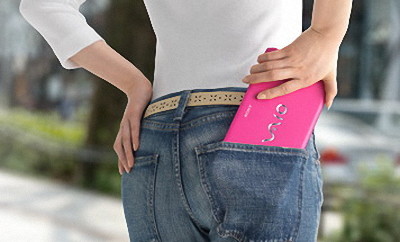 Related Posts:
Sony's Very First Netbook "VAIO W" Announced - GIGAZINE

Closeup Review on Sony's New Ultra-Slim Laptop VAIO X - GIGAZINE

New variations for VAIO in a Pocket? New VAIO P is on FCC - GIGAZINE

Sony's Ultra Thin "VAIO X" Photo Review: CEATEC JAPAN 2009 - GIGAZINE